It can be exhilarating to plan a homeschool space. The organization of the room you want to transform into the learning area and the décor and furniture to transport you to a classroom. But, unfortunately, the beautiful homeschool room ideas you find online might bust the budget if you have to buy everything new.
This post may contain affiliate links. As an Amazon Associate I earn from qualifying purchases. For more information, see our disclosure.
Luckily, you don't have to. There are easy ways to save and create a beautiful space with things you already have at home. DIY projects and the family joining in the fun can lead to a fruitful creation the homeschoolers can enjoy and, most importantly, awaken their senses and stimulate their minds.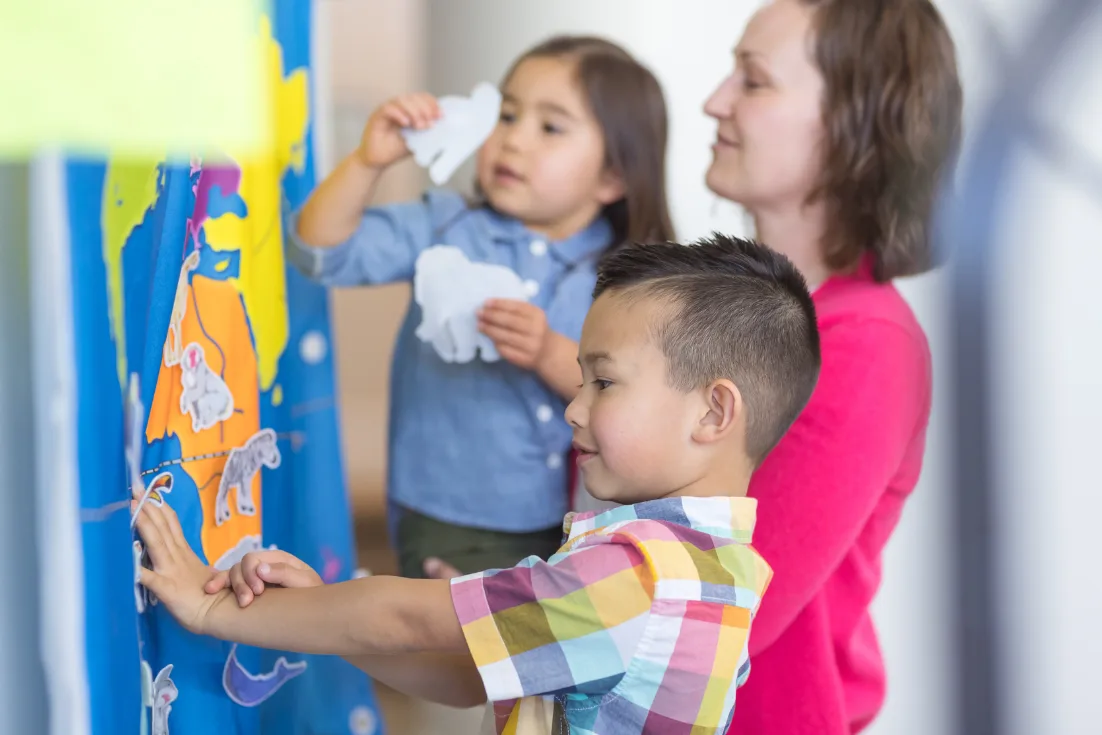 1. Find The Perfect Location For Your Homeschool Room
When working on a budget, it might not be easy to set up an entire area only designated for homeschooling and learning. Usually, all rooms in a house are occupied as a bedroom or office, and you must work with what is available, but there is no problem with that.
Take a tour of your house and decide which area would be best to turn into a homeschool area. This will depend on a few things:
How many kids to homeschool?
Considering these things will help you choose the perfect spot in your house. It can work no matter if it is somewhat occupied.
Choose An Area With The Least Distractions
Distractions are a no-go when it comes to homeschooling. The chosen room must be far from loud noises like people talking, electronics like a television, or a busy street.
The living room might feel like a great option, and it could be, as long as the television stays off during class times and no one else wants to watch tv during these times. Co-operating as a family when setting up a homeschool room on a budget will make the entire process a breeze.
The Number Of Students For A Budget-Friendly Homeschool Room
The number of kids participating in homeschooling, and the ages of these kids, will influence the room choice. A few things regarding the students when choosing a room:
| | |
| --- | --- |
| Question? | Consideration |
| Are there two kids or more? | Each of them might need a space to sit simultaneously. |
| Are their ages similar? | A kindergartener and a middle school student will utilize class time differently. Thus you would either set up a separate area for each or do the class planning in a way that they take turns using the space for working at a desk. |
| Are they brothers and sisters or other kids as well? | Inviting students from outside the home to your homeschool might complicate the room selection. You will need a bigger space and more furniture. |
Does Your Budget-Friendly Homeschool Area Have Lighting?
Look for sufficient lighting for the students to be able to read and write sufficiently. This could be from the natural light coming in through a window with no distractions outside or good lighting from the room itself. You might have an idea of a lamp packed away somewhere or one that might come in handy better for this purpose.
2. Start With The Basics For A Homeschool Room
What do you need for the homeschool room? This will, again, depend on what age your student is. For example, kindergarten kids will need more space to move and play with blocks, whereas older kids will need a desk and chair to sit at and work.
Look For Usable Furniture Around The House
The area to sit and write doesn't have to be a proper desk, office, or classroom chair. The only specifications you have to follow are that the chair is comfortable for the student and that the table is the correct height.
Kids usually already have a chair and table that fit them. Kindergarten kids will need these to sit at and do some art and practice writing. Older kids will spend more time at their desks. Opt for an office desk if you rarely use it, or a dining table can also fulfill the purpose.
Look For Usable Storage Around The House
Storage is part of the basics you need when starting homeschooling. The books, paper, stationary, and curriculum handbooks must be stored neatly to ensure the space stays uncluttered.
Here, you can use anything you have available. Folders and files, stacked neatly in an old file rack or drawers. Floating shelves, a cabinet you don't use anymore, or crates. A little DIY goes a long way, and after painting or buffing, you can make it fit into your new theme.
3. Designing The Look Of The Homeschool Room
The fun part, and the part that has many dollar signs attached to it, is usually the décor and design of the room. The photos on the internet and lists of things to buy for the same effect can smother you. However, you can easily set up a beautiful and practical space without spending a fortune.
Stick To The Trends Of The Kids
Depending on the age of the students, choose a theme or design that will be fun and inviting to them. For example, if it is girls, use flowers and butterflies on the walls, or if your kids are into video games, add an element of the game to the design.
Kids usually have stickers, stuffed animals, or something in line with their interests, and you can add these to the room to invite them into class each day.
Fun And Colourful Accents
Splashes of color must keep the area exciting, inviting, and far away from dull. Try to keep a pattern or theme to ensure you don't go too haywire with colors. These can be in the form of pillows on the seats, color cards coordinating the storage, and a funky rug.
DIY Art For The Design Of Homeschool Room
This is one area where you can save money, the kids will love adding their own style, and you can also experiment with your creativity. There are many tutorials online, and you and the kids can decide what you want to add to the walls or desks and make it out of paper or cardboard.
3D flowers with numbers or letters, a numbers card for the wall, or a design hanging from the roof like clouds or stars. Be creative and let the imagination flow.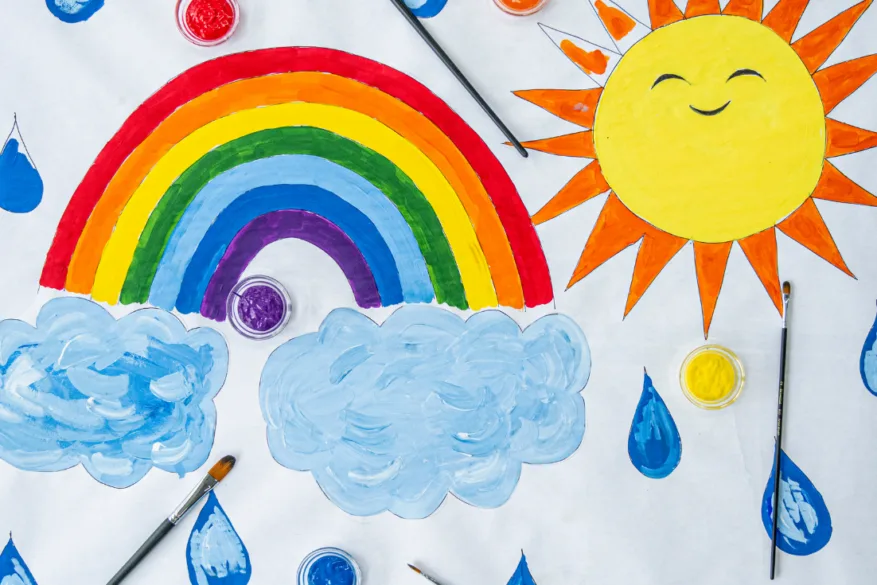 Utilize A Wall For School Work
Suppose the available room can let you utilize an entire wall; it will be perfect for saving space and adding fun things. For example, a white or blackboard (or use blackboard paint on a portion of the wall) can make a great addition to the wall. Another thing that you can add to the wall is a wall clock, the schedule for the day, and the goals for the week.
A pegboard can also come in handy and saves the paint on your home wall. Kids can add their art to the peg wall, homework tasks, or a motivational saying. These come in handy to put up important notes to remind them of a task.
4. Use The Child's Room As Homeschool Station
Some might think having the homeschool area in the bedroom is not a good idea. However, if managed well, this can save a lot of money and give the child a private, secluded space to concentrate where nobody will disturb them.
To implement the homeschooling station in your child's room, you must carefully plan the layout and access to the desk area.
Separate the two areas

– if possible, do the schooling in one corner of the room, away from the bed. This way, a tempting nap won't be an option. If the child has a bunk bed, the bottom half can also be the study area, perfect for smaller rooms.

Allow easy access to the desk

– an uncluttered space with easy access to the desk will ensure the student feels at ease, calm, and ready to conquer.
5. Revamp An Area Into A Homeschooling Space
To save money, time and effort, you can take an area not utilized as much as you would want and turn it into a homeschooling area.
The dining room is one area that is sometimes wasted and only saved for events such as Christmas or Thanksgiving. Here you already have a table and seating. Usually, it is in a quieter part of the house and has some cabinets.
Designating this area as a learning area will be easy and affordable, and no need to move stuff around. Choose a corner for reading by throwing a few scattered cushions on the floor and adding wall art to the wall. At special events, store all the stationary and books neatly in the cabinet, remove the reading corner decals, and there you have a dining room again.
Another brilliant idea for a budget-friendly homeschooling space is to use a closet. Most people have a lot of closets in the house, with some only storing the things we are too sentimental about to throw away. If so, keep it in a box somewhere else, and set up the closet as a station for learning.
You might need to DIY, break and build a little, but usually, this won't cost a fortune. Remove some of the lower shelves to make room for a chair, use a shelf as the desk, and use the upper shelves for storing books and stationery. Install a bright enough light, and you have a homeschooling setup. Some closets can even close and hide the station behind closed doors.
6. Buy Secondhand For A Budget Homeschool Room
Many secondhand stores or people moving and throwing out things they don't use may sell something you can use for the homeschooling room. A table, chairs, blackboard, shelves, cabinets, or a fun-looking rug. The prices are usually excellent and perfect for designing a homeschool room on a budget.
7. Homeschool Room Ideas For Preschoolers
Preschooler homeschool rooms are a little easier as they need movement and structured play areas instead of a desk and chair. They can easily sit on the floor with a high enough surface to draw at when it is time for that.
8. Garage Budget Homeschool Room Idea
It is ideal if you have a garage to transform into a homeschool area. It is away from distractions and big enough to divide into different compartments like a reading area, learning area, interactive area, and play area.
9. Sticking To The Budget With A Homeschool Room
You might have a tight budget for setting up the space, but after digging around stored stuff and using things around the house, you might cut the expenses in half. Here are more ways to save:
Plan the space

– looking for ideas on Pinterest is OK, but evaluate your top 5, write down which elements will work and which not, and stop looking. You will always find another idea and another one ultimately leads to spending more than you wanted.

Make a list before you go shopping

– after setting up the space from DIY items, make a list of everything you truly need. It can be overwhelming and tempting to walk into a store without knowing what you are looking for. Then, suddenly, everything pops out to you as necessary.

Try buying in bulk

– the things you might need, like storage containers or stationery items, are cheaper when you buy them in bulk.

Get quotes from different stores

– it would be better not to walk into a store and buy everything then and there. Instead, shop around, do online shopping and look for bargain deals.

You don't have to get everything

– remember, you don't have to get everything at once. You can start with the basics and add things as you go. This will help you budget better each month and won't give you the initial scare of buying everything in one go.
Conclusion
Starting homeschooling can be scary, but the costs of setting up the room shouldn't be. Work out a budget you can manage easily, and try to use as many things from the house as possible.