I love getting Christmas cards from our extended family members and friends. It is one of my favorite parts of the holiday season. I believe that displaying the Christmas cards from your loved ones can be an important part of your Christmas decorations and traditions. In this article I'll discuss different ways of organizing and saving your Christmas cards.
Displaying Christmas Cards:
Maybe you're not sure how to display the Christmas cards you've received? Well I've listed below three ideas to help you display your Christmas Cards this year.
Christmas Tree Display:
This post may contain affiliate links. As an Amazon Associate I earn from qualifying purchases. For more information, see our disclosure.
Ikea is selling this cute Christmas Tree Card Display. Hang it on your wall and fill it with your loved ones cards and a few other decorations. The wood slats have a groove that is perfect for holding cards, giving your display a clean no fuss look. Costing $15 dollars, it's an investment you can use year after year.
Create Your Own Display:
Items needed:
Christmas decoration, like a wall hanging wooden sign that says "Merry Christmas"
Ribbon
Hot glue gun
Mini wooden clothespin clips
Directions:
Cut your ribbon into three even 3ft strips. Then hot glue the ribbon onto the back of the Christmas wooden sign. Allow the glue to dry. Then hang the Christmas wooden sign onto a wall where you'd like to display to be. Use the mini wooden clothespins to clip your Christmas cards onto the ribbon.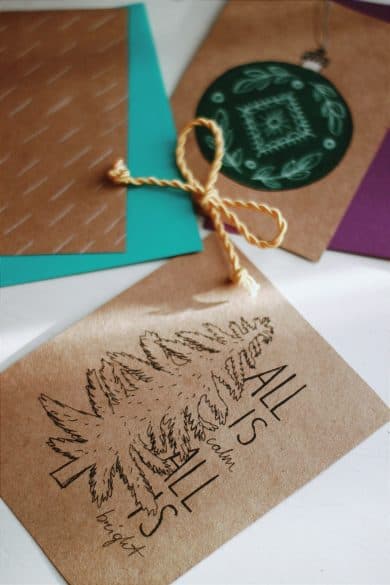 Simple Christmas Card Display:
You can create a simple Christmas card display by using jute twine, clean thumbtacks, and mini wooden clothespins. This display works best in a wide doorway or near the top of your living room wall or entryway wall. All you need to do is measure the length you'd like your display to be and then cut your twine double that length, plus two inches. Tie the ends of your twine together. Place your thumb tacks in the wall and loop the twine over the thumbtacks. (This display works best if the twine isn't overly taut.) Now clip your Christmas cards to the twine with mini clothespins. I love this method, because it allows you to see both the front and back of the Christmas cards you've received.
Keeping and Organizing your Christmas cards:
I was surprised to learn how many of my friends and family members keep all the Christmas cards they've been given. Especially the cards with pictures of loved ones. Keeping stacks of Christmas cards can feel overwhelming and unorganized, so I've listed two different ways you can organize your Christmas cards below.
Rings:
Attaching your Christmas cards onto a loose leaf ring (or two) gives you the ability to review and reminisce on your Christmas cards for years to come, but it also keeps them neat and organized. You can designate one year per ring. Or you can put as many cards as possible onto a single ring, and separate the years with a yearly marker.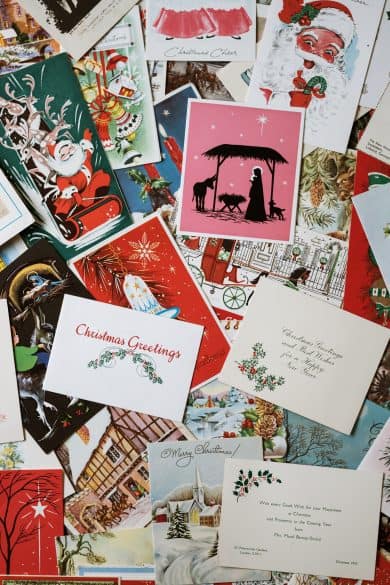 Scrapbook:
Another way to keep Christmas cards organized is by placing them in designated small photo albums or scrapbooks. You can use an inexpensive album for each year, or you can purchase a large album and use it for multiple years to come.