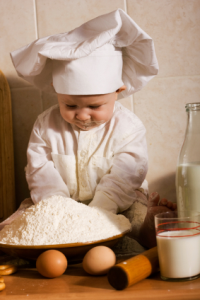 Growing up, I had a friend whose mom was the epitome of cool. Linda Thomas always let her daughters wear her shoes – even the high heels. I wasn't even allowed to wear high heels until I was 14 (tragic huh?). The coolest thing about her though was when she did cooking demonstrations. Every so often, she'd don her giant chef's hat and apron and invite us into the kitchen. She'd do her best Julia Child impersonation and show us how to make cookies. We would get to level off the cups of flour with a knife, lick the bowl and the beaters, and laugh our heads off because she was such a card.
I think about her every time I make cookies with my son.
This post may contain affiliate links. As an Amazon Associate I earn from qualifying purchases. For more information, see our disclosure.
I posted a couple of weeks ago about how the art of cooking is being lost. So, it's our responsibility to make sure we pass what we know on to our kids (even if it is limited). One of the best ways is to make it a game. Add a smiley face to any food you can (PB&J, Pizza, Pancakes… you get the idea). Think what it would add just to throw on a chef's hat. A little food coloring goes a long way to entertain.
The kids will test your limits. They'll ask a million questions, get in your way, side-track you, and in general drive you crazy. But maybe when they are 34, they'll write about what fun it was to be in the kitchen with you. More importantly, maybe when they're 34, they can feed their families.
You have to start early. Catch them when they think everything you do is cool and you'll have them hooked for life. What to you do to make cooking fun?
Yesterday, my son and I made Golden Graham S'more Treats (caution, this recipe for serious sweet-tooths only). By the time he had one marshmallow, one chocolate chip, and licked the bowl, he wasn't even interested in having a treat when they were done. More for me!
Indoor S'mores
8 cups Golden Grahams cereal
5 cups miniature marshmallows
1 ½ cups milk chocolate chips
¼ cup light corn syrup
5 tablespoons butter or margarine
1 teaspoon vanilla
1 cup miniature marshmallows
Butter rectangular pan. Microwave 5 cups marshmallows, chocolate chips, corn syrup, and butter in large bowl on high 3 minutes, stirring after every minute until mixture is smooth. Stir in vanilla. Stir in Golden Grahams. Stir in one cup of marshmallows. Press into pan, let cool, then serve.