The kitchen. The most popular room in the house. It's where everyone gathers and eats, cooks, chats, does homework and creates art projects. It sees the most action and the most messes.
So naturally, it becomes the room that is easily disorganized! And then the kitchen can't function at it's highest level. Let's take an afternoon and fix all that!
This post may contain affiliate links. As an Amazon Associate I earn from qualifying purchases. For more information, see our disclosure.
Kitchen Organization Hacks
Now, let's take a closer look at 5 awesome kitchen organization hacks.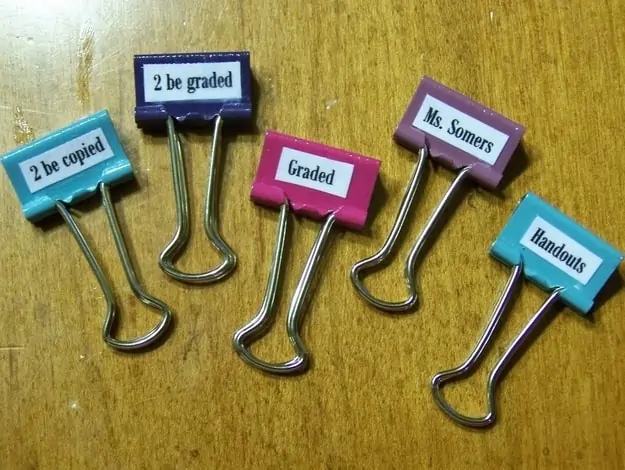 1. Tackle Paperwork!
Whether it's your kids school papers or bills and junk mail, paperwork can pile up. One of the first things to do to avoid the build up is to head straight to the trash can as you head inside from the mailbox. Trash the junk mail before it even comes in your house!
With what is left, try this simple elementary school teacher hack! Label binder clips with where paper need to go. Bills, file, homework, schoolwork keepers, etc.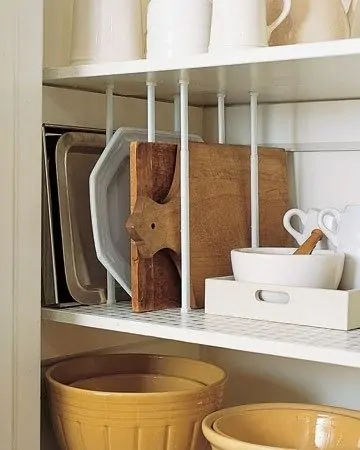 2. Add some tension!
Cookie sheets and cutting boards usually end up stacked on top of each other and then go unseen and unused. Try using small tension rods to turn them up on their sides. This way you can see them and keep them from getting cluttered.
3. Command You Space with Hooks!
Do you have a love affair with Command Hooks like I do? I probably have 50 of them around my house being used for everything from holding up pictures to holding up backpacks. But guess what, they are also wizards in the kitchen.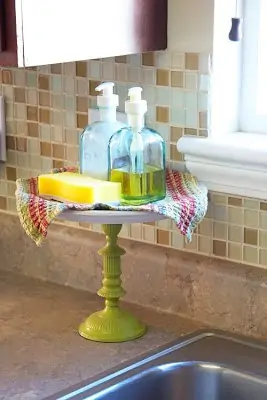 4. Cake Stands To the Rescue!
I collect cake stands and use them for all kinds of things around my house. One way I use them is to curtail clutter on my kitchen counters. Cake stands aren't just pretty, they are also a pedestal that can hold things off of the counter. This keeps things organized and gives you more counter space!
Use a cake stand to hold small kitchen tools, fresh fruit, salt and pepper or even car keys.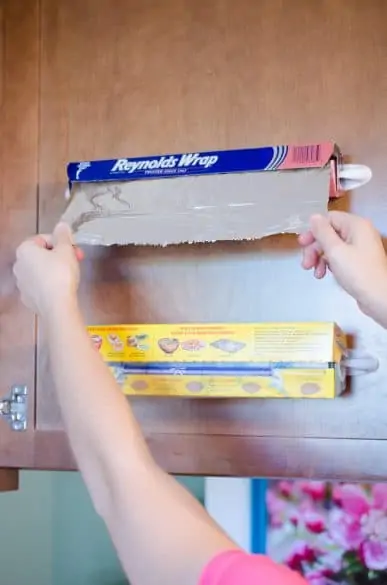 5. Free up Some Drawer Space!
We can all use extra drawer space, right? Try utilizing the inside of your kitchen cupboard doors to hang things that normally go in a drawer. This is where we can use those blessed Command Hooks!
Try this brilliant hack for storing your plastic wrap and foil. You can even use Command Hooks to hang your measuring cups and spoons on the inside of a cabinet.