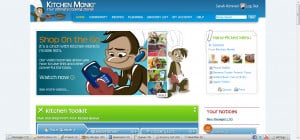 Meal planning is probably one of the least fun tasks for me. I used to sit in a pile of cookbooks with a calendar in on one side, a shopping list on the other, and so the search begins. In this digital age, that should definitely NOT be the case. Now it really isn't thanks to kitchenmonki.com.
The great thing about Kitchen Monki is that first, you don't even have to sign up for an account. If you have a Facebook account you can just log in through Facebook! It is super simple. The next thing you will notice is that there are already a TON of recipes, and the list just continues to grow. You can then enter your favorite recipes, and do searches for new recipes to try out.
This post may contain affiliate links. As an Amazon Associate I earn from qualifying purchases. For more information, see our disclosure.
Once you find a recipe you would like to make, you click a small button at the top of the screen to "queue" the recipe up. Once you've found enough recipes to queue, you can go over to the Meal Planner. Drag and drop your recipes to the days you want to make them. It is that simple!
Now that you've got your meal plan in place you can print it out. Included in the printout will be the schedule (which meals you've planned for which days), the recipes for the week (or whatever time period you've selected), and the shopping list of items you'll need to make each recipe. What I love about this printout is that once I've put the recipe into Kitchen Monki I don't have to remember where I got the recipe from the day I want to make it. It's right there on my fridge!
Seriously, when I found this website I was completely in love from the get go! You really need to check it out and start planning some meals right away!