Whether you put them on your porch or in your cookies, pumpkins are for everyone. There is no better time to celebrate than National Pumpkin Day 2020.
National Pumpkin Day is Monday, October 26 this year. Perfect timing for using pumpkin decorations around your house to celebrate fall, Halloween, and Thanksgiving. Check out these ideas on how to add pumpkins to your decor.
Pumpkins On Your Porch
This post may contain affiliate links. As an Amazon Associate I earn from qualifying purchases. For more information, see our disclosure.
You could use real pumpkins or decorative pumpkins for this pumpkin decor. Start off by painting your pumpkins. I love the variety of colors shown in the pic below. Then use your vinyl lettering to add a family name or fun saying to your pumpkin. These would be perfect for your front porch but could easily transition to inside your house. Check out the Personalization Mall on Etsy if you prefer to buy these beauties instead of going the DIY route.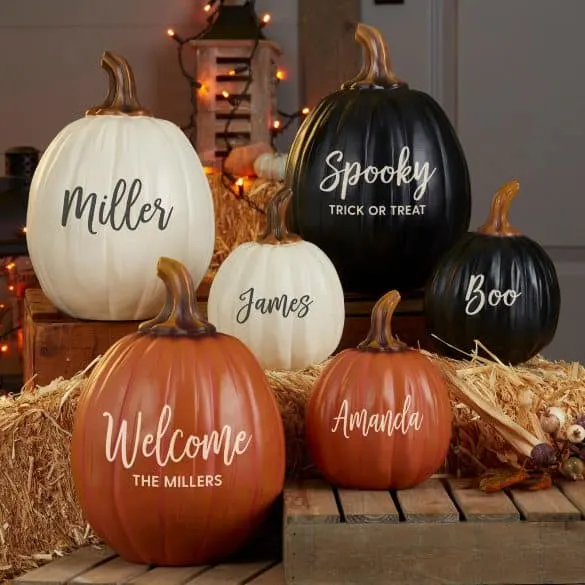 I am loving these pumpkins with succulent plants. When I first saw these I was thinking the succulents were actually inside the pumpkin. But, after watching the DIY tutorial on Simplyhappenstance.com I learned that they are actually just glued on top. Huh. Who knew. These adorable pumpkins would be a beautiful addition to your porch to celebrate National Pumpkin Day.
Carved Pumpkins
The classic way to display a pumpkin is to carve it up! Why not try using a stencil this year to make an extra special pumpkin for National Pumpkin Day. Like the one pictured below from All4partytime on Etsy. You can also find free pumpkin stencils on the web from sites like Pumpkinpile.com.
Carving not your thing? You can still get the same effect with some push in pieces. You can purchase pieces like the ones below from Target.com or find your old Mr. Potato Head and put his pieces to work.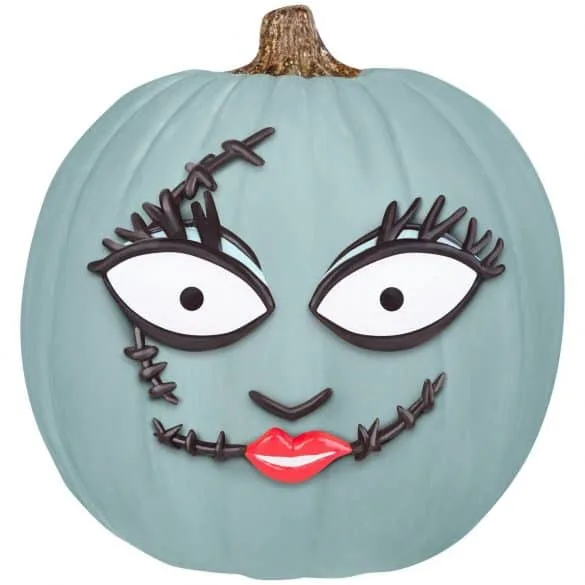 My personal favorite way to use pumpkins is to eat them! Check out a few super yummy recipes that all include pumpkin.
Pumpkins To Eat
I found this recipe on Pinterest a few years ago and fell in LOVE with it. It comes from Handle the Heat with Tessa Arias and you can check out the link for the full recipe. It takes 1/2 cup pumpkin puree. Sometimes I'll open a big can of pumpkin but not need all of it for my cookies or bread. This is the perfect time to use the rest of the can to make some pumpkin alfredo sauce. It's super festive for National Pumpkin Day 2020 and so yummy!
My 10 year old is obsessed with muffins and these pumpkin muffins were a HUGE hit! The recipe comes from Seasons & Supper. They freeze well so I like to double the batch and have some now and some for later.
Our go-to pumpkin cookies come from Parent Pretty. There are 2 reasons why these cookies are a winner at our house. #1 It's a pumpkin cookie…with FROSTING! #2 These cookies have LOTS of butter (we try not to notice how many sticks we are adding to the batter). The name doesn't lie. These cookies really do melt in your mouth.
Whether you like to decorate pumpkins or eat them, National Pumpkin Day is for you. So mark your calendars because October 26, 2020 is the big day and needs to be celebrated!