Are you ready to finally get your pantry cute and organized? We are here to help with the tricks and tips you need to create a beautiful and functional pantry – and all with items found at the Dollar store. This is the best way to organize your pantry on a budget! We'll start with some simple ideas for containers and shelves that are easy to set up.
Organize Your Pantry With Help from the Dollar Store
The kitchen is often described as the heart of the home, and your pantry is the heart of your kitchen. So it's important to keep your pantry stocked and organized, because it can save you time and money, and make cooking in your kitchen easier and more enjoyable.
This post may contain affiliate links. As an Amazon Associate I earn from qualifying purchases. For more information, see our disclosure.
Whether you have a walk in pantry or just a few shelves in a closet, we are here to help with some simple but impactful organization tips.
Why Organize Your Pantry?
If your pantry is currently unorganized and messy, then you know how frustrating it can be when you're looking for a specific item and can't find it.
This might mean that you have to take the time to run to the store and purchase the item, only to find it a few days later. Which is why having an organized pantry will actually help save you time and money (plus your sanity).
Having a clean and organized pantry will also allow other people to feel more comfortable helping in your kitchen. If you're wanting your significant other or your kids to help cook more often, an organized pantry allows for easier access to the cooking supplies.
Creating a Pretty Pantry from the Dollar Store
Your pantry can be both functional and pretty. But what makes a good looking pantry?
Cute pantries are all uniform and consistent. They have matching containers for pastas, cereals, other dry goods, and matching spice organizers. They will often have baskets or plastic bins for larger items, and wire racks for stacking smaller items.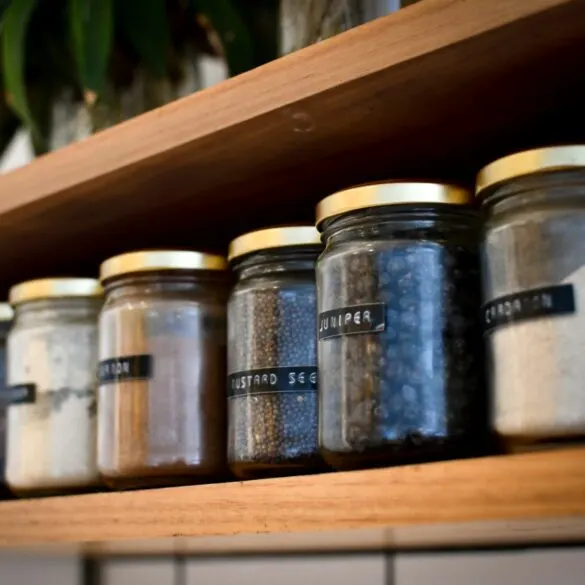 These can be expensive to purchase at a regular retail store, especially all at once. But did you know that you can find many of these items at the Dollar Tree?
Dollar Tree Increased Their Price
Dollar Tree announced on Nov 24th, 2021 that they were officially increasing their price on most items to $1.25
So although their items are no longer just a dollar, they are still inexpensive compared to purchasing similar items at regular retail stores like Walmart or Target.
Shop Dollar Tree Online
I just learned a few months ago that you can buy in bulk from The Dollar Tree when you shop their store online. Sweet, right?
This has been very helpful because our Dollar Tree is sometimes out of stock on certain items, or they only have a couple of items when I was hoping to purchase quite a few.
But by shopping online, you can purchase their items in bulk, usually starting at a dozen and going up from there.
Matching Containers
One of the first items you'll want to invest in to get that pretty-pantry-look are matching food grade containers.
The Dollar Tree has some cute glass jars with stainless steel lids, that will allow you to store pantry staples like: brown sugar, powdered sugar, chocolate chips, seasonings, oatmeal, quinoa. You could also store smaller pastas, like elbow or bowtie pasta in these.
The local Dollar Tree has more than just jars, they have some cute coordinating wire baskets, plastic baskets, and even shelf liners to keep all the shelves clean in your kitchen pantry when you're adding your containers, bins, and baskets.
They have large containers, smaller ones and various different sizes to try to make the most of your storage space.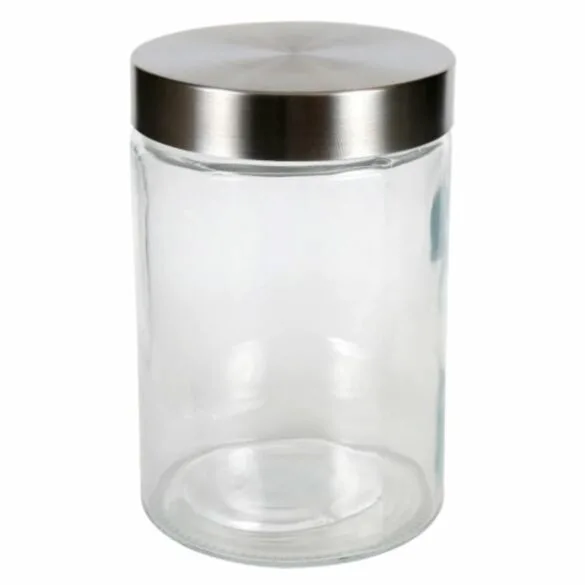 Storing your pantry staples in matching containers will give your pantry that organized designer look. You can take these containers up a notch by adding cute labels to each one that will give you a custom personalized look.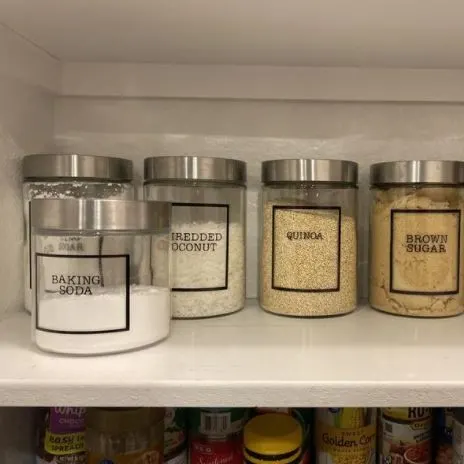 Cute Crates
Many people use baskets in their pantry, but I prefer to use crates. Crates are sturdier, and easier to clean than baskets, and they look just as good.
The Dollar Tree has some cute crates that you can purchase online here.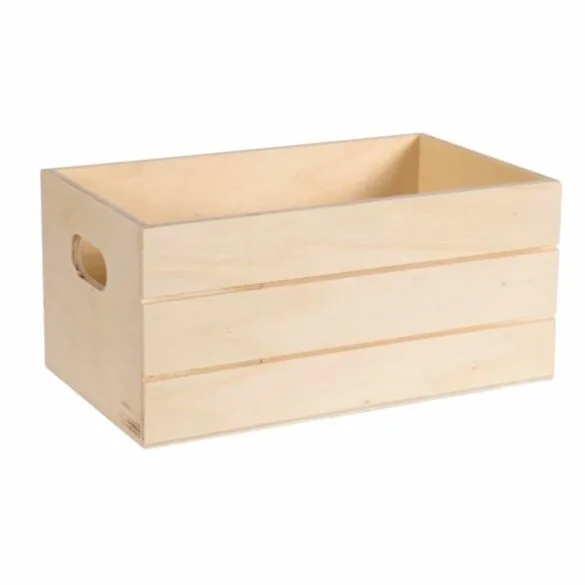 These would be perfect for storing food items like onions and small potatoes. You could also store other items, like boxes of stuffing, boxed rice, popcorn packets, or packets of oatmeal in these open, sturdy storage containers.
These crates would also be perfect for all those miscellaneous items, to help keep the visual clutter to a minimum. Things like muffin liners, birthday candles, and food coloring, etc.
Chalk Board Labels
Another fun item the Dollar Tree carries to help keep your pantry organized are these cute chalkboard tags.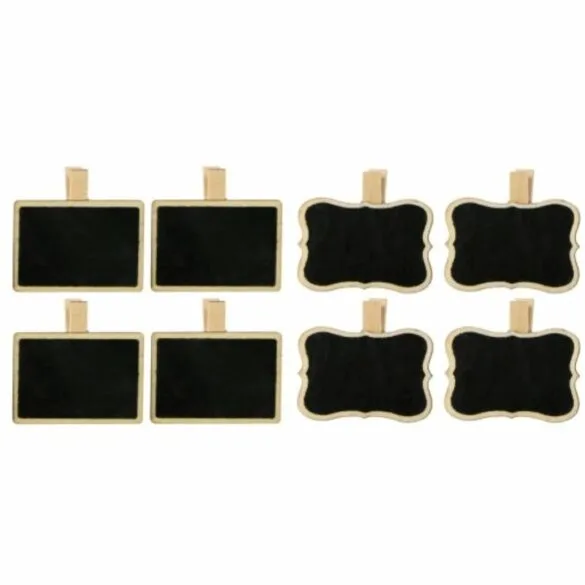 Clip them to crates or baskets to keep everything organized and easy to find.
With these tags you won't ever have to dig through your pantry looking for lost items ever again. You and everyone else in the family will know exactly where everything is or where everything in the pantry belongs.
They may be a slight extra cost and may take a few extra minutes to make and put together, but trust me when I say, this transforms your entire pantry into a well organized area.
Making More Room
Do you ever wish that your pantry was bigger? While moving homes or remodeling might not be an option right now, you can always try to better utilize the space that you do have.
Create Room On Your Shelves
The shelves in your pantry can easily become overfull and crowded. Are you looking to create some more room?
Using these white wire racks can help to create space that might otherwise not have been accessible.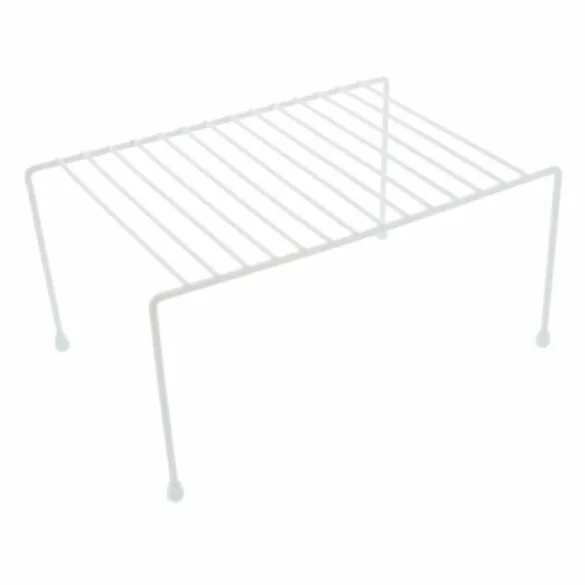 They make a wire rack in various sizes so you can use them in creative ways to make more room you didn't even know you had.
Or if you find yourself stacking your boxed food or canned goods a little bit too high, these wire racks can add stability to your pantry stash.
This makes it much easier to keep all items together in one place and can make your pantry look very neat!
Utilize Room Behind the Door
The Dollar Tree sells a rack with six hooks that clips above your door. This allows you to create more room within your pantry by utilizing the space behind your door.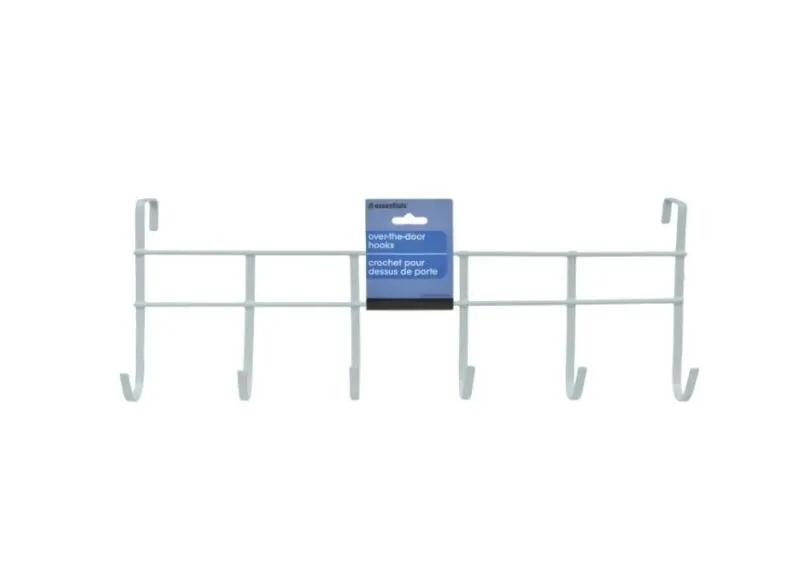 You can hang up your mop and broom, or your aprons. Anything that can save space within your pantry.
Hanging Baskets
Although I prefer to use crates on my shelfs, I think it's a great idea to use hanging baskets on any unused wall space. By utilizing your unused wall space, you can free up more room on your pantry shelves.
The dollar store sells both black and white baskets in square, round, or oval shapes.
Hang these baskets to your wall with removable hooks, like Command Hooks. You can also find these at the Dollar Tree as well.
These baskets aren't extremely sturdy, so you don't want to put anything super heavy in them. They are perfect for bananas, or avocados. You can also use them for kids snacks like granola bars or fruit snacks.
Multi-Tier Spice Racks
These are perfect for the spices you use frequently, or to organize and store your tea bags. You can easily put these racks inside a cabinet, on top of the pantry shelf, or even against the wall.
You can find multi-tier spice racks at the dollar tree store too! I love these because they don't take up much countertop space or pantry shelf space and they come in a variety of colors.
Can Racks
Using the can racks is a great way to organize your cans so they take up less room and they're easier to find. You can keep like items together and know exactly how many of each thing you have, which is especially helpful when meal planning to see if you need to add things to your grocery list or not.
If your store doesn't have can racks, you can make your own can storage bin by using a magazine holder or an upright magazine rack. Just make sure it's deep enough for your taller cans.
Cabinet Organizers
If you have a large walk-in pantry, you may find yourself with some cabinets in there. If you have them, you can also use cabinet organizers to help keep everything organized.
A lazy Susan is a great way to store canned goods, spices, and anything else that needs organizing in the kitchen that you may not want to clutter up your pantry shelves.
Pull-out drawers are also helpful since they provide extra space. You can actually make a DIY Lazy Susan using materials from the dollar tree.
Tension Rods and Over-the-Door Organizers
Tension rods are an easy way to create some extra shelving in the pantry. Just attach them to the ceiling or wall of your pantry and hang baskets, bins, or other organizers from them. You can also use tension rods for over-the-door organizers which can come in handy for organizing items that don't fit on shelves.
Hook Racks and Magnetic Strips
Hook racks are great for holding mugs, aprons, kitchen utensils, and other things you want to quickly grab from the pantry without having to search through drawers or cabinets. Magnetic strips are also useful for keeping knives, scissors, and other sharp tools handy.
Labels
It is important to have labels in your pantry so you know where everything is. Labeling shelves and bins can help save time when looking for items and make it easier to find what you need quickly.
You can use chalkboard labels or adhesive labels, depending on what works best for your pantry. We briefly talked about chalkboard labels above, but you can use any label.
Plastic Containers and Jars
A variety of containers can help keep items like grains, flour, snacks, cereals, and other small items organized. You can also use jars to store baking supplies such as sugar, cocoa powder and sprinkles in one place.
These would be a great addition to any of your organizing systems that you have and want to use in your working pantry.
General Tips for Organizing Your Pantry
Here are a few tips to help keep your working pantry organized:
• Group similar items together; this will make it easier to spot what you're looking for.
• Label shelves, bins, and jars to quickly identify which item is located where.
• Make sure all items can be seen easily.
• Place items that are used most often at the front of shelves or bins.
• Utilize back-of-door storage for items such as containers, baking supplies, and other small gadgets.
• Place uncommon or unused items on the top shelves out of the way.
I hope this article has given you some ideas and inspiration to organize and design the best pantry possible for your home.