It's that time of year to dust off favorite holiday recipes and enjoy some sweet holiday treats. Here are three of my family's favorites!
Candy Cane Cookies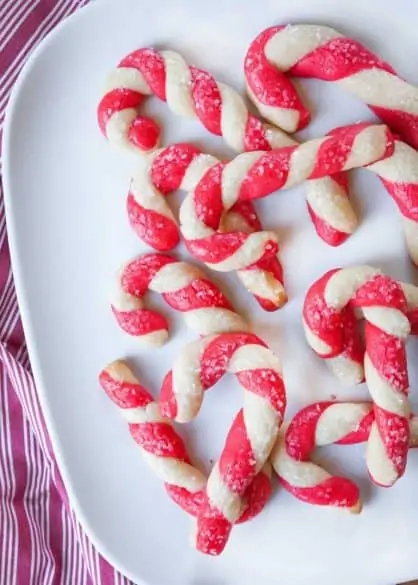 These cookies are a holiday staple in my house. My kids love to help roll out the dough, shape them, and sprinkle on the crushed candy cane. With a delicious blend of almond and peppermint flavor, these are sure to be a hit in your house, too!
Ingredients
½ cup butter or margarine
½ cup shortening
powdered sugar 1 cup
1 egg
almond extract -1 1/2 t.
1 tsp. vanilla
2 ½ cups flour
1 tsp. salt
½ tsp. red food coloring
sugar–1/2 cup
½ cup finely crushed candy canes
Directions
Mix butter/margarine, shortening, powdered sugar, egg, almond extract, and vanilla together in a large bowl.
Add salt and flour.
Divide dough in half. Mix red food coloring in one half of dough. Leave the other half white.
Roll out one small red ball of dough and one small white ball of dough into 4-inch ropes on a floured surface. Twist the two ropes together and shape into a candy cane.
Cook at 375 degrees for around 9 minutes.
Mix sugar and crushed candy canes. While cookies are still hot, sprinkle this mixture on the top.
Holiday Popcorn
This post may contain affiliate links. As an Amazon Associate I earn from qualifying purchases. For more information, see our disclosure.
If you are searching for a quick and easy recipe, look no further! This festive popcorn treat is a great addition to your holiday snack line-up.
Ingredients:
¾ lb. of white almond bark
3 T peanut butter
14 cups of popcorn
3 cups of crisped rice cereal
1 to 2 cups peanuts
red and green sprinkles
Directions:
Melt together almond bark and peanut butter.
Mix popcorn with crisped rice cereal and peanuts.
Pour melted mixture over popcorn mixture and stir.
Add red and green sprinkles.
Spread out on wax paper and cool for 2 hours.
M&M's Cookies
There is nothing better than sinking your teeth into a delicious chocolate chip cookie—except maybe sinking your teeth into a cookie loaded with M&M's! This chocolate chip cookie recipe has been modified to include red and green M&M's to give it some holiday flare.
Ingredients:
2 ½ cups flour
baking soda 1 tsp.
salt 1 tsp.
butter 1 tsp.
¾ cup sugar
¾ cup brown sugar
1 tsp. vanilla extract
2 eggs
10 oz. package red and green M&M's
Directions:
Combine flour, baking soda, and salt in a small bowl.
Beat butter, sugars, and vanilla until creamy.
Add eggs one at a time.
Gradually add flour mixture.
Mix in M &Ms.
Scoop small balls onto ungreased cookie sheet.
Bake at 375 degrees for 8 to 10 minutes.
I hope you and your family enjoy one or all of these sweet treats as you celebrate this holiday season!