Home is where the heart is. So shouldn't your home decor reflect who you really are? It's easy to put a good-looking room together with generic art and simply imitate your favorite home designers. But in order to really make your home your own, the decor should be meaningful and personal. Here are five simple ways to add a personal touch to your home design.
1. Family Photo Gallery
The most obvious was to personalize your decor is with family photos. One of my favorite ways to do this is with a gallery wall. This allows you to choose your favorites and enjoy the memories they represent, while still creating a cohesive and beautiful space in the room. For a clean and modern approach, try a grid layout like this one.
This post may contain affiliate links. As an Amazon Associate I earn from qualifying purchases. For more information, see our disclosure.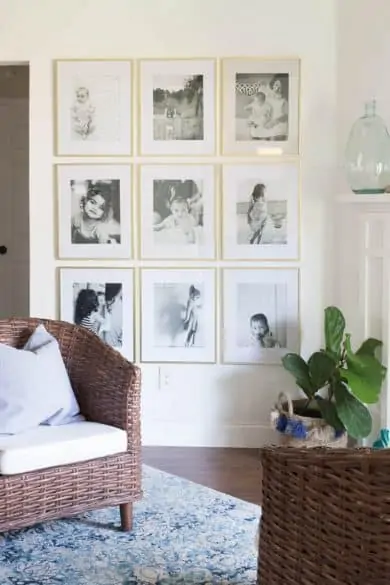 Source: Making Home Base
2. Incorporate Family Heirlooms
Even if vintage furniture isn't really your taste, you can still blend certain pieces into your overall home design. This secretary desk at first glance might not look like it belongs in a contemporary space. But by adding a bold accent chair and modern accessories, the designer was able to honor the history of the piece while still keeping with the client's updated style.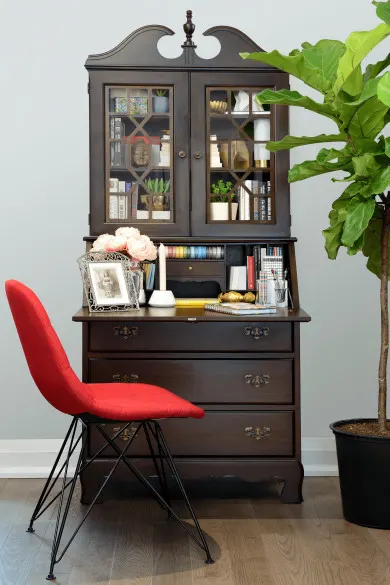 Source: Judith Taylor Designs
3. Choose Meaningful Art
My late grandmother loved bougainvillea flowers, so I've been on the hunt for a piece of bougainvillea art. I know when I display it, I will remind me of her every time I look at it. As you shop for art, search for pieces that will represent something more for you – think of family members, special memories, or meaningful places.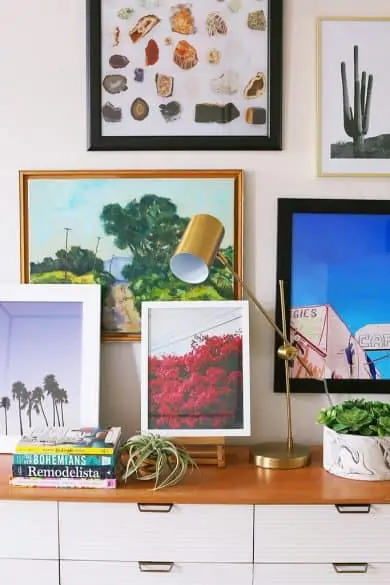 Source: Jenny's Print Shop
4. Display Travel Mementos
Traveling is the perfect way to pick up meaningful decor that you can't find just anywhere. I love this idea of buying a postcard at each of your destinations and then writing vacation memories on the back. The postcards are then displayed in a beautiful vase.
Source: The DIY Playbook
5. Find Inspiration in Music
Use meaningful songs as inspiration for your decor. It could be anything from your favorite song, to the first dance at your wedding. Make it into artwork by using the lyrics or the actual sheet music, like this oversized print.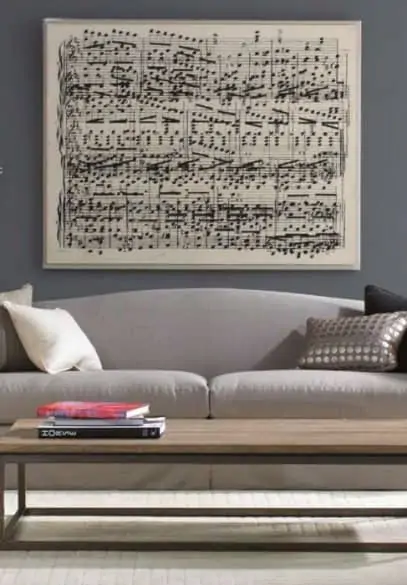 Source: Mitchell Gold + Bob Williams