Do you remember starting your own recipe collection? It was a definite learning curve moving into my first apartment in college and figuring out with my roommate how to cook for ourselves after eating on-campus for two years. Prior to moving in, I had gone through my mom's old recipe boxes and copied down some of my favorite recipes she would make for us as kids.
What started as just a few recipe cards in my early twenties grew into a vast collection of different recipes and cookbooks piled into my kitchen cupboards in my early forties. When we moved last year, I decided it was about time to wrangle this collection into a more organized system. Are you facing this same issue?
Here some recipe organization ideas.
Sort through your collection.
This post may contain affiliate links. As an Amazon Associate I earn from qualifying purchases. For more information, see our disclosure.
Before you start to organize your recipes, I recommend sorting through your stash and seeing if there is anything you can get rid of. Throughout the years, I had gathered recipes through a variety of ways. Some were family favorites that I kept in an old recipe box. Others were pieces of loose paper pulled out of magazines. I had also gathered a collection of recipe books that were either given to me at our wedding or I had purchased along the way.
Once I started sorting through my collection, I realized there were 3 or 4 cookbooks that I never used. And let's be honest, as a mom of two busy boys, they were just taking up space in the cupboard. I also ended up with a subscription to a food magazine thanks to one of my nieces' fundraisers. I had dozens of recipes ripped out of that magazine that I had haphazardly thrown into a folder.
So, my first step in organizing my recipe mess was to look through my collection. I figured out which recipe books I could get donate and which recipes I could recycle. With the magazine recipes, I allowed myself to keep a few in each category. Did I really need 10 new cookie recipes that I would likely never get around to trying? No. Two was plenty!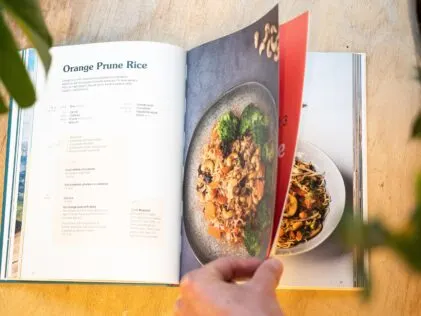 Decide which organization system makes the most sense for you.
Your organization system will likely depend on how much storage space you have, as well as how you have collected your recipes over the years. If you have recipes in various formats, you will probably end up using two or more different storage systems, and that is ok! Here are a few suggestions:
Recipe card box
Most recipe card boxes come with a set of category tabs to stick in between the recipes to help you organize. Typically, these tabs include categories like breads, desserts, cakes and cookies, meats, casseroles, eggs, etc. If these categories work for you, then no use reinventing the wheel!
I have found, however, that if I make up my own categories, recipes are easier to find. Several of the traditional categories overlap. For example, a rice and sausage dish could fall under pasta, meat, or casserole. So, I devised my own label system and included things like "family favorite main dishes", "instant pot meals", "30 minute-meals", "holiday recipes", "breakfast recipes" etc.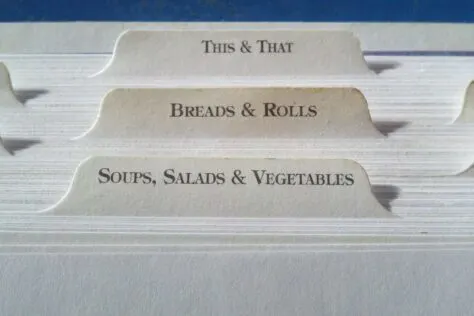 Recipe card rolodex
These are a little harder to find but might be worth a search! With a recipe rolodex, you still use standard sized recipe cards, but they slip into a plastic cover, so they are protected from splashes and spills as you cook. You just spin the rolodex until you reach your recipe of choice.
The one drawback is that you have to use the same standard size recipe card throughout, so they aren't too big or small for the plastic cover. If you already have a collection of recipes on assorted sized cards, you might not feel like taking the time to re-write the ones that are too big or small for the rolodex.
Recipe card binder
This is what I ended up using for all the loose recipes I had in that folder that I had collected over the years from magazines. I bought a 1-inch binder and some plastic sleeves. I put the pages I ripped out of magazines into the sleeves and added divider tabs in much the same way I did for my recipe box.
Digital storage
If you have the time (or maybe want to have an older child assist you with this) you might consider scanning your recipes into a digital format like a pdf or picture file. Then you can digitally organize these recipes and just open them from your phone or other device when you want to use them. This could save you some space in your cupboards if you were really short on space.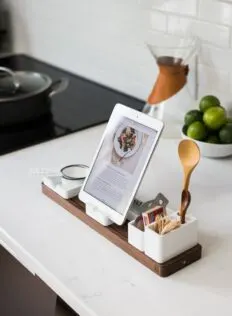 Do you feel like you are stuck in a rut and want some new recipes to try? Here are some suggestions:
Do a recipe exchange with friends.
Start a group thread through an e-mail or social media and ask everyone to post their favorite family friendly recipe. One that even the pickiest of eaters will enjoy! Or you could do different themed threads. A dessert thread, an appetizer thread, main dish thread, etc.
Search through food magazines.
A lot of libraries have a pretty expansive magazine selection. Once they have been in circulation for a while, these magazines are typically recycled. If your library subscribes to a food magazine, ask the librarian if you can have a couple of the copies when they are ready to discard them. Or treat yourself to one at the grocery store!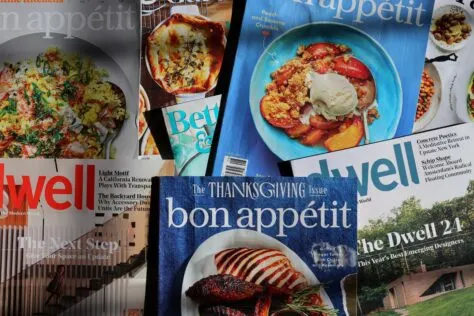 Google it.
I have found some fantastic recipes through online sites like allrecipes, the food network, or delish. You can go to these types of sites for ideas or maybe you have something in mind that you want to try but need a recipe for. Just use the search bar on these sites. You can also find some great recipes on sites like Pinterest.
I hope that this article has helped you consider different ways to organize your family recipes. Happy cooking!