Gardening with your children is a great way to enjoy spring weather together. But what gardening jobs for kids will keep them engaged? Entice your child to come outside and help you in the yard by giving them some simple, fun jobs to do!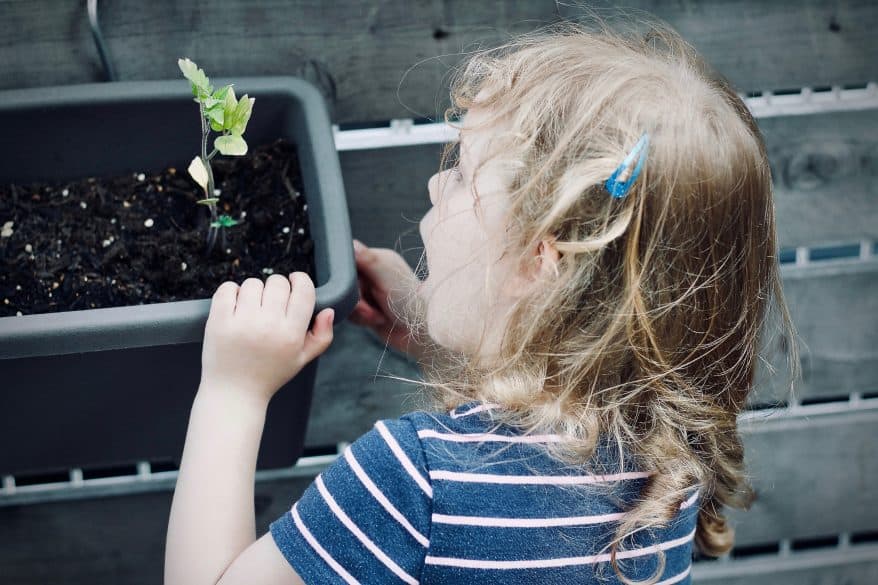 This post may contain affiliate links. As an Amazon Associate I earn from qualifying purchases. For more information, see our disclosure.
Photo by Jelleke Vanooteghem on Unsplash
Watering
Probably the thing kids love most is watering the garden! Honestly, it's one of my favorite things too! Get a kid-sized watering can and teach them how to fill it up with the hose. Or, if they are very small, fill the watering can for them and then let them give all your plants a drink.
Deadheading Flowers
To keep flowering plants blooming longer, you need to pick off the dead blooms. This is an easy, fun job that your kids will love!
Finding Worms
If your child enjoys digging in the dirt, let them! Give them an area where they can dig and have them go on a worm finding mission! Worms are great for soil so you can have your child transfer the worms to your garden beds.
Planting Annuals
Annuals are typically on the smaller side and are fairly easy to plant. Let your child dig holes for the annuals and plant them! They will love digging in the dirt and seeing some instant color in the garden. Plus, they'll be happy to get their watering can and give the new plants a drink.
Harvesting Vegetables
If you have a vegetable garden, let your child help with harvesting. Your child will love to help you pick ripe tomatoes, strawberries, beans, and anything else you have planted!
Pulling Gardening Supplies in the Wagon
If you need a helper while you are gardening, give your child this fun job to help. Pile your gardening tools, gloves, plants, and anything else you need in a wagon. Then, your child can be in charge of supplies! They can pull the wagon over to you and hand you the tools you need for the job.
Spreading Mulch
If your child loves to get dirty, they can help you spread mulch! This is a dirty, but satisfying job. Hand your child some kid-sized gardening gloves and let them get to work spreading mulch.
Cutting Flowers
If you have lots of flowers in your beds, let your child help you cut flowers to bring inside. This is a job meant for kids who are old enough to safely use gardening shears or scissors, always under your supervision of course. Then your child can bring the flowers inside and make a beautiful arrangement for your kitchen table.
Pulling Weeds
Ok, so pulling weeds may be a difficult gardening job for kids, but it doesn't always have to be. Some weeds are annual, don't have deep roots, and are quite easy to pull out. Your child might enjoy clearing a bed with these type of weeds.
Gardening with kids is a great way to enjoy the outdoors and spend quality time together as a family. There are some great gardening jobs for kids of all ages! So get out there and start gardening!