Mardi Gras is meant to be a massive celebration leading up to the Christian holiday of Ash Wednesday. Yummy, delicious and rich foods are feasted upon during this time as after Ash Wednesday, leaner and more healthy meals will be consumed. Whether you celebrate Mardi Gras for religious reasons or you just enjoy the celebration, here are a few snack ideas to try out!
Get Creative with Colors
This post may contain affiliate links. As an Amazon Associate I earn from qualifying purchases. For more information, see our disclosure.
Traditional colors of Mardi Gras are purple, gold and green. Use this knowledge and color palette to take your party to the next level. Food coloring can be added to just about any traditional party snack. For example, dye the whites of deviled eggs with these colors or sugar cookies.
You can also add pops of Mardi Gras colors into everyday favorites. Red cabbage can be added to tri-colored pasta salad for a yummy servable meal.
Actual snacks don't have to be the theme, when you simply use creative cutlery, plates and cups to accent traditional party snacks such as buffalo wings, nachos or bite size pizza bites.
Sweets and More Sweets
There is nothing more rich than cakes, cookies and milkshakes! Decadently rich chocolate cupcakes with cleverly placed Fleur De Lis cupcake picks will be the highlight of any party. Cake pops dyed the colors of the holiday, being dipped into chocolate and peanut butter is another tasty idea. Alternatively, use the food dye to make Mardi Gras colored milkshakes or smoothies.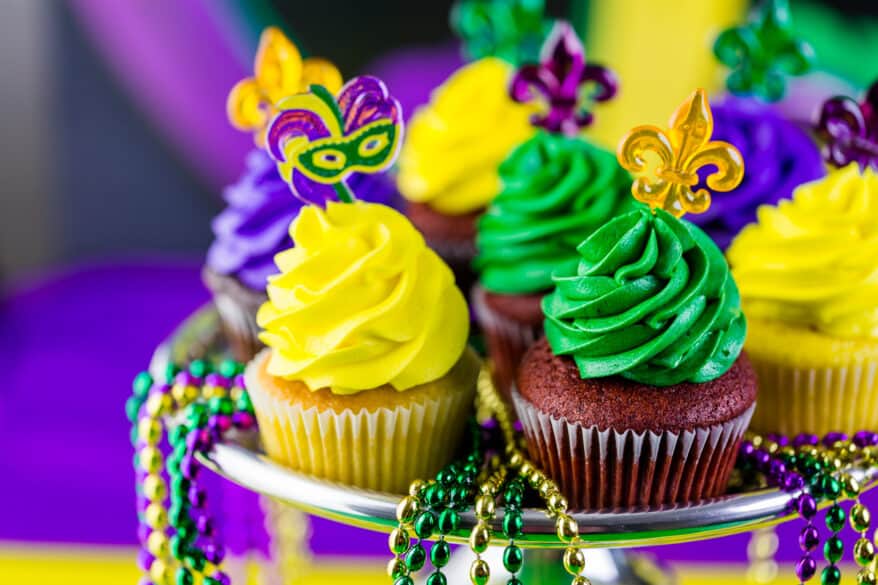 Make it a masquerade theme with themed cookie cutters and decorations. Additionally, Mardi Gras candy makes a great snack to add to the other sweet treats. If you want to get really traditional, try your hand at a Mardi Gras King cake.
Seafood and Meat Platter
Seafood is a highly utilized during many Mardi Gras celebrations. Serve up some yummy crab dip with a box of your favorite crackers.
Shrimp is always a crowd pleasing favorite as well. Try Chili Lime shrimp appetizers with are not only easy to make but absolutely delicious. Popcorn shrimp, shrimp skewers and shrimp pasta are all easy to make and can feed a lot of guests as well.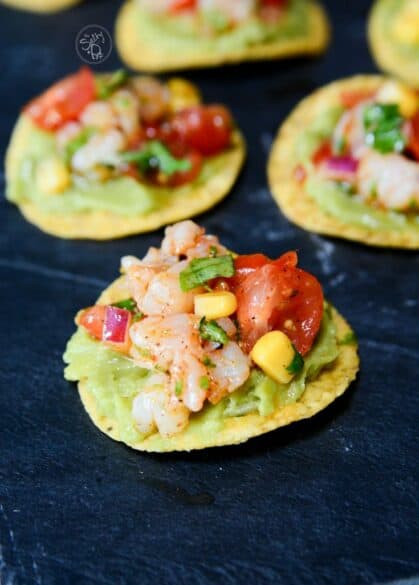 Add a Touch of NOLA
New Orleans is the epicenter of one of the world's biggest Mardi Gras celebrations. Use NOLA as an inspiration for your own Mardi Gras themed party.
Individual serving size gumbo or jambalaya can add a touch of the Big Easy to your party. However, other New Orleans staples include beignets and pralines. Google some recipes to their local favorites. However, you can also ask your local bakery and candy shop if these are something they may be able to help you with.
New Orleans residents are also known for their love of Tabasco sauce. The brand's website has all kind of snack ideas that use their products in imaginative ways. From Tabasco flavored garlic bread to spicy yogurt parfaits, check it out for even more and enticing ideas for your party.