Create an easy celebration with the perfect inspiration: Summer! We've got tons of Summer Birthday Party Ideas & Themes to get your creativity flowing!
Everyone loves the season and all the fun it brings, so take a cue from the summer months directly and hold a themed bash that makes the most of this seriously special time of year.
This post may contain affiliate links. As an Amazon Associate I earn from qualifying purchases. For more information, see our disclosure.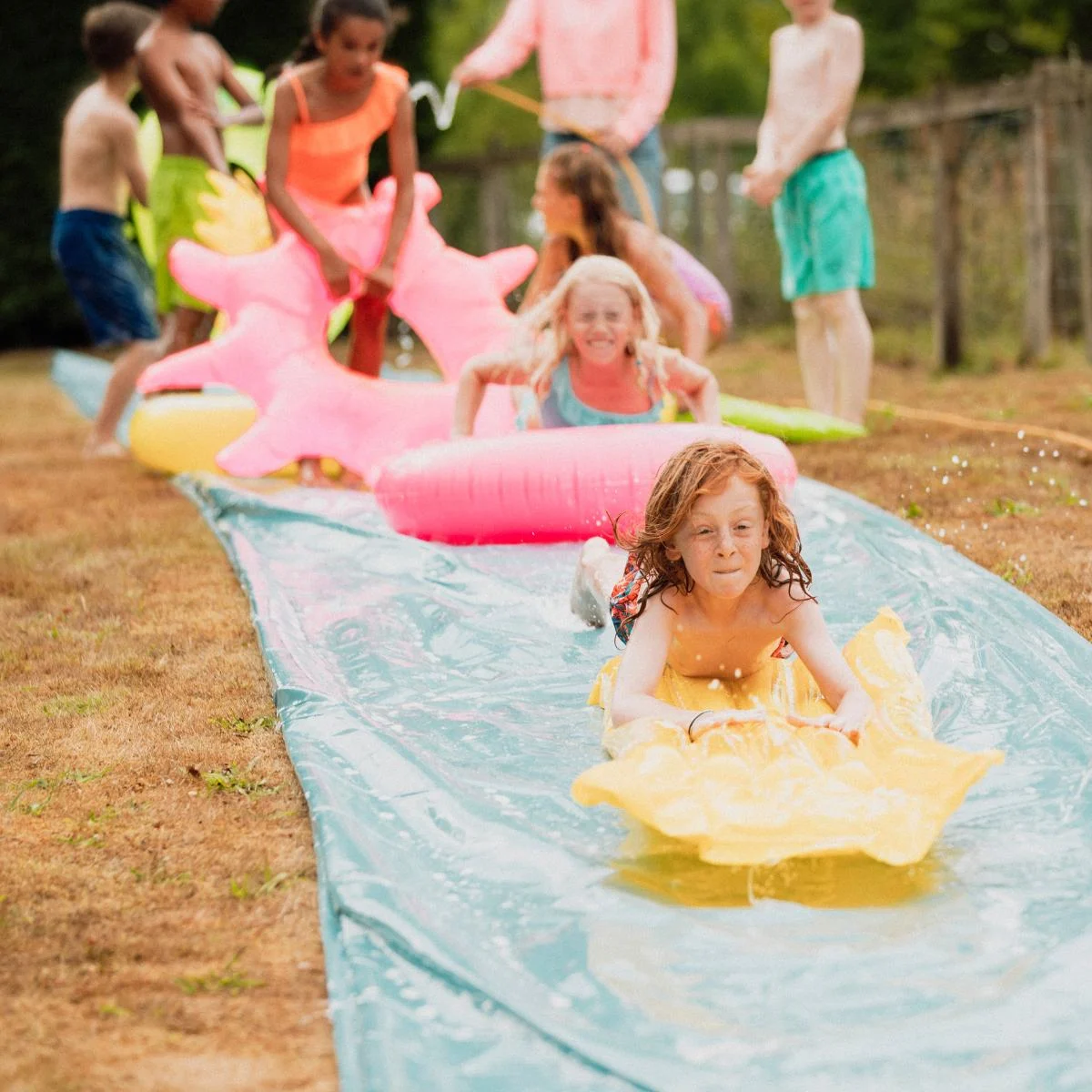 Why are Summer Birthdays the Best?
The Weather & The Great Outdoors
It seems anyone not born in the summer months of June, July, and August have some serious birthday envy at some point in their life—we know we did!

Summer birthdays are awesome because there are so many options for places to hold a birthday party that just are not possible at other times of the year, and the fact that most kids are out of school at the time means bigger, more exciting parties that make the most of the warm weather.
One of the main things that make summer birthdays special is the weather. Summer often means sunny skies and warm temperatures, which make outdoor parties ideal.
Not only can you hold a party at the regular indoor party locations (such as event rooms, play places, restaurants and at home) but the great outdoors is open for business as well.
Whether is is a backyard pool party, birthday at the local park, a unique surprise party, or a day trip to somewhere exciting like an amusement park or the beach, the choices are endless!
Bright Colors & Fun Activities
Flowers blooming, patriotic celebrations, and tropical drinks all have one thing in common—lots and lots of color!
Summer parties are perfect for themes and decorations made up of bright, tropical colors, which instantly add vibrancy and happiness to any party location.
There are also many fun games and activities that are best played during the summertime—keep scrolling for some of our favorites!
Amazing Summer Birthday Party Ideas
Top 8 Classic Summer Birthday Party Themes
Movie Night
Party at the Local Park
Water Themed Party with lots of water balloons to throw
Water Balloon Games-
Backyard Carnival with outdoor games
Picnic Party

Toddler/Kid Summer Birthday Theme Ideas
Frozen in Summer Birthday Party Theme
Moana Birthday Party
Popsicle Party
Kiddie Pool Games Party
Shark Party
Ocean Animal Party
Pirate Party
Water Games
(Slip and slide, water balloons, Pass the Bucket, Wet Sponge Relays
Lemonade Party
Picnic Party
Camping Themed Birthday
Ice Cream Party
Stars & Space Party
Bubble Guppies
What time is it? It's time for a Party! Create an underwater world where their favorite Bubble Guppies swim, set up the "store" to grab all the gear they need for today's adventure, and line up everybody line up for a fintastic fun time!
Watermelon "One-in-a-Melon" Party
Perfect summer theme for a one year old's birthday!
Pineapple
Two-tti Fruiti
Rainbow
Bluey Birthday Party-
It seems to always be warm and sunny in Australia, and Bluey is a smash hit here in the States, so play all of Bluey and Bingo's favorite games at a Heeler themed party! Disney Junior even has awesome Bluey printables you can use to decorate.
Summer Birthday Party Ideas for Tweens/Teens
Party at a Drive in Movie Theater
Beat the heat by renting an actual movie theater in the middle of the day!
Summer Olympics
Day at the Lake- boat rental
Water Park Party
Pool Float Party
Bubble Run Party
Retro Roller Skate-
the fashion styles are totally 90s right now, so why shouldn't the parties be too? Head to the closest roller rink for a (now) unique party experience, and for extra cheer, encourage guests to really dress up in full disco apparel!
Party Under the Stars
Trampoline Sleepover Birthday
Summer on Ice: Ice Skating Birthday Bash
Summer Camp Style Party-
Color Wars/Games, Chow, Firepit with Smores and Ghost Stories
Inflatable Obstacle Course/ American Ninja Warrior
Trip to the Fair with Friends
Summer Birthday Party Ideas for Adults
Summer Olympics (21+)-
slip and slide kickball, flip cup, buckets,
Bohemian Picnic Party
Luau-
Why not bring in traditional dancers (even if that means on Youtube) and hold a dance class
DIY Wine Tasting Party
Sangria Party
Neighborhood Cookout
Let's Flamingle
More Summer Birthday Party Ideas for Kids
Summer Party Games
Summer Crafts for Parties and Fun Things to Make
Theme Ideas for Little Kids
Backyard Birthday Parties
Summer Birthday Food Ideas
Ice Cream
Summer Birthday Cakes & Cupcakes
Summer Birthday Party Decor
Tropical
Camping
Beach
Carnival
Pool Party
Picnic Party