Planning a summer pool party for kids? Then you'll want to read these tips to keep in mind, including safety, food, and activities for summer pool parties!
Pool parties are a great way to cool off and have fun with kids and their friends.
This post may contain affiliate links. As an Amazon Associate I earn from qualifying purchases. For more information, see our disclosure.
If possible, include kids in the planning of the party. It makes them feel important and gives them a sense of accomplishment.
It also adds to the excitement for the upcoming party!
If the pool party is for a special occasion, be sure to send out invitations at least two weeks in advance. If planning on decorations, keep it simple.
Unless having a theme party, brightly colored balloons tied around the pool area should suffice.
Tips for Throwing a Summer Pool Party for Kids
Pool Safety for Kids
Above all else, safety needs to come first.
Before allowing any children into the pool, be sure to go over all safety rules with them.
Suggestions for these would be no running or shoving, no pushing anyone into the pool, no food or drinks in the pool, using life vests for children who need them, and sharing the pool toys.
Be sure to know the swimming levels of all kids attending, and don't make the mistake of assuming someone is always keeping an eye on the kids just because there are a lot of adults present.
In a busy party, kids can easily become trapped under a large float and struggle to find a way out, so make sure there is an adult responsible for watching the kids at all times.
What Kids Should Bring To a Pool Party
Unless planning to supply everything, it's okay to ask guests to bring a few things to the party.
When writing the invitation, request for them to bring towels and sunscreen. For children whose eyes are sensitive to pool chemicals, ask the parents to bring along some goggles.
A child's fun can be ruined at a party if their eyes are stinging from the water.
Kids Party Foods
Keep the food simple and keep it in the shade as food can spoil quickly on a hot day.
Finger sandwiches or hot dogs are usually a hit, along with fresh fruit such as watermelon or sliced bananas in a dairy whip.
Potato chips or goldfish crackers are always welcome as poolside staples, as are other kids' party snacks.
Keep a cooler full of bottled water and boxed juices.
If serving alcohol for the adults, keep these beverages in a separate cooler with a label saying adults only.
Check out these great Shark Themed Drinks for kid-friendly drink ideas and cocktails for adults!
Toys and Games For Pool Parties with Kids
Balls, throwing rings, and pool squirt toys are always a hit with kids.
Children enjoy inflatable pool toys, but caution needs to be taken when using them.
Make sure they don't obscure the sight of other children in the pool, or prevent grownups from keeping an eye out on the kids.
Some games to consider are Water Volleyball, Sharks and Minnows, Colors, and Marco Polo.
Another game kids have a blast with is a Hot Potato.
Make a large water balloon and poke a hole in it. Children quickly throw the balloon back and forth, trying not to be the last person to hold the balloon when the water runs out.
Taking Pictures at a Kid's Pool Party
Here is a fun idea for kids at the summer pool party: Purchase a few throwaway, waterproof cameras and encourage children to take turns snapping pictures at the party.
Being that the cameras are waterproof, it doesn't matter if one accidentally ends up in the pool. In addition, kids can take the cameras into the pool and try to get some underwater shots.
Cleanup at a Summer Pool Party With Kids
Keep a trash can close by to the food table and throw away trash as you see it to avoid it blowing away in the wind.
Here's a suggestion to make pool toy cleanup much easier—turn it into a game with the kids!
Set a timer and see how fast the kids can get all of the pool toys back into a deck box or container. Reward them with popsicles!
Kids will enjoy the challenge, and parents won't have as much cleanup to do when the party ends.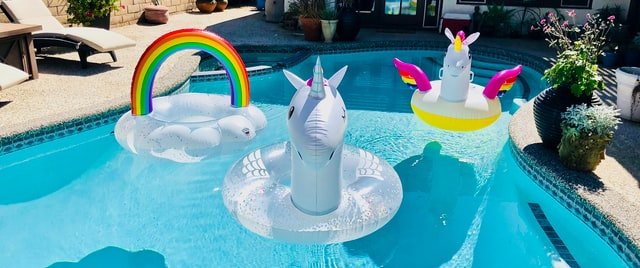 Pool parties can be a great way to spend a summer's day with kids. Keep it safe, and as parents, be sure to throw yourself into all of the fun.
Looking for more great party ideas? Check out these reader favorites: