Thanksgiving will soon be upon us, and it's never too early to start planning your menu. Whether you are hosting or just bringing an extra side dish, these Thanksgiving dinner side dishes are filling and tasty and will leave everyone wishing they left room for seconds! Some can be made the day before, so you will still have plenty of room in your oven for your turkey on Thanksgiving Day.
Here are 5 Thanksgiving dinner side dishes to serve this year.
Dilled Mashed Potatoes
Unlike traditional mashed potatoes that typically use milk and butter, the cottage cheese used in this recipe makes them extra creamy and thick. And the dill gives it a unique taste as well.
Ingredients:
2 pounds Yukon Gold potatoes
2/3 cup 4% cottage cheese
1/3 cup shredded cheddar cheese
2 teaspoons butter, softened
2 teaspoons snipped fresh dill or ½ teaspoon dill weed
½ teaspoon salt
Directions:
Peel and cube potatoes
Place potatoes in a large saucepan and cover with water. Cover and bring to a boil over medium-high heat.
Cook for 15-20 minutes or until tender; drain.
Transfer potatoes to a large mixing bowl. Add cottage cheese, cheddar cheese, butter, dill, and salt.
Beat until smooth and fluffy.
This post may contain affiliate links. As an Amazon Associate I earn from qualifying purchases. For more information, see our disclosure.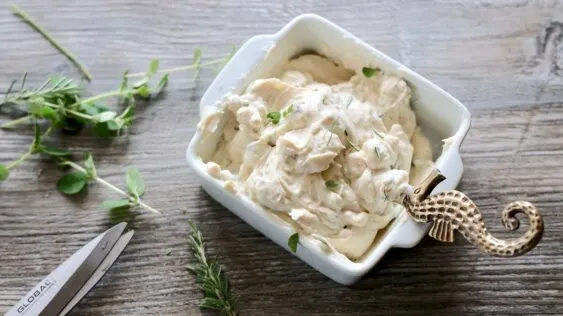 Wild Rice Sausage Dressing
If you are tired of serving the same old stuffing year after year, consider this recipe. It makes a great side dish and is full of flavor. To save time, you can either make this dish the day before and reheat the day of, or cook the rice and sausage the night before and then quickly throw the rest together the next day.
Ingredients:
1 cup wild rice
3 cups chicken broth
1 cup diced celery
1/2 cup butter or margarine
1/4 cup minced onion
4 ounce can of mushrooms
1 pound country sausage
1/4 teaspoon salt, pepper, sage, and thyme
Directions:
Cook rice by boiling it in the 3 cups of chicken broth for 40 minutes. (You may need to adjust this slightly depending on what kind of rice you buy. Cook long enough until rice is tender and most of the broth has been absorbed.)
Drain mushrooms.
Saute celery, onions, mushrooms, and butter for two to three minutes. Set aside.
Brown sausage.
In a large mixing bowl, combine rice, sausage, and veggies along with salt, pepper, sage, and thyme.
Spoon into a greased baking dish.
Cover and bake for 1 hour at 350 degrees.
Crock-Pot Green Beans
This tasty recipe can be prepared in a crock-pot, because often times, you won't have a spare burner or space left in your oven. Plus, you can use the handy "keep warm" setting on your crock-pot if dinner is running a little behind schedule.
Ingredients:
5 cans of cut green beans (you can also use pre-steamed fresh green bean)
½ pound of bacon
¼ cup of butter
7 teaspoons soy sauce
2/3 cup of brown sugar
1 ½ teaspoons of garlic powder
Directions:
Cook bacon and cut into pieces.
Place green beans into slow cooker. (Drain cans first).
Add cooked bacon on top of beans.
Melt the butter and stir in the brown sugar, garlic powder, and soy sauce to make a thick sauce.
Drizzle the sauce over the green beans.
Cook the green beans on high for about an hour.
Stir just before serving to mix up all the ingredients.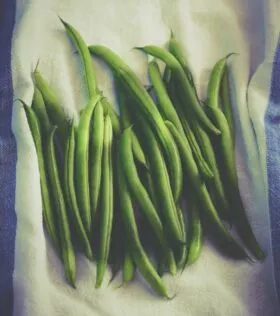 Homemade Dinner Rolls
Who doesn't love fresh-baked rolls? These are also the perfect size for leftover turkey sandwiches!
Ingredients:
1/2 cup sugar
2 teaspoons salt
8 cups flour
1/2 cup powdered milk
2 tablespoons dry yeast (quick rising)
2 1/2 cups hot water
4 eggs
1 cup melted margarine
Directions:
Mix together sugar, salt, powdered milk, yeast, and 2 cups flour.
Pour hot water on dry ingredients and mix with mixer.
Slowly add in 2 more cups of flour.
Add eggs and 1/2 cup melted margarine and stir well.
Add more flour (about 4 cups) and knead until smooth.
Let rise for 20 minutes in warm oven.
To form rolls, grab a small hunk of dough, dip into melted butter, roll into smooth oblong shape between hands, and tuck the ends under as you place into a baking pan.
Place rolls in large baking pan. (This recipe will make 3 rows of rolls in an 11 x 14 inch pan.)
Let rise again.
Bake at 350 degrees for 25 minutes. (If the tops are getting too dark while baking, put tin foil loosely over the top of pan.)
Test with a toothpick for doneness.
Pumpkin Roll
If you are looking for a different dessert to serve other than pumpkin pie, give this recipe a try. It still has the delicious flavor of pumpkin spices, but also an added sweetness with the cream cheese filling. It's a perfect dessert to serve with coffee after your Thanksgiving feast.
Ingredients:
¾ cup all-purpose flour
½ teaspoon baking powder
½ teaspoon baking soda
¼ teaspoon salt
¼ cup powdered sugar
½ teaspoon ground cinnamon
½ teaspoon ground cloves
3 large eggs
¾ cup all-purpose flour
1 cup granulated sugar
2/3 cup pure pumpkin
1 package (8 ounces) cream cheese, room temperature
6 tablespoons softened butter or margarine
1 cup powdered sugar, sifted
1 teaspoon vanilla extract
Powdered sugar (optional for decoration)
1 cup walnuts, chopped (optional)
Directions:
Grease 15 x 10 inch jellyroll pan; line with wax paper.
Grease and flour paper.
Preheat oven to 375 degrees.
Sprinkle a thin, cotton kitchen towel with ¼ cup powdered sugar.
Combine baking powder, baking soda, flour, cloves, cinnamon, and salt in small bowl.
Beat eggs and granulated sugar in large mixing bowl until thick.
Beat in pumpkin.
Stir in flour mixture.
Spread evenly into prepared pan.
Sprinkle with nuts (optional)
Bake for 13 to 15 minutes or until top of cake springs back when touched. (if using a dark-colored pan, check after 11 minutes.)
Immediately loosen and turn cake onto towel. (Be sure to put enough powdered sugar on the towel when rolling up the cake so it will not stick.)
Carefully peel off paper.
Roll up cake and towel together, starting with the narrow end. Cool on wire rack.
Beat cream cheese, 1 cup powdered sugar, vanilla extract and butter in small mixer bowl until smooth.
Careful unroll cake and spread cream cheese mixture over cake. Reroll cake.
Wrap in plastic wrap and refrigerate for at least one hour.
Sprinkle with powdered sugar if desired.
We hope these Thanksgiving dinner side dishes make your meal great and special. Wishing you and yours a healthy and happy Thanksgiving celebration!