When everything in your life is starting to get more organized, why ignore the organization of your cleaning bucket? With all your cleaning supplies at your fingertips (just like the Pro's) cleaning is quicker and easier.
One problem I've always had with cleaning caddies, is that they never quite fit all the cleaning supplies I wanted them to. The things that did fit, would often get lost in the bottom of the bucket, the cleaning chemicals would tip or spill, and the bottom got grimy from returning the brushes to their spot!
This post may contain affiliate links. As an Amazon Associate I earn from qualifying purchases. For more information, see our disclosure.
Enter- the CLEANING BUCKET THAT HOLDS EVERYTHING!! Now, every time I get the bucket out to clean, I have everything I need. The essentials for making this bucket work for you, is to utilize the OUTSIDE of the bucket, as well as the inside! With a simple $0.77 apron, tied around the bucket, you can fill it with the brushes you need to get the job done.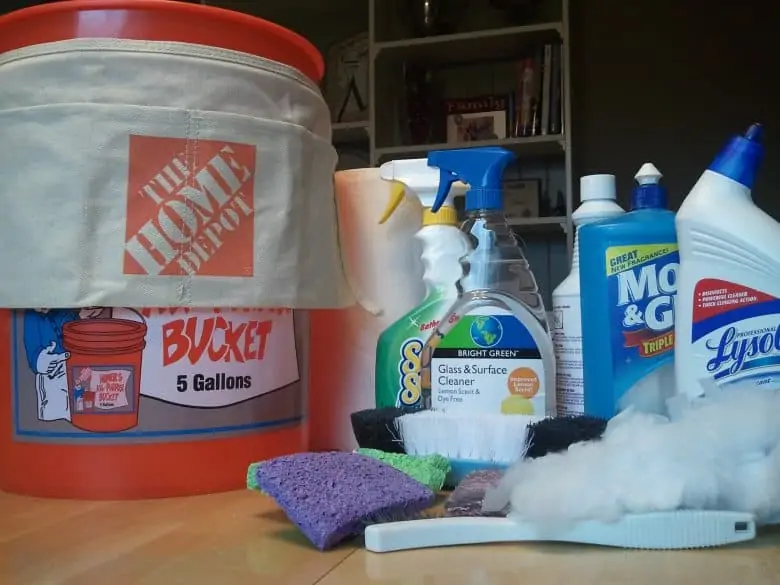 Other items that are essential in your cleaning bucket include:
Sponges
Scrubber
Duster
All-purpose cleaner
Glass cleaner
Paper Towels
Microfiber cloths
Cleaning bucket with apron video!
Check out the video below to see how I fit all the supplies inside, and on the OUTSIDE, of this bucket, and how to use the APRON!