Wondering what to eat while visiting the theme parks? Here is what I have found to be the good and the bad: eating at Disneyland and California Adventure.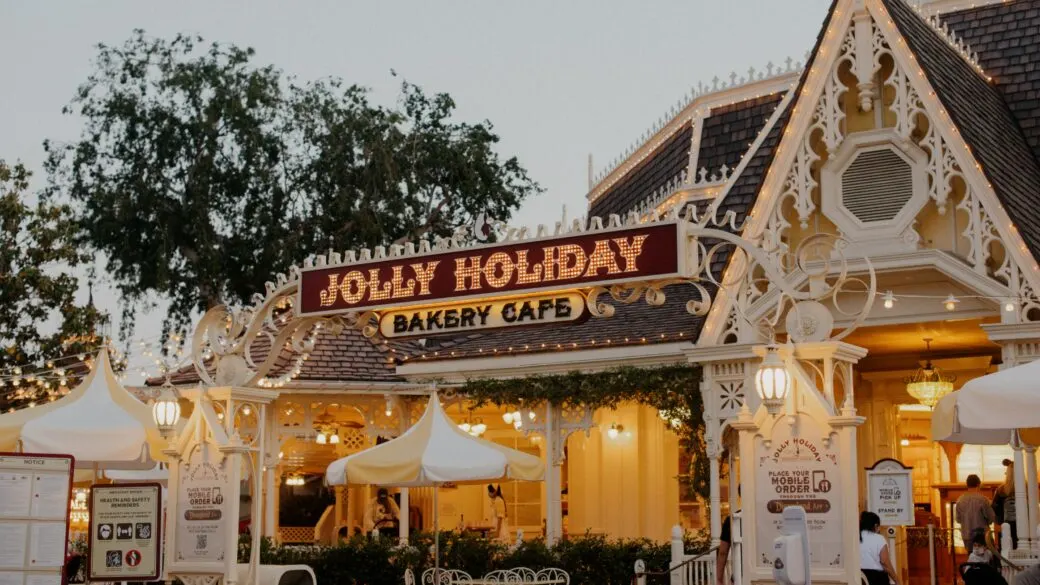 Hits and Misses When Eating at Disneyland and California Adventure
Over the years we have sampled a variety of the food Disneyland and California Adventure have to offer. Here are some of the goods (hits) that have become favorites and the bad (misses) that we wouldn't buy again.
The Good
This post may contain affiliate links. As an Amazon Associate I earn from qualifying purchases. For more information, see our disclosure.
I won't keep you in suspense any longer. So without further ado here are some of my don't want to miss favorites.
Toffee
On my most recent trip to Disneyland and California Adventure I discovered their toffee and I am so happy I did!
It started with a trip to Pooh Corner in Disneyland. After a VERY wet ride on Splash Mountain I felt like I deserved a treat.
While perusing all the tempting tasty things in the glass case I spied a large square piece of sugar coated toffee. Its name was, "Churro Toffee". It was AMAZING! I fell so in love with it that later in my trip I wanted some more.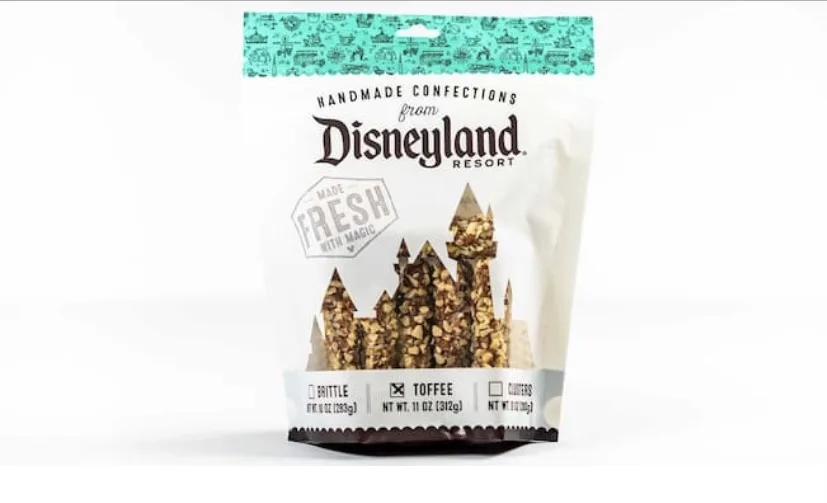 To my happy surprise I found that I could purchase Disneyland toffee (not the churro variety) in a bag. It was a better price than purchasing the single square and I could take it home with me.
This toffee could also be purchased at Disneyland and at California Adventure. If you are wanting to try this toffee but can't make it to Disneyland right now you can purchase a bag off of eBay (of course for double the price).
Platinum Trifle
Disney is celebrating their 100th anniversary and with that comes new treats. I recently tried the platinum trifle. It has layers of chocolate cookie crumbles, cheesecake, cherry compote and chocolate mousse just to name a few.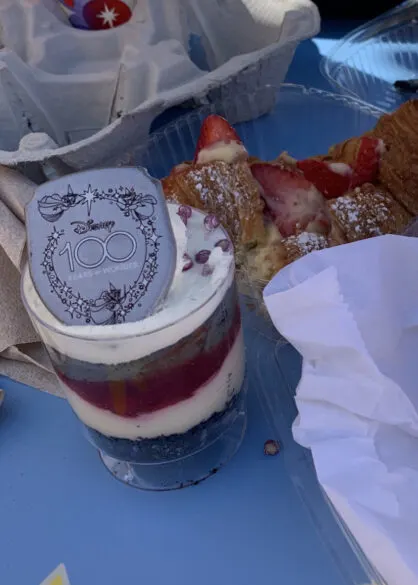 This sweet and rich treat was a winner in my book. In fact, it was so rich and sweet that even though it was small in size I was still able to share it and come away completely satisfied.
Pictured behind the platinum trifle is the strawberry-stuffed croissant. That dessert was also AMAZING and I would definitely recommend it the next time you are in Disneyland.
Matterhorn Macaroon
This Disneyland treat is oh so GOOD especially if you have a love of coconut. Shaped like the Matterhorn and even covered on top with white "snow" this is easily one of my favorite treats.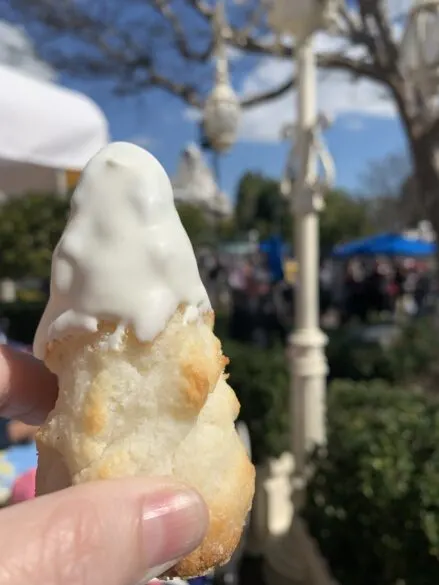 Chicken Gumbo
A small cup of chicken gumbo packs a lot of flavor making this a good choice to eat at Disneyland. There are a few different places where you can find the chicken gumbo but the most notable is the Blue Bayou restaurant.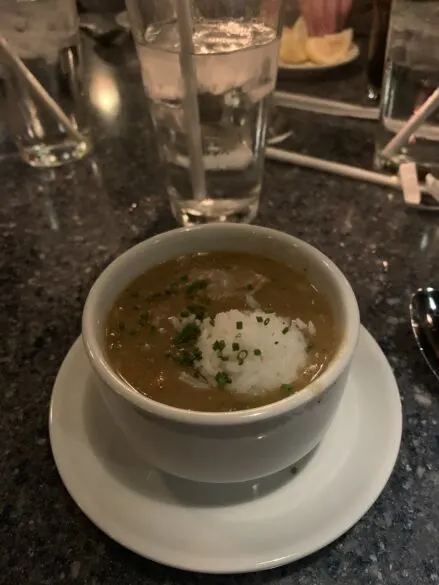 Onion Rings
California Adventure has a restraunt called, Smokejumpers Grill. It's right next to Soarin' Over California and was the perfect place to stop for a quick snack.
While you could eat a delicious meal there I was just there to taste the onion rings and I was NOT disappointed. They were big with a yummy crunchy outer layer and I was so happy to dip them into some ketchup.
Onion rings are on the good list for things to eat at Disney California Adventure.
The Turkey Leg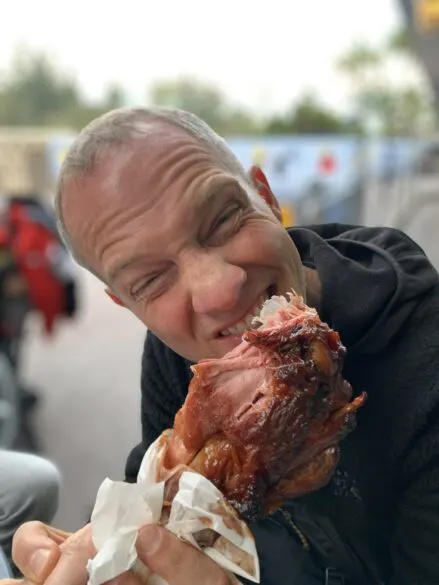 I had heard so much hype about the turkey leg that I decided it was time to find out for myself if it was good or not.
The verdict…It was GOOD. Not just good, but REALLY REALLY good. It's smoked and cooked a little like ham which has led people to question whether or not it really is turkey.
For us it was big enough to share so we could all enjoy the gigantic turkey leg.
Bread Cones
When in California Adventure mozey on over to the Cozy Cones. There you will find the tasty bread cones. The bread cone alone would be on my good list. Yet, when the cone is filled with all kinds of delicious things you are in for a real treat.
You can choose from a bread cone filled with chili con queso and corn chips on top. Or try the bacon mac 'n' cheese bread cone. At one time we were even able to get an alfredo bread cone.
The Bad
Some things we ate at Disneyland and California Adventure were just not our favorite.
Forky Cake Pop
I LOVE Forky. What's not to love about a toy made from things found in the garbage. When our 8 year old spotted the Forky cake pop behind the glass case at California Adventure she was so excited to try it.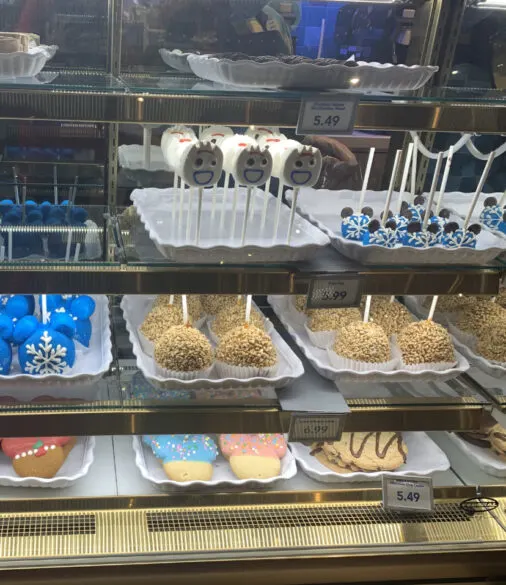 The best way to describe the Forky cake pop is not good. To our disappointment that cake pop was just bad.
Disneyland Chocolate Chip Cookie
We have a family favorite chocolate chip cookie recipe and it's called, "Chocolate Chip Cookies Disneyland 1980". Since we have been making them at home we were extra excited to try them at Disneyland.
The cookie in the shape of Mickey's head looked so big and yummy. Yet, the taste just wasn't there. It's biggest problem was that it was obviously not a fresh cookie and had that stale, "I've been sitting in the glass case too long" taste.
So for now we will stick to making the 1980's version at home.
Hand Pie
This was a take on the Pop-Tart but it just didn't hit home with us and was not a favorite treat. Thus, it made it on our bad (wouldn't get it again) list.
It seems as the ride lines get longer at Disneyland and California Adventure I find myself eating more food (which might be their evil plan after all).
Not everything is a win when it comes to Disneyland food and with the hefty price tag you want to be sure to get something you like. This list of the good and the bad: eating at Disneyland and California Adventure will hopefully help you to find some tasty eats and avoid some regrettable purchases. Happy eating!