Best Teacher Gifts
My husband is an elementary school teacher. Every year, he comes home for Christmas break with a box full of generic gifts that he has been given by his students. Yet, many of these gifts have a very sincere note attached talking about how much he has impacted that student's life. We all want to give great gifts to our children's teachers, but they are so hard to buy for! So, I thought I would give you some tips on giving thoughtful teacher gifts. Teachers are special people who are helping to shape our children into the people they will one day become, and they deserve something better than another "World's Greatest Teacher" mug. Besides, there's only so many mugs one person can use!
This post may contain affiliate links. As an Amazon Associate I earn from qualifying purchases. For more information, see our disclosure.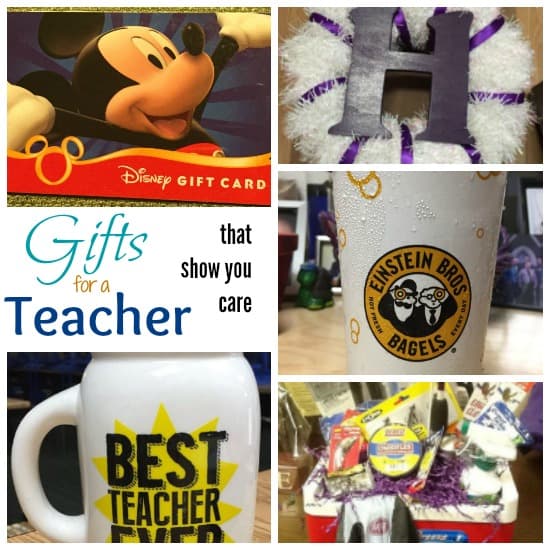 1. Teachers are People Too!
The biggest tip to remember when shopping for thoughtful teacher gifts is to keep in mind that teachers are people too. Teaching is their job, and they have other interests besides teaching. Discover what those interests are, and you will have a head start on buying the perfect gift. Most people who have been teaching longer than a couple of years are tired of receiving standard "teacher gifts." If you can find something that appeals to their outside interests, your present is sure to be a delight.
2. Become a Detective
So, how do you go about discovering what the teacher's interests are? There are several ways you can uncover this information. The next time you are in your child's classroom, pay attention to the things on the teacher's desk. Sometimes, they will give you some clues to the teacher's interests. You may find a reference to their alma mater or their favorite sports team. Is there a drink on the desk? If so, what is it and what type of container is it in? My husband loves the sweet tea from Einstein Bros. Bagels. He almost always has an Einstein Bros. cup on his desk. Look at the mousepad. Does it give you any clues? Are there pictures on her desk? What types of frames are they in?
3. Ask for a List of Favorites
You can also try asking the front office personnel if the school has a list of teacher's favorites. Some schools will have the teachers to fill out a sheet listing their favorite restaurants, snacks, and hobbies. If you can get a copy of this sheet, you will have lots of ideas to get you started. One year, my son's teacher listed on her sheet that she liked to take bubble baths to relax, so I got her a big bottle of her favorite bubble bath. You, the room mom, or another parent, can provide the class at the beginning of the year with the "teachers favorite things" survey, filled out by the teacher. This could definitely help make your present something they love! Here are some survey's you could copy or print from Pinterest!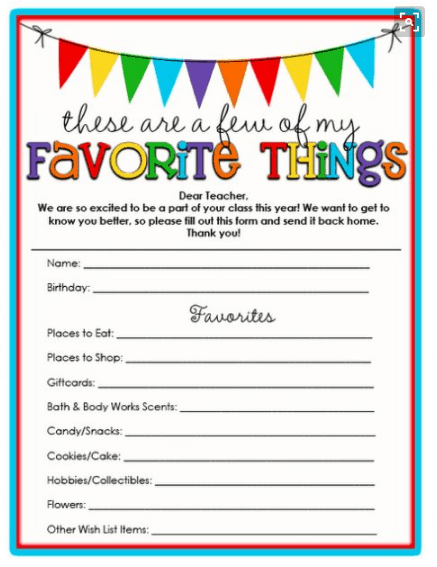 4. Interview Your Child or Other Teachers
Another idea to try is to ask your child or other teachers. Your child may be able to tell you that her teacher is always quoting movies or is planning to go snow skiing over Christmas break. You can use this information to guide your gift buying. If your child can't give you any ideas, ask other teachers in the school for some insight into what this particular teacher is like outside of the classroom. For the best luck, try asking a teacher who teaches the same grade level or is in the same department. They are the most likely to know this teacher on a more personal level.
5. Gift Cards
Gift cards may seem impersonal, but if you put some thought into them, they can make great gifts for teachers. Put the same thought into picking out gift cards that you would if buying another gift. Choose a card that appeals to your teacher's interests. If the teacher is a sports fan, a gift card to a sporting goods store is a great idea. If your child's teacher is a movie buff, give them a gift card to a local movie theater. Restaurant cards are also a big hit with teachers. My husband loves it when he gets Einstein Bros. gift cards from his students.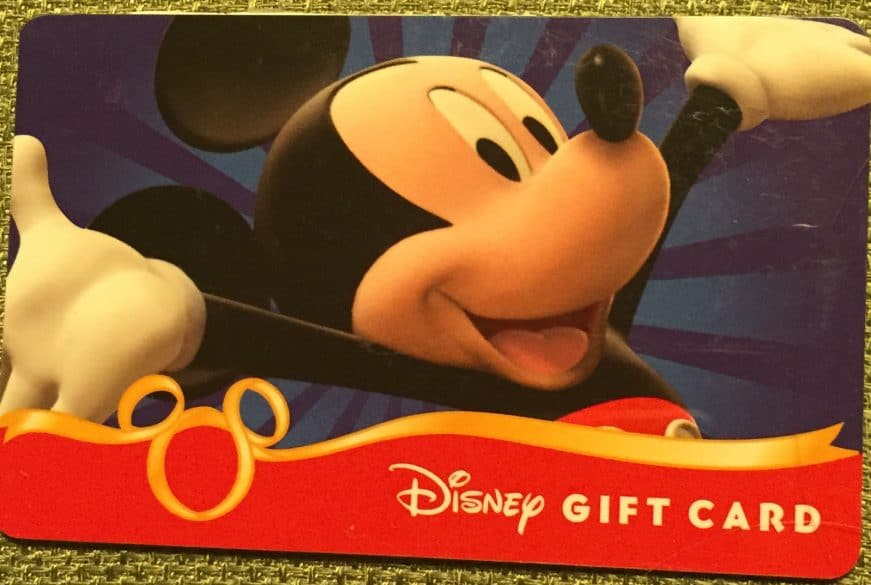 But be careful about grabbing just any gift card. Every year, my husband gets at least one Starbucks gift card. The problem with this is that neither one of us drinks coffee. We don't go to Starbucks. So, those cards are always a bad choice for him. If you are going to give a "generic" gift card, make sure it is one that everyone can use, like Amazon or Target, or go with a Visa or Mastercard gift card instead.
6. Gift Baskets
Another great idea for a very personal gift is to put together a gift basket for your teacher. If you know that she is a beach lover, use a sand bucket as a container. Fill it with a beach towel, some cute flip flops, sunglasses, and sunscreen. One of my husband's teacher friends is a big fisherman. A minnow bucket filled with lures, fishing string, and a gift card to a local sporting goods store would make a great gift for him. If you have access to the contact information for the other families in the class, try coordinating a class gift basket. Have each family to bring something that fits the theme to add to the basket. This would allow you to give a huge basket to the teacher.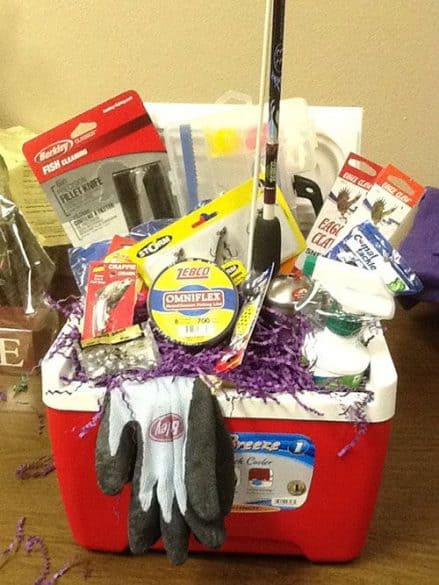 7. Give Something Homemade
You can't get much more personal and thoughtful than a homemade gift. This can also be a good economical option if you are short on funds. There are several things that make great homemade teacher gifts. Wreathes and Christmas ornaments are always good ideas. To make them even more thoughtful, personalize them with your teacher's initials.
Last year, I made a wreath for my son's teacher. I used white Christmas garland and purple ribbon because her alma mater's school colors are purple and white. In the middle of the wreath, I added a wooden initial that I painted purple. She loved it. It is still hanging in her classroom. Yet another option for a homemade gift that will be a hit is some baked goodies. If you are already making candy, pies, or cookies for the holidays, make an extra batch for your teacher. Put them in a pretty tin and tie with a matching ribbon to finish it off.
Teachers are some of the most giving people you will ever meet. Many of them make a lasting impact on the lives of our children. They deserve more than some trinket you grab off of the store's "teacher gift" aisle. With a little thought, you can give the teachers in your life gifts that touch their hearts more than you will ever know. I hope these tips for thoughtful teacher gifts help as you start your holiday shopping! Good luck and Happy Holidays!