If you ask any contractor, they will probably tell you that the two most expensive rooms in the house to remodel are bathrooms and kitchens. With material costs reaching all-time highs over the last few years, this is more true than ever before. But whether you are just making some easy cosmetic changes, or you are doing a major bathroom remodel, there are ways to save money in the process.
Here are some tips for saving money on your bathroom remodel.
Call around and get quotes.
Obviously, bathroom remodels can greatly vary in complexity. When we recently did a remodel, there were several "larger" projects included. First, we chose to have a dividing wall and a door installed. Our master bathroom used to just have an open entrance leading from the bedroom. We also replaced a bathtub, tiled the tub surround area, installed new flooring, painted the cabinets, and replaced the countertop. One contractor did most of the work, but we had to have a separate company come in to install the countertop.
This post may contain affiliate links. As an Amazon Associate I earn from qualifying purchases. For more information, see our disclosure.
In another project we did on a smaller bathroom, the only thing we had a contractor do was install some tile behind our sink. We did the other tasks. We updated the bathroom with a fresh coat of paint and installed new trim.
No matter what magnitude your project is, if you need to hire someone for parts or all of the job, it's always a good idea to call around and get quotes. Contractors can vary widely in their rates, and you also can't assume one contractor can do everything you need. Some contractors hire subcontractors for different parts of the job.
Many times, you will need to hire a separate licensed plumber or electrician, depending on the needs of your project. These professionals can also vary greatly in cost as well.
Whenever I am looking for a specific need, I like to start by asking for recommendations in a local moms FB group or I ask friends that live in my town. I received some great recommendations this way. I also feel more comfortable hiring someone when I have a personal reference. It takes time and effort to call different companies and set up appointments to get quotes, but in the end, it can pay off to shop around.
Don't be afraid to tackle some of the remodel on your own.
They might seem intimidating at first, but DIY projects can save you tons of money! We live in the age of YouTube, and you can find so many helpful instructional videos on a wide variety of house projects. Obviously, there are some projects you want and need a professional to do. But other things, like painting the walls, painting cabinets, or installing certain types of flooring, you can tackle on your own.
Luxury Vinyl Plank (commonly referred to as LVP) has become a very popular flooring option. It is relatively easy to install, even for a non-professional. LVP comes in a wide variety of patterns and colors and can be found at most flooring stores and large home improvement stores like Lowe's and Home Depot. And it is also reasonably priced.
One warning though. All LVP is not created equally! My husband and I learned this the hard way. Installing it yourself can save you money in overall project costs, but I wouldn't recommend buying the cheapest product available. Nor do you need to buy the most expensive. Aim for the middle ground where quality meets a decent price. Low quality LVP might save you money initially, but you will probably encounter a lot of frustration when installing it. It also won't hold up as well, especially with kids and pets.
Painting outdated looking cabinets can quickly give your bathroom a modern feel. Replacing cabinets can be very expensive. Giving them a refresh with paint is an inexpensive way to change the way they look. I painted my kitchen cabinets and bathroom cabinets a couple of years ago and learned a lot in the process. Here is a link to an article about that experience. It has many helpful tips if this is your first time doing a project like this.
If you do find a need to replace a cabinet or add additional storage space, check with local cabinet companies. They often have "extra" cabinets from jobs that, for various reasons, weren't used. You can typically buy these at a discounted price.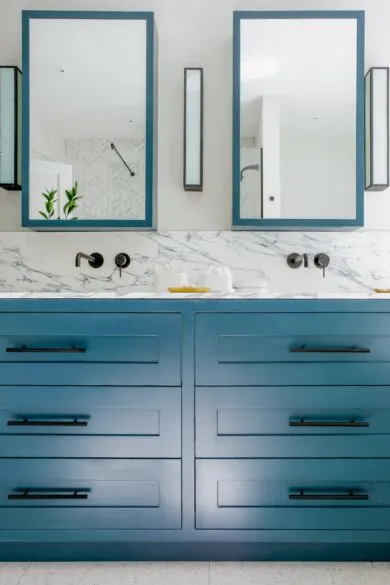 If you are replacing any countertops, try to purchase a remnant piece.
When our kitchen flooded and over half our cabinets needed replacing, we ended up having to replace the kitchen countertop as well. We learned a lot about countertops in this process. One thing I didn't know before we started this process is that when looking for a solid countertop (like granite, quartz, or marble) you might be able to find and purchase a remnant piece at a much lower cost.
These pieces might be left over from other jobs or maybe just part of the slab has been damaged in transport, but the rest is fine. The company we worked with had a "remnant yard" where we were able to find a big enough slab to fit our needs. It ended up being a lot cheaper per square foot. If you have wanted a solid stone countertop but haven't been able to fit that in your budget in the past, using a remnant piece can be the ticket to making this a reality.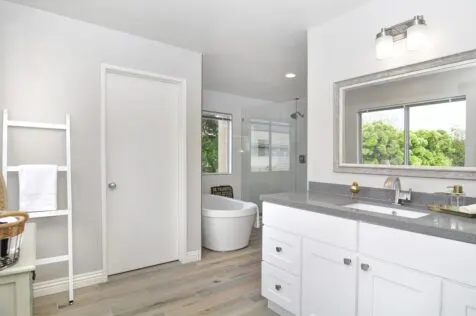 Be as thrifty as possible when you redecorate.
Looking for a new towel shelf? Some new décor? A new mirror? Try checking out your local thrift stores or some community garage sales before you buy new. You can save lots of money on gently used items versus buying everything new. Or look on-line at places like Craigslist or Facebook Marketplace.
You can also find good quality (but usually cheaper) towels at places like TJ Maxx, Ross, or Marshalls along with other bathroom items like shower curtains, soap dispensers, etc.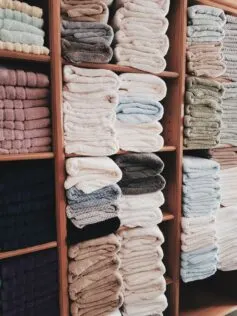 I hope these tips will help you save some money on your bathroom remodel. Remodels are a lot of work, but in the end, they are worth it!