Even the most organized person is often flummoxed by what to do with the cabinet under the kitchen sink. Despite our best efforts, this spot ends up a cluttered, unsightly, mess. Which can be frustrating because it's one of the most used cabinets in the kitchen! Here are a few tips to keep this challenging area nice and tidy, a step by step guide on how to organize under your kitchen sink, and our favorite under kitchen sink organizers.
Under Kitchen Sink Organization Ideas
Look, no one likes organizing under the kitchen sink. Here are some awesome under kitchen sink organization ideas to get you inspired to get started.
Start with a bright shelf liner
This post may contain affiliate links. As an Amazon Associate I earn from qualifying purchases. For more information, see our disclosure.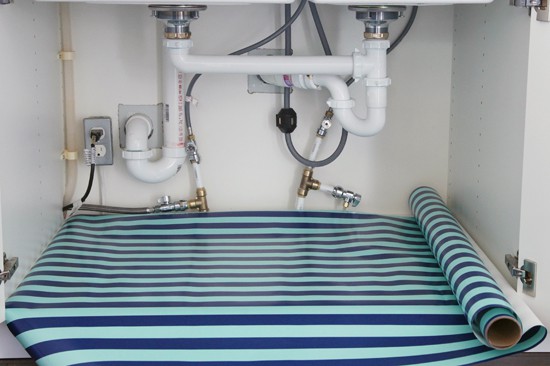 Source: I heart Organizing
Use a brightly colored shelf liner, or in this case gift wrap, to protect the cabinet and bring in a little color and cheer to an otherwise boring cabinet. If you use gift wrap, cover it with clear contact paper to make it easy to clean.
Use clear and stackable drawers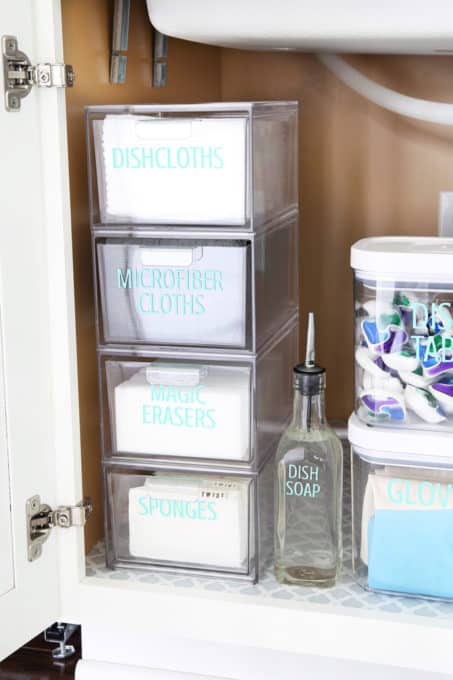 Source: Just a Girl and Her Blog
These clear acrylic drawers are actually meant for cosmetics, but they are great for under the kitchen sink. Their stackable feature saves space, and it's easy to see what's inside. We love how they are the perfect size for sponges and cloths.
Utilize every nook and cranny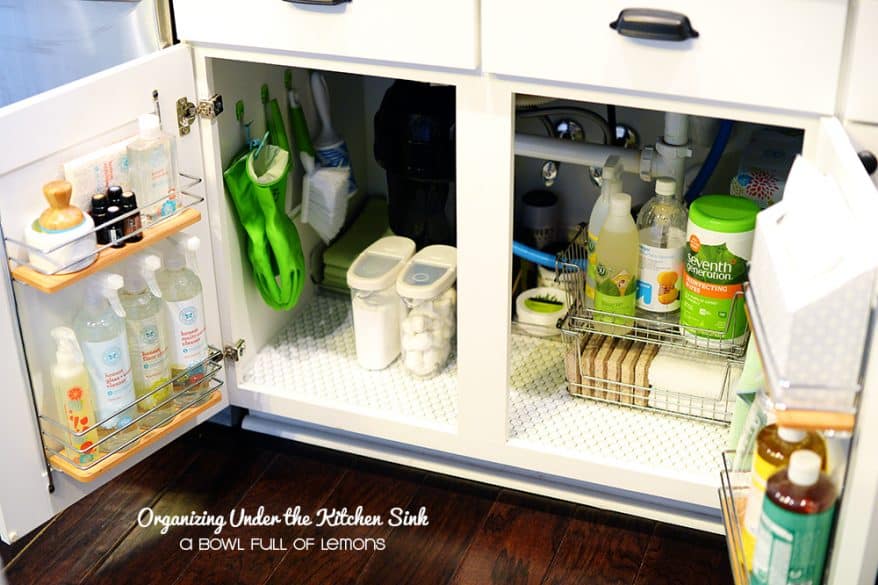 Source: A Bowl Full of Lemons
This cabinet pulls a lot of weight thanks to the clever use of space. Shelves on the cabinet doors, steel stackable storage, and hooks on the inner walls ensure that every square inch is utilized. Extra points if you decide to color coordinate your cleaning supplies!
Use curtain rods for plastic bags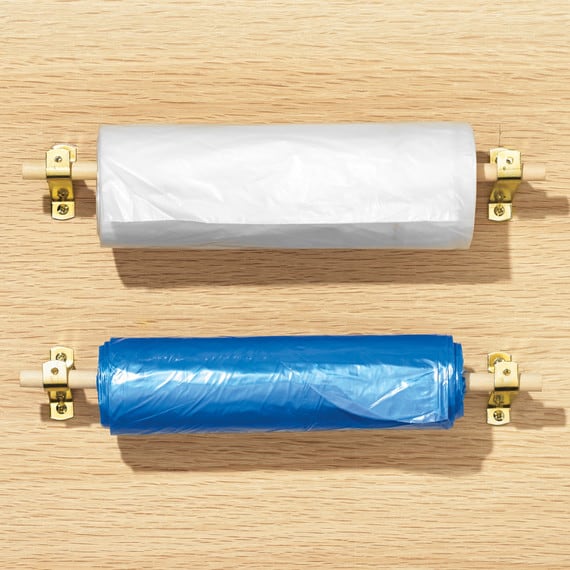 Source: Martha Stewart
A big box of plastic trash bags can take up a lot of precious cabinet space, instead, use the inside of a cabinet door by hanging wooden dowels. Here are the directions from Martha Stewart, "Cut a length of 1/2-inch dowel slightly longer than the bags' width. Screw a set of 3/4-inch curtain-rod brackets from the hardware store into the inside of the cabinet door. Slide the roll of bags onto the dowel, then suspend it from the brackets."
Hooks are your friend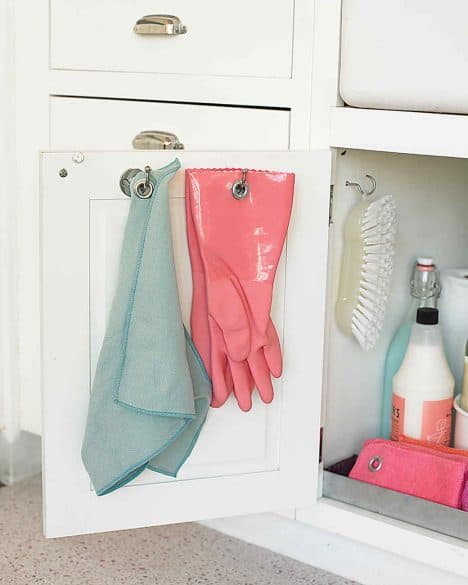 Source: Martha Stewart
Another genius way to use the inside of the cabinet door is with a couple of simple hooks. You can let kitchen rags and dish gloves hang here to dry without cluttering up your sink area.
Keep it simple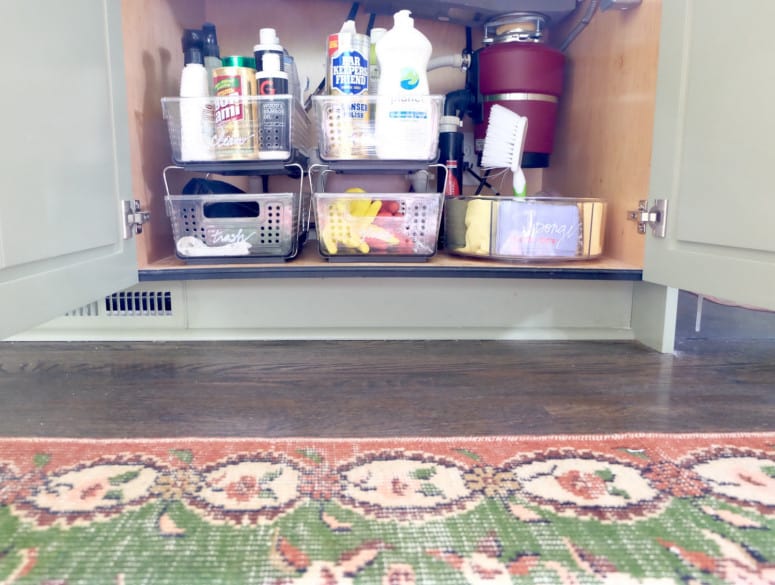 Source: The Home Edit
If you're overwhelmed by all the storage possibilities – just keep it simple! All you need is a few stackable cubbies like these to get everything in order. And we love the acrylic "lazy Suzan" storage for sponges.
The area under your kitchen sink is often a cluttered mess of household cleaning supplies, dishwashing stuff, and miscellaneous junk you don't know where to store. And all of these things are awkwardly stored around pipes.
How to Organize Under Your Kitchen Sink
One of the most daunting organizing tasks is taming the under-sink area in your kitchen. It's a big job and it's not easy to keep everything neat and tidy in that small space. But it's important to stay organized so that you can find what you need when you need it. Here is our step by step guide to organizing under the kitchen sink,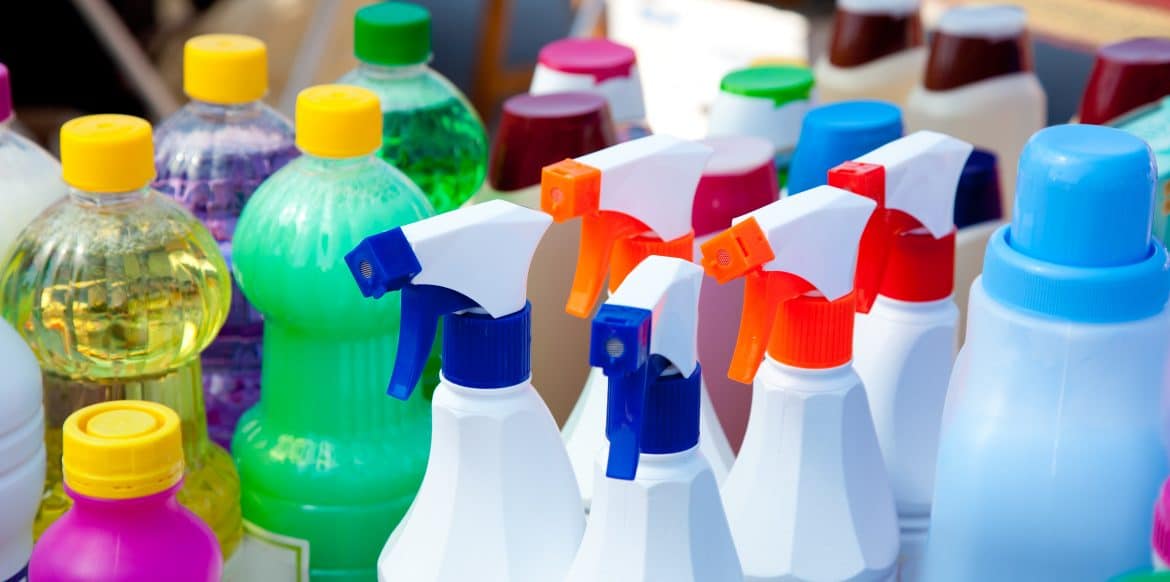 1. Empty the Area Under Your Kitchen Sink
As with any organization and decluttering project, the first step to organize under your kitchen sink is to take everything that's currently under there out. Once the area under your sink is empty, it's time to clean it. You may never have this area empty again, so take the opportunity for a good wipe down.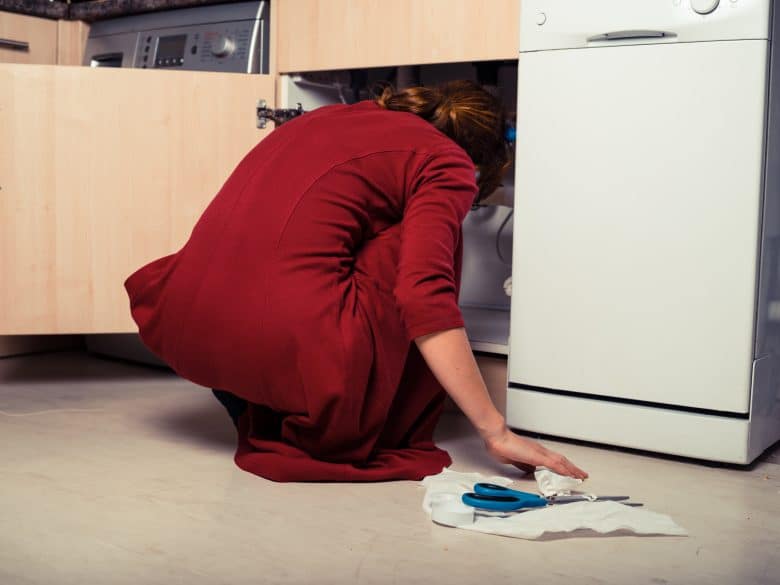 2. Evaluate How to Maximiz
e Your Space
If you want to organize under your sink, looking at the now empty area should give you a chance to evaluate the space. How can you make the most of it?
Determine what size of organizing bins will fit best under your sink. See-through bins are best because it's easy to see labels and other identifiers when you need to find something. If you are fitting bins around pipes, you may need multiple sizes.
Next, consider installing a tension rod under the sink. A tension rod can be used to hang spray bottles of cleaning supplies, cleaning rags, or gloves, all off the floor and easy to access.
Another great place to hang supplies under the sink is on the inside of the cabinet door. Add adhesive hooks to the backs of doors or walls inside the cabinet. These can be used for gloves, cleaning cloths, or scrub brushes.
Or you can choose to mount baskets or bins to the walls and doors to hold supplies. There may be ways to add drawers or bins that mount directly underneath the sink as well. The point is to keep things organized but accessible.
If most of your storage space is on the bottom of the area under your kitchen sink, consider a lazy susan to make everything reachable. Or stackable bins with the most used products in the top bins. Get creative!
Storage bins, hooks, and baskets do not need to be expensive. Many of these items can be found at dollar stores or department stores at a low cost.
3. Declutter Under the Kitchen Sink!
Before you put everything back under your sink, sort through it! Chances are this area has become a collection spot for household items you no longer use. I found expired products, sponges I wouldn't use to clean anything, and product bottles that were at least 99% empty.
Before you put things away, pull out your trash can and get rid of anything you no longer need or use. What you're left with at the end should be only the essentials for storing under your sink.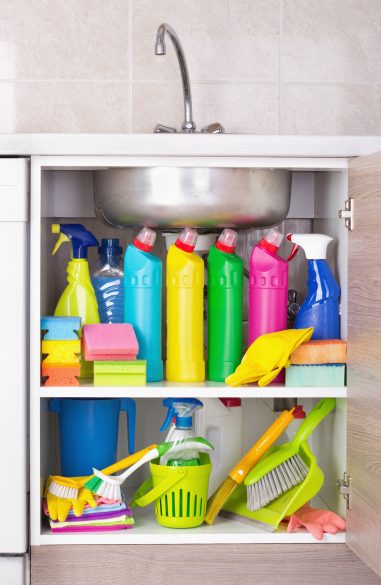 4. Put Things Away in an Organized Way
Now that you're left with the essentials, put them away. Take your time finding the right place to store things. Daily or frequently used items should be easily accessible. And with things neatly stored, everything should be easy to identify and find.
If you find you're running out of space, consider adding more hooks and baskets on the doors and walls or consider other types of bins.
5. Give it a Test Run
Now that you have everything put away and organized under your kitchen sink, try living with it. After a big organizing project, you should love your new space! And it should be easy to maintain. You may find you need to move a few things around or add extra hooks and bins after a few days with your new organized system in place.
Once you have it all figured out for the kitchen, take this plan and apply it to organizing under your bathroom sink!
Under Kitchen Sink Organizers
If you're looking for the quickest way to get under your kitchen sink cleaned up, you may want to consider an under kitchen sink organizer once you've taken everything out. Here are some of our favorites. Be sure to measure the area under your kitchen sink before purchasing an organizer, especially if you have a garbage disposal.
Under Sink Organizer with Pull Out Drawer
This is a great organizer since the bottom drawer slides out.
Two Piece Under Sink Organizer
We like this one since the two shelves are independent and can be moved to wherever they make the most sense, and larger items can still be stored.
Wire Rack Shelves
Here are some simple wire rack shelves that work great under the sink, and the bottom shelf pulls out for easy access.
Pull Out Under Sink Organizer
This one is great because the whole organizer pulls out for easy access.
Under Sink Organization Baskets
Here is a great one that has dividers built into the baskets.