Do you have someone in your life that's obsessed with Unicorns? We are going to go over all the details to help you throw the best Unicorn birthday party for them.
Best Unicorn Birthday Party Ever
Unicorns have been popular for decades – and for good reason – they are whimsical, mysterious and evoke wonder in people of all ages.
This post may contain affiliate links. As an Amazon Associate I earn from qualifying purchases. For more information, see our disclosure.
So if you love someone who is obsessed with Unicorns, then let us help you throw a party to remember.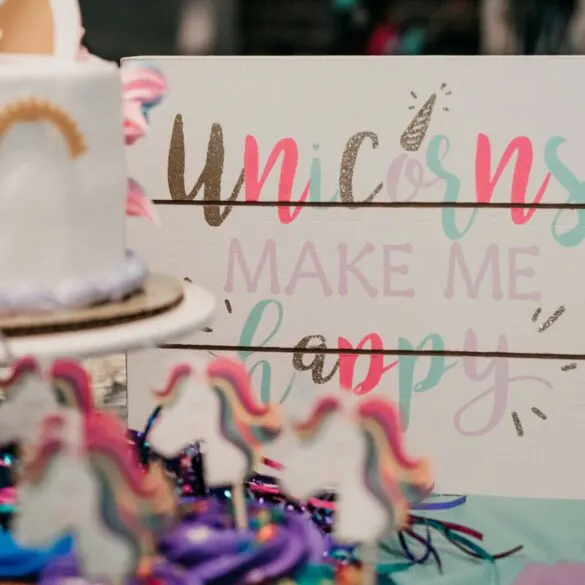 Unicorn Birthday Invitations
One of the first things you'll want to decide on is the unicorn birthday party invitation.
A good invite not only lets your guest know the time and place, it also gives them an idea of what the party theme will be.
Some Unicorn party invites say, "A Magical Day is On The Way, Please Join Us to Celebrate Megan's Birthday."
There is also a cute 24 Pack Unicorn Birthday Party Invitations on Amazon. These read, "Please Join Us for a Magical Celebration". They also come with fun matching envelopes and stickers!
Decorations
Decorations can make a really big impact on a party. Decorating well can make a party come to life and allow people to feel like they are expereienceing something new and exciting.
It's one of the best ways to look like you put a lot of effort into decorating for your party is with a balloon arch!
Don't worry – you don't need to pay a someone to make a ballon arch for you. Amazon currently sells a Unicorn Party Decorations Packwith everything you need to make your own Unicorn Balloon Arch. This kit will create a 16ft ballon arch and supplies you with over 100 balloons! Plus the fishing wire, tape, glue, and ribbon needed to hold everything together beautifully. And it currently has a 4.5 out of 5 star rating. Check it out!
They also sell a "Unicorn Party Decoration Pack" for a party of 16. It comes with straws, cups, plates, a table cloth, birthday banner, and unicorn head band for the birthday girl.
These Unicorn garlands would be another fun touch to add to the party. They are 30 stands that showcase unicorns, stars, rainbows, and cute heart rainclouds.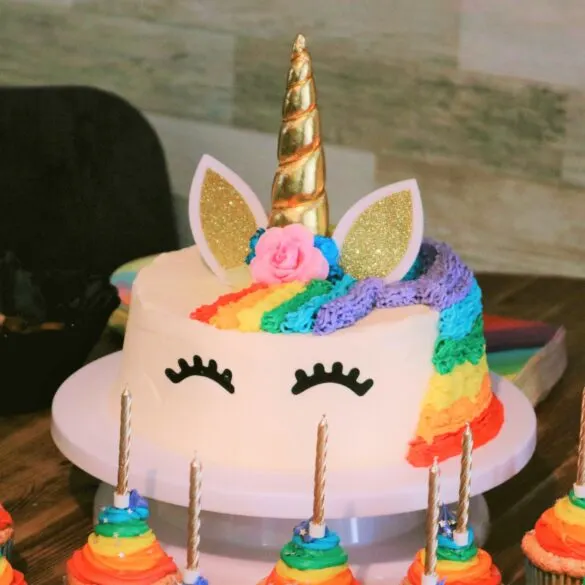 Cupcakes and Cookies
If you're going to go all out for a party, then its fun to serve food that fits the theme. I think that these cute Unicorn cookie cutters would be the perfect touch to a unicorn birthday party.
This set includes nine different cookie cutters, including: five different unicorn styles, a shooting star and a rainbow.
If you don't feel like you have enough time to make sugar cookies, you could always make cupcakes and then let the kids frost and decorate the cupcakes themselves.
Also, you'll want these cute Unicorn sprinkles! Even if you don't make your own cookies or cupcakes you could always throw these on some icecream for the kids.
Unicorn Party Activities
Wondering what activities you could do at a Unicorn Party? I have 5 different ideas listed below for you.
Create Unicorn Headbands
How fun would it be for everyone at the party to have the chance to design their own unicorn headband?
This kit will allow 5 guests to create their own stylish unicorn headband that they can wear during the party and be able to keep after the party is over. (Obviously, if you have more than 5 guests you'll have to purchase another kit.) The kit comes with 38 fabric flowers, a few charms, different colors of unicorn horns, and sparkly ears.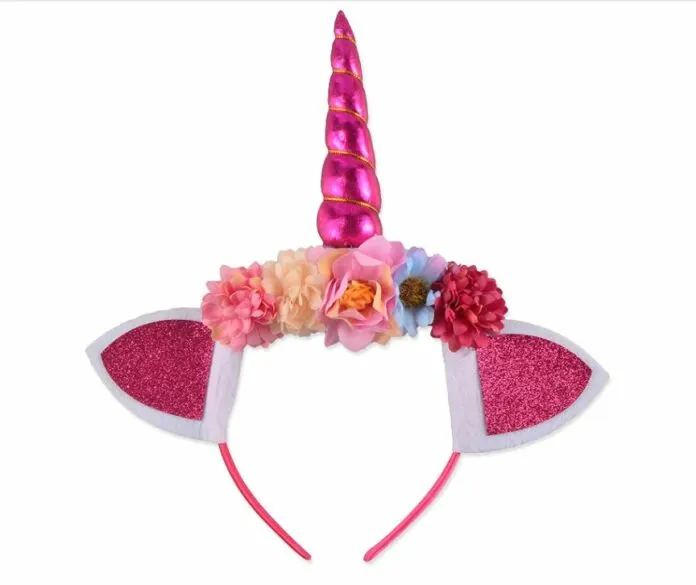 Pin the Horn on the Unicorn
Amazon offers a cute "Pin the Horn on the Unicorn".It comes with a blindfold and everything you need for 24 people to play. The stickers are reusable, so if you wanted to play multiple times you could.
Unicorn Treasure Hunt
You could also send your little Unicorns looking for treasure with a "Unicorn Treasure Hunt". There are a few printables you can purchase on Etsy that would be fun and easy to set up. Or you can create your own clues.
This is something that would require a little planning ahead, but many of the clues can be placed in common areas throughout the house. For example a clue could says, "As quick as a flick of a Unicorn's tail, head to the place where we receive our mail."
At the end of the treasure hunt it would be fun to place a treasure chest with chocolate gold coins and gem looking Unicorn Necklaces.
Giant Unicorn Float Sprinkler
If the weather permits, this Giant Unicorn Sprinkler would definitely be something everyone would remember. This thing is 5ft tall and the water sprays out of the unicorn's horn!
It's compatible with most common garden hoses, and comes with 4 stakes to put into the ground so it doesn't blow away.
Just remember to let guest's know to wear their swim suits and bring towels.
Unicorn Horn Ring Toss
Another fun game would be a Unicorn Horn Ring Toss. All the pieces are inflatable so you don't have to be worried about anyone accidentally getting hurt. The unicorn horn part is made to wear as a hat, but if noone wants to wear the hat then you can just leave it on the ground or even float it in a pool. It also comes with twelve rings for participates to toss.
Unicorn Party Favors
Party favors aren't necessarily needed, but they make a fun impact. Kids especially like taking them home to keep celebrating the day, even after the party is over.
The first thing you'll need for your party favors are some cute Unicorn Bags to put the little gifts in. Amazon is selling an adorable set of 18 unicorn bags. They have a darling unicorn design on the front and colorful unique designs on the back.
Next, you'll need fun favors to put into the bags. I like this 24 pack of Unicorn Wristbands that say,
There's also these fun shimmery Temporary Unicorn Tattoos. And these sweet Unicorn Straws.
I hope these ideas help you to throw a Unicorn birthday party to remember!