I have been a loyal user of Hobonichi planners for a number of years. Though out this time, I have discovered the best pens for Hobonichi planners, and want to share them with you. If you are new to the world of Hobonichi, welcome! I've been here a long time, and there are some things you should know.
What is Hobonichi?
Hobonichi is a company that creates the best planners and "life books" on the planet. Their flagship Hobonichi Techo planner comes in both English and Japanese and comes in a A6 size. I used the English version of this for years before I switched to the Hobonichi Techo Cousin this year which only comes in Japanese, but is A5 size.
This post may contain affiliate links. As an Amazon Associate I earn from qualifying purchases. For more information, see our disclosure.
The big difference between these two planners, beside size, is that the Techo Cousin also comes with a weekly layout for each week in addition to the daily and monthly layouts. I have found this to be an important layout for me, and worth the switch, even if I can no longer read the fun quotes. Even the Japanese versions of the planners have enough English in them to be used by English speakers.
There are also the Hobonichi Techo Weeks planners, which I added to my fleet for the first time last year. These come in a a weekly layout with some plain gridded paper as well. The Hobonichi Techo Weeks Mega has three times as many pages at the end. The best pens for Hobonichi Weeks are also the best pens for Hobonichi planners in general, since all of the planners use the same type of paper.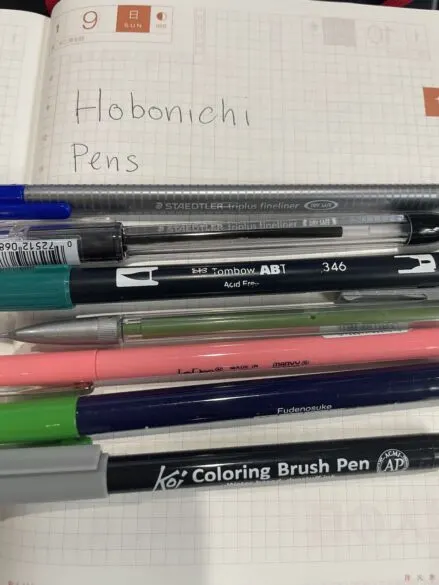 Why Hobonichi Paper is Special
The special part about Hobonichi planners is totally the paper. It is called Tomoe River Paper, and manufactured in Japan. It is super smooth to write on and super thin – it is a thickness of 68 GSM. For reference, standard office printer paper is usually around 80-90 GSM.
What is GSM?
Because Hobonichi paper is so smooth, there are a couple of things to think of.
Finding the Best Hobonichi Pens
Here are some things to think about as you decide what the best pens for your Hobonichi planner.
First, is how hard you write. If you write by pressing really hard, and are using a pen with a very fine tip, you may rip the pages.
Next is the type of ink you are using. Some inks are prone to bleeding, and may bleed through the paper, though Tomoe River Paper is very durable for how thin it is. For example, you should avoid alcohol based inks, but water based inks are mostly fine.
The color of the ink also matters – if you're using a dark ink and a thick maker, you will see it on the other side of the page for sure. This does not render the page unusable, but may be annoying to some.
Finally is the speed at which you write. You can minimize most of these issues by writing fast and not spending too much time letting the pages soak up the ink.
The Hobonichi paper layout is gridded. This is great for bullet journaling, and fancy planner layouts in general. You cat get very creative with your page layout every single day if you would like! Since there is so much room in these layouts you can also practice calligraphy and brush lettering as part of your daily planning in these notebooks.
I've used all three of the Hobonichi flavors: Hobonichi Techo, Hobonichi Cousin, and Hobonichi Weeks. Each of these Hobonichi types use the same Tomoe River paper, so these pens are great for any of them.
Hobonichi Pens
Here are my favorite general use pens for Hobonichi planners. There's something for everyone on this list, and I have tested these all in my Hobonichi planners over the years.
The Pentel R.S.V.P. is an all around great ballpoint pen, and comes in a wide variety of colors to help you plan your day and coordinate your tasks.
This is my "daily writer" pen for my Hobonichi planners.
This pen writes ultra smooth on any paper, and and will not damage delicate pages.
It also comes in a variety of point sizes, as well as colors.
This is my favorite gel pen in the world.
While it does have a fine point of .5mm, it is not sharp. If you write quick and light, you also will not need to worry about this ink bleeding through pages. It also comes in .3mm which I am itching to try and .7mm.
Best of all, it just feels nice to write with. This is hands down one of my favorites for thin pages and planners.
This Sakural Pigma Micron Black set is amazing since it has six different tip sizes of the pen.
If you are new to the world of pens in general, this pack is great to learn how all of the different thicknesses write, and what you like.
These are just all around great Hobonichi pens.
These pens are a gold stadnard when it comes to thin pages, and fantastic for everything from doodling to drawing grids and more.
Looking for anohter ballpoint option? The Jetstream RT ballpoint pens also write super super smooth, and comes in multiple point sizes as well.
If you enjoy retractible ballpoint pens more than ones with a cap to lose - this one is for you!
PaperMate InkJoy pens are super popular in the planner world.
They have a unique fast drying ink, and they even come in a wide variety of colors.
This is also another great gel pen for your Hobonichi planner.
Hobonichi Fountain Pens
You can use a Fountain Pen with hobonichi planers. Be sure to be careful with how hard you write on the page if you prefer fine and extra fine tips like me.
Here are some of my favorites. Whether you're new to fountain pens or a seasoned pro, here are some great fountain pens to use in your Hobonichi planner.
Hobonichi Brush Markers
Brush makers are a great addition to Hobonichi planners, you may want to select some with finer tips if you are using the Hobonicih Tech or Weeks. Here is a wide assortment to choose from.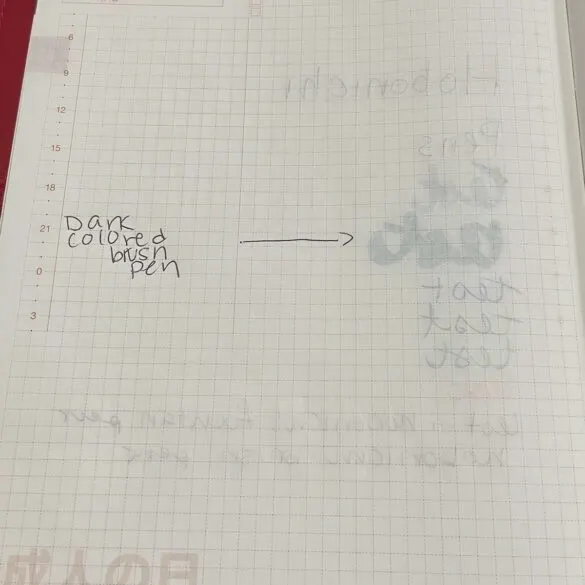 Be sure to keep in mind the darker the color and the thicker the line, the more you will see it on the back of the page.
Hobonichi planners are a great addition to your daily routine to help you get organized and more productive, no matter what you are trying to accomplish or what Hobonichi you pick.
Now that you have some great pens to choose from, be sure to enjoy writing in your Hobonichi with them!