With the crisper fall weather arriving, it feels like a good time to prepare some favorite hearty meals. These are all kid-tested and kid-approved fall meals!
Enjoy these warm, delicious, and filling fall meals.
Potato Soup with Homemade Rolls
Nothing is better on a cold day than to fill up on hot delicious soup and warm rolls right out of the oven!
Soup Ingredients:
4 slices of bacon, chopped
½ cup chopped onion
1 ¼ cup cubed potatoes
½ can cream of chicken soup
1 cup milk
Salt and pepper to taste
1 tablespoon minced parsley (optional)
Soup Directions:
Fry bacon.
Add onion and saute for two to three minutes or until onion is starting to become tender.
Chop up bacon.
Heat potatoes in ½ cup water in covered saucepan for 10 to 15 minutes or until potatoes become tender.
Add soup, sour cream, bacon, and onion to potatoes.
Pour milk in gradually, stirring constantly.
Sprinkle salt and pepper to taste.
Add parsley (optional).
Heat to serving temperature. Avoid boiling.
Rolls Ingredients:
1/2 cup sugar
2 teaspoons salt
8 cups flour
1/2 cup powdered milk
2 tablespoons dry yeast (quick rising)
2 1/2 cups hot water
4 eggs
1 cup melted margarine
Rolls Directions:
Mix together sugar, salt, powdered milk, yeast, and 2 cups flour.
Pour hot water on dry ingredients and mix with mixer.
Slowly add in 2 more cups of flour.
Add eggs and 1/2 cup melted margarine and stir well.
Add more flour (about 4 cups) and knead until smooth.
Let rise for 20 minutes in warm oven.
To form rolls, grab a small hunk of dough, dip into melted butter, roll into smooth oblong shape between hands, and tuck the ends under as you place into a baking pan.
Place rolls in large baking pan. (This recipe will make 3 rows of rolls in an 11 x 14 inch pan.)
Let rise again.
Bake at 350 degrees for 25 minutes. (If the tops are getting too dark while baking, put tin foil loosely over the top of pan.)
Test with a toothpick for doneness.
This post may contain affiliate links. As an Amazon Associate I earn from qualifying purchases. For more information, see our disclosure.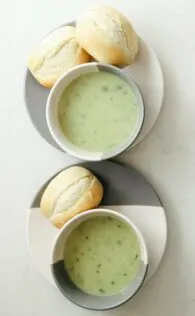 Sloppy Joes
This is an easy meal to whip up when your kids inevitably ask "what's for dinner?" for the tenth time and you haven't planned ahead. 🙂
Ingredients:
½ cup ketchup
½ cup water
1 tablespoon flour
¼ tsp salt
¼ tsp pepper
½ tsp chili powder
1 pound ground beef
Hamburger buns
Directions:
Brown ground beef until cooked through.
Drain off any grease.
Add ketchup, water, flour, salt, pepper, and chili powder directly to the meat and mix.
Heat thoroughly.
Serve immediately on hamburger buns.
Pizza Pasta
This is a family favorite of ours. Tasty and simple.
Ingredients:
½ pound ground beef
¼ cup chopped onion
½ jar spaghetti sauce
4 ounces spiral pasta (other pasta varieties can be used as well.)
1 cup mozzarella cheese
2 ounces sliced pepperoni
Directions:
Brown ground beef and onion until cooked through.
Drain off any grease.
Cook pasta until tender.
Add pasta to a baking dish. Mix in spaghetti sauce and pasta.
Chop up half the pepperonis and mix them in.
Place the other pepperonis on top of the pasta mixture.
Sprinkle with cheese.
Bake at 350 degrees for 25-30 minutes.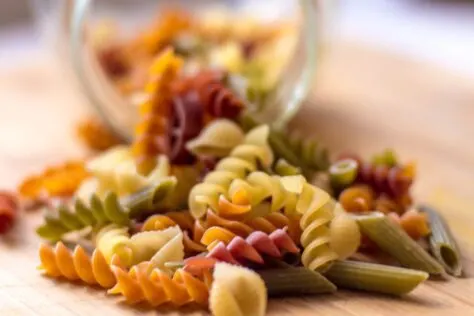 Chicken Rice Soup
A creamy, flavorful soup that is perfect for a cold day is one of our perfect fall meals.
Ingredients:
1/4 cup butter
3 slices of bacon, chopped
3/4 cup carrots, diced
3/4 cup onion, diced
4 ounces uncooked wild rice (about 3/4 cup)
6 cups chicken broth
2 cans evaporated milk
1/4 cup flour
2 cups diced cooked chicken breast (can be rotisserie, roasted, or pan fried)
1/2 teaspoon pepper
2 teaspoons salt
Directions:
Melt butter in large stockpot over medium heat.
Add bacon and vegetables to pot and cook until veggies are tender.
Add rice and 5 cups of broth.
Cover and simmer 40 to 50 minutes until rice is tender.
Stir in 1/4 cup of flour into remaining 1 cup of broth until well blended.
Stir this mixture into soup until bubbly. Mix well.
Add evaporated milk and cooked chicken.
Stir until hot and add salt and pepper to taste.
Manicotti
This recipe takes a little more prep and a long time to bake, so be sure to plan ahead!
Ingredients:
1 package manicotti or jumbo shells
1 – 15 ounce container of ricotta cheese
2 cups mozzarella cheese
¼ cup grated parmesan cheese
½ teaspoon salt
¼ teaspoon pepper
2 tablespoons chopped parsley
3 cups spaghetti sauce
Directions:
Cook pasta according to package directions and let cool. (If you need to speed up the process you can run pasta under cold water.)
Spread thin layer of sauce in a 13 x 9 inch baking pan.
Mix ricotta, 1 and ½ cups mozzarella, parmesan, salt, pepper, and parsley.
Stuff the shells with cheese mixture.
Pour remaining sauce on top of shells.
Cook covered with foil at 350 degrees for 40 minutes.
Remove foil and sprinkle with remaining mozzarella cheese.
Cook 10 to 15 more minutes.
Chicken Enchiladas
The chilis in this recipe give it the perfect amount of flavor while not being too spicy for kiddos.
Ingredients:
2 cans cream of chicken soup
1 small can chopped chilis, drained
1 cup cheddar cheese
4 chicken breasts
1 small can olives, sliced
chicken seasoning
1 cup sour cream
8 to 10 flour tortilla shells
Directions:
Cube up chicken into smaller pieces and thoroughly cook on stove, adding chicken seasoning for flavor. (You can also boil the breasts and then tear them apart when cooled.)
Combine chilis, sour cream, and soup.
Add in cooked chicken.
Spoon chicken mixture onto the middle of a tortilla shell from one end to the other, and then roll up.
Place rolled shells into a greased 13 x 9 inch baking dish.
Sprinkle cheddar cheese on top.
Drain olives and add them on top of cheese.
Bake at 350 degrees for 20 to 30 minutes or until heated through.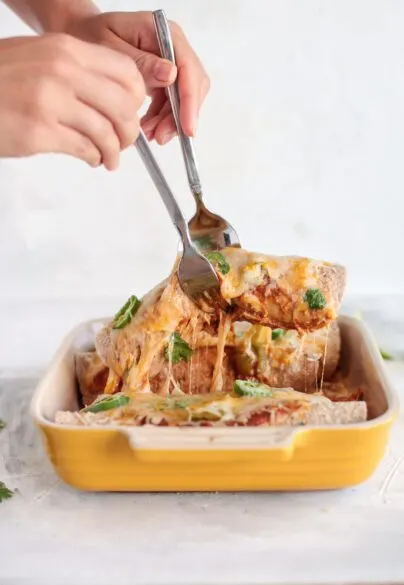 Fall Taco Soup Recipe
This is a great recipe for when you are out and about and want dinner to be ready to serve when you get home. Throw these ingredients in a slow cooker in the morning, set it to simmer, and be on your way!
Ingredients:
1 pound ground beef
15-ounce can kidney beans
10-ounce can Rotel tomatoes
15-ounce can corn, drained
1 envelope taco seasoning
28-ounce can crushed tomatoes
4-ounce can chopped chilis
15-ounce can pinto beans
1 envelope Hidden Valley Ranch Dressing
Tortilla chips, cheddar cheese, sour cream for garnish (optional)
Directions:
Brown ground beef until cooked through. Drain off excess fat.
Add beef, along with the rest of the ingredients to a slow cooker. Stir well.
Simmer in slow cooker on low for 6 to 8 hours.
Serve with tortilla chips, cheddar cheese, and sour cream if desired.
I hope that you are able to try one of these recipes for delicious fall meals while enjoying this beautiful Fall season!