If you're on the keto diet and find yourself needing a quick bite to eat, head on over to Wingstop! While there are some things on the menu that you'll want to avoid, there are plenty of keto-friendly options available.
Wingstop is one of our go to favorites (and easiest) when it comes to Keto, so let's take a closer look at our options.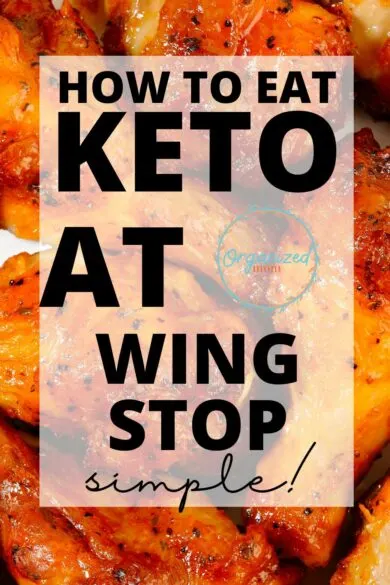 Eating Keto at Wingstop
This post may contain affiliate links. As an Amazon Associate I earn from qualifying purchases. For more information, see our disclosure.
Now let's set the basics of what you need to know to eat keto at Wingstop, because it is very simple to do!
Wingstop lists all of their carb information on their website in a PDF file, which can be a bit of a pain to sort through, but don't worried, we have you covered!
You can also find Wingstop menu items on the CarbManager app, which is my favorite app when it comes to tracking carbs and planning food and meals.
Stick with the Classic Bone-in wings. These are the only wings on the menu that are NOT breaded, so they are a great option!
Yes, you can have sauces and rubs!
The following dipping sauces are all zero carb options from Wingstop:
Cajun
Lemon Pepper
Louisiana Rub
Mild
Original Hot
Old Bay
Plain (no sauce)
The following sauces from Wingstop are all 1 carb per 1 jumbo wing if you want to mix things up a little bit:
Atomic
Garlic Parm
Side dishes can be tricky. When it comes to side dishes at Wingstop it can get tricky. A 4 piece celery stick side dish as 1g of carbs, and 4 piece carrot stick side dish as 4 carbs. Do you really need a side dish with all of these delicious wings though?
As long as you stick to the classic bone in wings, and keto friendly options for sauces, you are pretty much good to go at Wingstop. I mean who doesn't love a good classic wing?
Questions about Eating Keto at Wignstop
Have some questions when it comes to eating keto at Wingstop? We have answered!
Can I eat Wingstop ranch on keto?
Yes you can eat Wingstop ranch on keto. Each 3.25 oz cup for ranch has 2 grams of carbs.
How many carbs are in Wingstop blue cheese?
Each 3.25 oz cup of blue cheese at Wingstop has 3g of carbs.
Which wings are keto at Wingstop?
The classic bone-in wings are keto at Wingstop.
Can you eat lemon pepper wings on keto?
The lemon pepper bone in wings at wingstop are keto, and do not contain any carbs. Enjoy!
Does Wingstop have Unbreaded wings?
Yes, Wingstop has unbreaded wings, the classic bone-in wings are not breaded.
Are Wingstop boneless wings keto friendly?
No, Wingstop boneless wings are not keto friendly because they are breaded. Each boneless wing has 6g of carbs without any sauce!
How many carbs are in Wingstop cheese sauce?
There are 8g of carbs in Wingstop hot cheddar cheese sauce.
How many carbs are in Wingstop garlic parmesan wings?
There is 1 carb for each garlic parmesan wing you eat at Wingstop.
How many carbs are in wingstop Cajun wings?
There are no carbs in wingstop Cajun wings. Enjoy!
How many carbs in lemon pepper wings from Wingstop?
There are no carbs in lemon pepper classic bone in wings from Wingstop.
How many carbs are in Wingstop fries?
There are 53 grams of carbs in a 10oz order of Wingstop fries. They are not low carb.
Is Mango Habanero keto friendly?
One Mango Habanero classic bone in wing at Wingstop has 4g of carbs, it is not keto friendly to eat a whole order of Mango Habeanero wings.
Wingstop is a great place to go if you are looking for something quick and keto-friendly. They have a variety of wing flavors and sauces that are all zero or one carb, so you can mix and match to find your perfect meal. Plain wings are always a great choice, but Wingstop has a number of no carb sauces and rubs so you can have the most delicious wings ever while keeping to your low-carb diet!