Lauren B. said, "The Organized in 20 Days workbook is a fantastic tool! It has helped me take baby steps toward the kind of realistic control that I want over household and tasks, but not once did I feel overwhelmed! I also love that it attacks everything from home organization, to routines, to daily financial management. It is definitely an all-encompassing book to help you make little steps in all areas of your household. Fantastic stuff!"
To Do Lists Created For You!
Are you looking to take control of your house and your life? Do you want to have a clean house and time to spare, without trying to figure out how to get it all done?
You are not alone! Everybody wants to have a clean, organized home! It's hard to create those habits in your life that will ensure that you stay organized.
Having a plan is the single best way to get your house and your life completely organized, and I have the plan that will help you do it!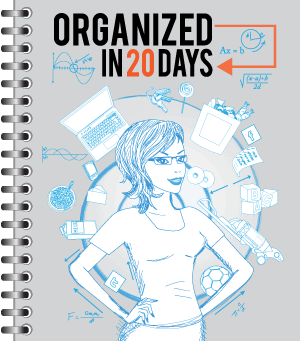 Start Getting Your Life In Order TODAY!
By downloading this complete workbook, you will be able to:
Stop saying,"I don't have time to get organized"
Save time! When your home is organized you won't have to spend forever looking for items you need, just grab and GO!
Be organized! This book not only helps you get your life organized, it will help you create habits in your life, so that you STAY organized!
Eat Healthier! When you plan your meals in advance you typically eat much more healthily. By making and sticking to a meal plan, you will save yourself last minute trips to the local fast food joint!
Save Money! By utilizing the budget workshop included in the book, you will be able to save more money because you know exactly where each dollar is spent every day.
Bonus Feature: Task & Habits To Do Lists!
Included in the workbook is a list of habits you should form in your life, and then daily, weekly, monthly, seasonal and annual tasks! "Having the tasks laid out for you in easy to accomplish chunks helps you to get it DONE and not miss anything in the process" The lists make it easy for you to plan out your cleaning schedule and get every nook and cranny in your house.
Testimonial:
You know it's not an auspicious beginning when your husband sees the title and bursts out laughing!!!Organized in 20 days…boy, do I need this book! And let me start by saying that although this book comes in e-format, you will definitely want to print some of the worksheets it contains. While instructions are given on how to complete certain tasks electronically; I found it helpful to experiment with pen and pencil first.Organized in 20 Days doesn't just deal with the knick knacks you have lying around the house. It covers everything from food to finance. Tasks are broken down to achievable steps and are clearly written. -Jerrilynn A.
What you'll get!
Time Map! Get your day and week routine laid out in an easy to follow schedule, when complete post the routine on your fridge so you can always be on track.
Budget Workshop! Finally get control of your finances in the budget workshop. You can make sure you are spending/saving exactly the amount you earn each month. It also includes many categories that are easily overlooked when creating your own budget. Give every penny a place to go, and you'll find more pennies in your account!
Complete to do lists. Each day has specific tasks to accomplish and habits to form in order to continue to keep the area in tip top shape. Check them off as you go through the workbook and see how much progress you've made!
Motivation. There is a motivational quote or tip included with each day of the book so you can understand exactly why that area is an important part of staying organized, and helps to jump start your motivation to keep going.
Delivered to your email box immediately on purchase!
Money back guarantee! If you find you aren't using the workbook, you can request your money back. If you thought you'd use it, but never do tell me! I'll gladly refund your money.
Customer support, 24/7! Email me anytime if you have questions or concerns, or especially your feedback about this workbook at sarah@organizedmom.net
Sneak Peak:
Here is a sampling of what you'll get. The first section is the blueprint: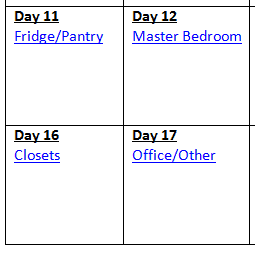 Each item in the blueprint is hyperlinked to the appropriate day: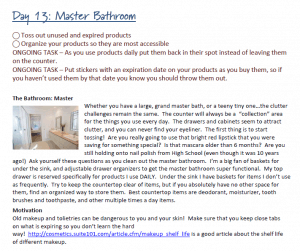 Followed by sample to do lists for you to complete every day, week, month and year!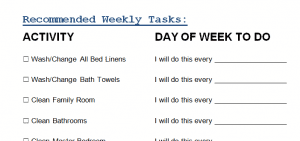 All in one document! This way you don't have to try and figure out the tasks and habits you need to do and create.
My Promise:
I'm 100% confident that my Organized in 20 Days e-workbook will make your life easier and help you feed your family better at the same time, that I am willing to offer you a full refund if you are not completely satisfied!
Get instant access and start getting organized today by using a credit card or your PayPal account.
Also, if you find errors in the e-workbook please let me know! I am always looking to improve this plan and make it the best resource available. Email me the error at sarah@organizedmom.net and I will refund your money and fix the problem!
$6.99 for the complete e-workbook
For a limited time, you can get access to the entire workbook, including the budget workshop, time map and to do lists for only $6.99!