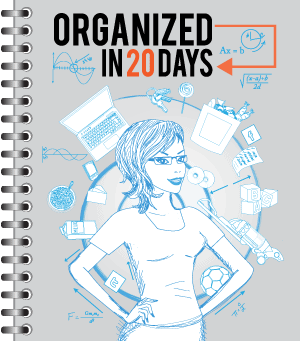 Also available on Nook or Kindle!
Are you looking at your house, overwhelmed with the project laid out before you?  Laundry hasn't been done for days, the kids are a mess, the drawers and cabinets are overflowing with JUNK!
Using this e-workbook, available for the cost of a fast food meal, you will have the blueprint you need to get your organization project going!
Each day is laid out with specific tasks to accomplish now, and habits you need to create to KEEP your life organized.  Every day also features a motivational quote to keep you MOTIVATED!
What do other people have to say about the workbook?
Lauren B. – "I'm really enjoying your new organizing workbook! Thanks for giving me the kick in the pants I needed!"
If you aren't satisfied with your purchase, we will happily refund your money at any time!
Get organized today!