October 31, 2011 at 9:05 am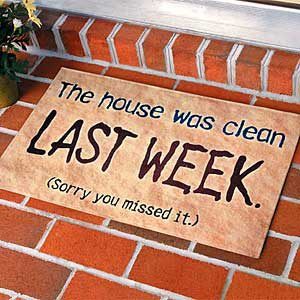 OK, so not REALLY, but definitely want one!
Really though the best doormats are the astroturf doormats from Don Aslett.  He says that 80% of the dirt in your house walks right in through the front door.  If you have a really good doormat that will trap the dirt instead of a fancy schmancy one that really will just end up LOOKING dirty, you can actually clean your house less!
One comment that I got on Facebook when I posted this is "Cleaning house while the kids are still growing, is like shoveling snow while it is still snowing" – Amy B.  I totally agree!  I often wait until it stops snowing to shovel my driveway.  You know what happens though?  Some days it just never stops!  If you don't take care of the snow before it gets out of hand, it's even harder to deal with.
The same goes for cleaning your house.  Pick up messes as they happen, teach your kids to clean, and keep your home healthy by keeping it clean.  Even when the kids destroy it 5 minutes later… at least  it was clean for 5 minutes… right?  :)