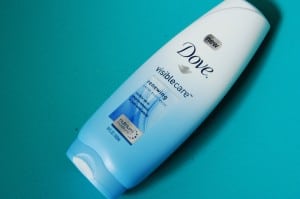 I live in Utah. It is dry. It is EXTREMELY dry. Not a day goes by that I don't need to put lotion on my hands. It's crazy. So when I was asked to review the Dove® VisibleCare™ Renewing Crème Body Wash, I was pretty excited to try it. Since it has to do with cleaning (your body) I thought it would still fit on the blog, even though I don't usually blog about beauty products. This product has Nutrium Moisture, which I definitely needed.
There are 3 different formulas for different skin types. The "toning" one has ingredients to help promote skin's elasticity, the "softening" one is to help with dry spots, and the "renewing" one is to nourish and replenish skin. Although I think I would have benefited the most from the "softening" one, I still saw a big improvement in my skin from the "renewing" one.
The products claims to give you visible skin improvement in a week, and so I put it to the test. Typically if I were to run my fingernail along my arm my skin will flake off a bit (see living in Utah listed above). I am happy to report that after a week of using it, my skin is not doing that. I haven't noticed a difference in the tone of my skin, but it does seem way more moisturized than before. The product smells great too.
I also ran out of shaving cream one day, and was in the shower going "dang it!!", until I remembered about my new friendly Dove product. I used it on my legs, and was able to get a great shave! I will hold out on buying new shaving cream until this is all gone. I really liked it in this capacity.
My only gripe with the product is the package design. I have to say, it's extremely frustrating! There is not very much of a lip on the part where you open the bottle. This means that in the shower I have to get my nails under the top to get it open. When my nails are wet, they are much more likely to bend and break, and it's been such a hassle trying to get this bottle open and NOT break a nail. It just needs a bit more of a lip or more of a grip on the lid so I can use my thumb and it won't slip off before opening while everything is all wet.
So, if you want to give this product a try just visit Dove® VisibleCare® to get a coupon for $1 off!
Enter to win one of two $500 Spafinder gift certificates!
NO PURCHASE NECESSARY
COMMENTS TO THIS POST ARE NOT SWEEPSTAKES ENTRIES. PLEASE SEE BELOW FOR ENTRY METHODS FOR THIS SWEEPSTAKES.
You may receive (2) total entries by selecting from the following entry methods:
a) Follow this link, and provide your email address and your response to the Promotion prompt
b) Tweet (public message) about this promotion; including exactly the following unique term in your tweet message: "#SweepstakesEntry"; and then visit this link to provide your email address and the URL to that Tweet.
c) Blog about this promotion, including a disclosure that you are receiving a sweepstakes entry in exchange for writing the blog post, and then visit this link to provide your email address and the URL to that post.
This giveaway is open to US Residents age
18 or older. Winners will be selected via random draw, and will be notified by e-mail. Winners will have 72 hours to claim the prize, or an alternative winner will be selected.
The Official Rules are available here.
This sweepstakes runs from 7/18/2012 – 8/22/2012
Be sure to visit the Dove® VisibleCare™ Crème Body Wash brand page on BlogHer.com where you can read other bloggers' reviews and find more chances to win!