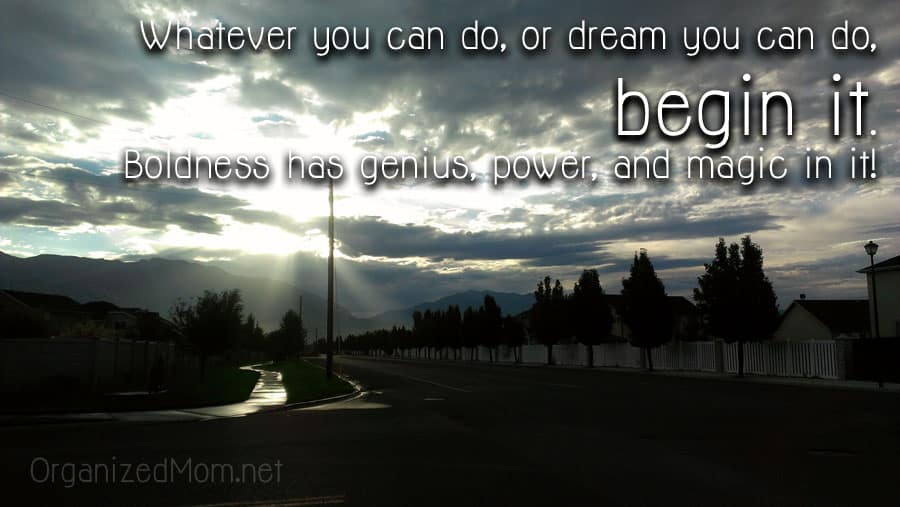 Getting started on a project is probably the hardest part of your projects.  So where can you find the motivation to start something?  Whether it's cleaning a room, or starting a new business, the beginning can be difficult.  This is one thing that is so hard about running a business, or working from home.  You are constantly interrupted throughout your day, and constantly having to "get started" all over again.
It's fitting that this topic is appearing on my "Blogaversary".  My very first post on this here blog was September 21st, 2007.  So today I celebrate 5 years in this blogosphere.  It started as a means to drive traffic to my software (which is now defunct 🙁 ), but it grew, and I never knew that 5 years later I would have 2 blogs (Technology for Moms started 2 years after this one in 2009)!
Sometimes the hardest part is just knowing WHERE to start.  Tasks can be overwhelming.  You have an entire house to clean or to organize, you have a business to launch, you have a party to plan, so many things take an overwhelming amount of effort, and looking at the mountain of tasks before you, can seem like trying to climb Mount Everest!
Since I'm all about to do lists, and employ several different types in my own life, I usually start there.  Sitting down and writing out every thing you have to get done is such a great place to start.  I typically do this with a pen and paper, and transfer it to digital after all the kinks are worked out.  Plus it's easy to just say to yourself… "all I have to do is write stuff down on this piece of paper!"  You can totally do that.  I like to put big tasks in larger print, and smaller tasks associated with that in smaller print underneath.  So it would look something like this…
Clean Family Room
Dust Shelves
Vacuum Floor
Vacuum Furniture
(you get the point)
You have a business you want to start?  Write down everything you need to get moving.  In this scenario write down the cost of each item as well, as best as you can estimate it.  Now that you have this list, depending on how long it will take to complete your project/s, enter it into the computer.  There are several different applications I like.  Toodledo.com is my favorite.  You can also just work off of the paper list you just created.  Now?  Get to work!  Pick something super easy to do on the list and start it.  Grabbing that "low hanging fruit" can put you in the mood to get the rest of it done, or give you the motivation you need to keep going!
Whatever it is, sit down today to brainstorm how to make it happen!