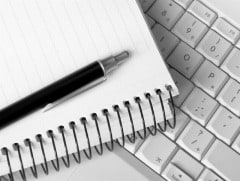 Gee, lets see. What to blog about? Hmmm, well considering I was supposed to post on Monday and today is now Wednesday, how about procrastination! I have been up late every night this week due to my habit of putting everything off to the last minute so why not do it tonight starting at 10:45pm?
Procrastination is something of an art form for me. I'm always coming up with new and creative ways of putting things off. I've always been a procrastinator. I was born that way (I can blame the genetics on my mother; she's a procrastinator too.) When I was in school I would miss the bus, show up to classes late, and not even start on homework until after dinner time. I can remember countless school nights staying up late to finish book reports on books that I didn't even read because, again, I had not left myself enough time to read it. Even into college I would do this since I had established such an amazing procrastination habit. Which really made my college roommates mad when I would stay up late with the light on while they tried to get a good nights rest before an exam the next day. By some small miracle I got good grades and managed to survive the death threats from my roommates. Obviously, things haven't changed much because here I am today still procrastinating.
As you might have noticed my sister-in-law Amy is the one who writes great posts for this blog about time management and not me. I'm sure you can see why. :- ) But over the years I have learned a few things that help me survive as a chronic procrastinator such as:
-In your calendar write down doctors appointments, meetings, etc. for 10-15 minutes earlier than when it's supposed to start so you will be there early. If that doesn't work, have your spouse set all the clocks ahead by an undisclosed amount of time. You can't know how far head the clocks are because it won't help if you know they are all five minutes fast. Hopefully as you run out the door to the appointment, that you thought you were late to, you'll be pleasantly surprised to find out your right on time or better yet early!
-Keep a piece of paper and pen next to your bed. That way at night you can write down all the things you forgot to do that day and you will remember to do them tomorrow.
-On your To Do List always do the worst thing first since that's the thing you are most likely to keep putting off. It's really hard to do this. But you just have to suck it up and get it done and over with so that you can feel great knowing the worst is over, and celebrate that you got it done on time!
-Keep bills to be paid all in one place right by the door you most often come in. We use a small drawer in a desk next to the entryway for my husband to put them in right after he gets the mail. That's right, don't put them in the place where you are going to sit down to pay them, because the further you go into your house with them the more likely you'll be to set them down some where and loose them. You could keep them in a inbox or a file folder or something like that just as long as they are all together, in a very convenient place, that you know will always be in the same spot. The kitchen table doesn't count! Open them up, throw out the ads that come with them and lay them unfolded in their correct place. Mark the due date three or more days early in your calendar. When you do go to pay them, you'll know exactly where they are, you will have saved precious time by opening them up already, and you can easily see when they're due and how much to pay. Also pay your bills online so you can do it even in the middle of the night. ;- ) And if it's a reoccurring bill for the same amount each time, just set it up to pay automatically every month!
-In your vehicle keep extra things like granola bars, water, makeup, and disposable, pre-pasted, toothbrushes (yes they really do make such a thing for people like me), so that as you are running late you can eat breakfast on the way, brush your teeth, and do your makeup (only at stop lights) and at least look like you have it all together when you get there. I keep Shout wipes in my van too so that if you're eating something and it spills on your shirt you just scrub the Shout wipe on the stain and it "washes" it out. (I'll show you in my next post about how to keep all of these things organized in a handy little, make-it-yourself pouch.)
-When all else fails just remember to take a deep breath and don't freak out. Freaking out doesn't help get the job done no matter how much or little time you have left.
I hope this helps all of you fellow procrastinators in some small way, even if you are reading this at 11:59 at night instead of starting on the project that is due tomorrow morning.