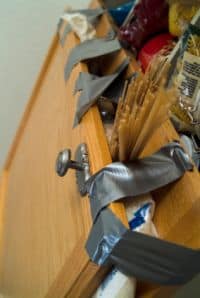 I thought it would be a good introduction for you to know my organizing philosophy. It is simply: Love Your Stuff. Most professional organizers will tell you you need to get rid of your stuff (and, just so you know, I agree – sort of). But I think it's a matter of love. When you are organizing, just ask yourself what you love most.
For example; I LOVE books. I take after my grandma who has been known to say, "sure, you can have some of my books… when you can pry them from my cold, dead hands." When you love something that much… well, you should keep it.
The key is to measure what you love most. My grandma who loves books also loves to cook so she can't have books stacked up on her stove (good hint here, if you really love something you probably won't be tempted to store it in a flammable place).
If you love something enough to be creative about its use, then keep it! I worked with a client who had a hideous green sequined skirt from her high school show choir days (it's okay, I have permission from her to use this story and to call the skirt hideous). She loved that skirt. She would not part with it. So we had to get creative. Now she uses it as her Christmas tree skirt and gets to relive those high school glory days every year. Can you be that creative?
It is easy to determine whether you love something enough to keep it. Just ask yourself these questions:
1. Do I love this? If yes, move to question 2 – If no, toss it.
2. Do I want everyone who enters my home to see this? If yes, move to question 3 – if no, toss it.
3. Do I love this enough to find a creative use for it? If yes, move to question 4 – if no, toss it.
4. Could someone else love this more than I do? Stop. Really think about that for a second. Okay, if no, move to question 5 – if yes gift it to the person who'd love it more.
5. Has this thing I "love" been in storage for longer than 3 months? If yes, toss it.
6. Do I love something else MORE than I love this? For example, Do I love this box of old trophies more than I love the ability to walk around in the spare bedroom? If you love something else more, toss it and make room for the stuff you really love. On to 7.
7. Does everyone in my home love this as much as I do? This is a toughy. But you choose those people you live with… presumably you love them more than any of your stuff. Show them. Toss it.
Tell me about the stuff you love. How have you been creative with it? We can help each other be creative. Post your ideas.
Happy Organizing! Laurieann