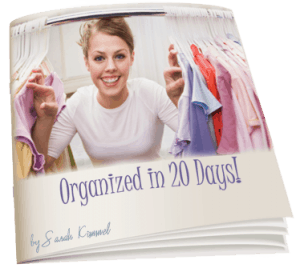 I wanted to officially announce the new e-workbook I have written to help you get organized!  It's called Organized in 20 Days, and is available for $6.50 (today is the last day of the sale, tomorrow the price will go back up to $7.45)
Inside you will find worksheets, checklists, and even a budgeting "workshop".  Each day is laid out with specific tasks designed to get your organization project off the ground and moving in the right direction (as in, closer to the done direction!)  Included in each day is descriptions of how to get each task done, and then an ongoing task to help make these tasks a habit in your life so you never fall into disorganization again!
Using this e-workbook, available for the cost of a fast food meal, you will have the blueprint you need to get your organization project going!
The book is also guaranteed!  You may request a refund at any time!  There is no pressure!  So what are you waiting for??