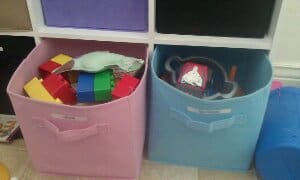 So I've been working a TON this week, and as I was picking up our toy area I noticed these… if you look closely the labels clearly say Legos and Sea Animals, and clearly that is NOT what is inside.
There are 6 other fabric drawers next to these with quite similar contents.  Books in the cars drawer, baby toys in the books drawer, and the list goes on.
Lesson?  Make sure instead of word labels you stick picture labels on each drawer…and maybe only one drawer allowed to be dumped out at a time?