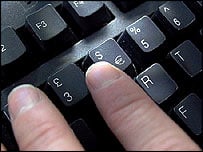 This weekend I attended another expo with a friend of mine who wrote the book Project: Organization.  She was curious about my generation, since all of her products are about paper, and mine is obviously all about the computer.  I was thinking about it and started to ask myself… why is it that I hate paper?  For Time Management Tuesday I will explain why paper may be dragging you down, and making you less productive!  Come into the digital age!!
I was living with my Dad and moved to a new town the summer before 9th grade.  As we were signing up for classes, almost all of the electives were taken.  Since I was registering later than everyone else.  Pretty much the only thing left was typing.  Now I had grown up around a computer my whole life, my Dad is currently a Senior IT Specialist for IBM.  The first day of typing class the teacher said that she could type the alphabet faster than we could write it.  So she said go and all of us wrote as quickly as we could, and guess what?  She finished way before any of us!  My world in an instant was changed.  You can type FASTER than you can write!  It was a revelation.  From that day on the computer was my new best friend.  My handwriting is soooo terrible because I never write anything!  I've mentioned before that I even prefer typing to talking on the phone.  So the first reason I hate paper, it takes way too long to write anything on it.
The second reason I hate paper is it can get lost!  Have you ever spent a whole afternoon looking for one piece of paper in your house?  Not me!!  If I have something that is important on a piece of paper I find a way to get it into my laptop ASAP.  Whether that is by scanning it in, or typing it up in some program.  I feel safer knowing that it will always be exactly where I am looking for it.  If you are going to store everything on your computer, MAKE SURE YOU BACKUP!!!!!!!  I backup my laptop at least once a week!
It takes up space too!  Another reason paper is annoying is that you have to keep it somewhere.  I am very simple, and the less things I have to store, the happier I am.  Imagine not having to have large filing cabinets in your home or office!  So many offices now are going paperless.  There are even great programs to help your office accomplish that!  OnBase is one that I became familiar with while working as an IT Manager.
So embrace your computer today, and get rid of the paper that is ruining your life (OK, I may be exaggerating slightly… )