Flying with young children can feel like a daunting task. Figuring out exactly what to take, navigating busy airports, and trying to keep them entertained and happy on a long flight can be a stressful experience. But there are things you can do to make the whole experience a more pleasant experience for everyone.
Here are 11 tips for flying with young children.
Find an airline that offers free checked baggage.
If you are traveling as a family, trying to pack carry-on luggage onto a plane and through airports (along with strollers, car seats, and whatever else you need) is a huge pain. And honestly, with little kids it just isn't very practical.
This post may contain affiliate links. As an Amazon Associate I earn from qualifying purchases. For more information, see our disclosure.
I suggest checking as many pieces as you can. But if you are paying for each piece, this adds up rather quickly. Some airlines offer 1 or 2 free checked bags for each ticketed customer. Others offer free checked luggage for credit card holders (Alaska Airlines is an example.)
Flying on an airline with free checked baggage will not only save you money, but will also save you from having to drag a whole bunch of extra stuff through security and to your plane.
Check into your flight the day before.
Many airlines will allow you to check in the day before. Some will even let you print boarding passes at home. Anything you can do ahead of time will save you time at the airport on the day of travel. Take advantage of the opportunity to do as many things as you can the day before.
Allow plenty of extra time the day of travel.
Trying to make a flight can be even more stressful when kids are added to the mix. Inevitably, getting everyone ready and out the door will take longer than you think it will. Build time into your schedule for the unexpected, so the day of departure doesn't leave you frantically running around. That is not a fun way to start your travels!
Pack as much as you can the day before, and make a list of any items that need to be packed at the last minute. Know how long it should take to get to the airport and then add on time in case you need to stop unexpectedly on the way, or run into heavy traffic.
If you have a connecting flight, allow plenty of time to catch it.
Trying to run across a busy airport with your kids in the desperate hope of making your connecting flight is not a good time. (Been there, done that!) If possible, allow plenty of time between flights so you can grab a snack or meal, use the bathroom, etc.
On the other hand, it might be worth spending a little extra money in order to have connecting flights that aren't spaced too far apart. Trying to entertain your kids for 8 hours in an airport waiting for your next flight will probably make you wish you had just shelled out some extra cash for a better flight schedule.
I think an hour to two hours between connecting flights is a good range. Anything under that, and you might find yourself cutting it close. Anything over that can feel painfully long when flying with young children.
Of course, the size of the airport you are traveling through will make a difference in how much time you want to allow between flights. If it is a huge airport where you might have to move to another concourse to catch your connecting flight, you will probably want to add on at least another 20 minutes.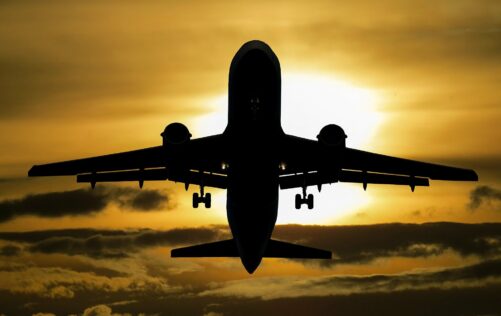 Check a stroller at the gate.
Many airlines allow you to check strollers right before you are boarding the plane. That way you can have the stroller for long walks through the airport. This is extra handy if you find yourself with a long layover.
Get a luggage cart upon arrival at your destination.
Yep, even if they aren't free. These are worth every penny, especially if you are renting a car and have to wrestle car seats along with all your luggage from the baggage claim to your rental car.
Take advantage of family boarding.
Some airlines will offer family boarding in between first class boarding and coach boarding. This is especially helpful if you don't have assigned seats, and seats are given on first come, first serve basis. This will increase your chance of being able to find seats all together and have your kids settled in their seats before the plane is full.
Help your kids pop their ears.
When planes take off and land, it is very common for the change in altitude to cause uncomfortable pressure to build up inside the ears. While adults can usually easily get their ears to pop, younger kids might find this more challenging.
Providing gum or something to suck on during take-off and landing can help. The chewing/sucking motion allows ears to pop more easily. Babies can suck on a pacifier or be fed during this time.
Be choosy about your seat.
If possible, choose a seat near a bathroom so you have easy and quick access when needed. Also, for safety purposes, let your kids have the middle and/or window seats, so little hands, feet, and noggins are kept safely out of the way of drink carts and other passengers coming up and down the aisle.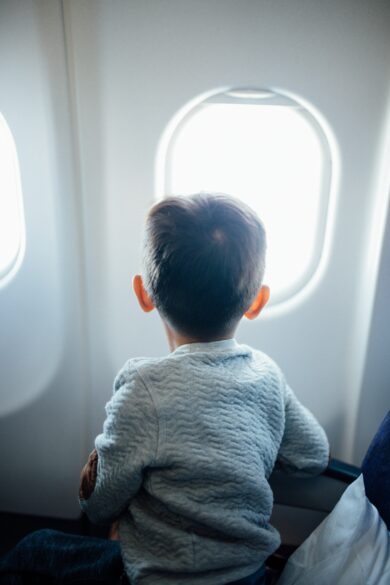 Pack extra snacks.
You can bring your own snacks, as long as they are unopened. Buying snacks in airports can be spendy, and the snacks provided on your flight might not be enough to tide over hungry bellies on a long flight.
If you have an infant and are formula feeding, be sure to pack more formula than you think you will need. You never know if you might encounter delays at the airport or in flight that can throw off a predicted arrival time. You don't want to be stuck with a hungry, crabby baby…especially at 10,000 feet!
Pack mess-free activities.
The excitement of a plane ride will probably wear off pretty quickly. Make sure you pack items to keep your kiddos entertained so they don't spend the whole flight kicking the seat ahead of them. Paint by sticker books are a mess-free activity that are great for traveling, as are puzzle books, word searches, and kids magazines.
I hope these tips will help make flying with your kids a little less turbulent!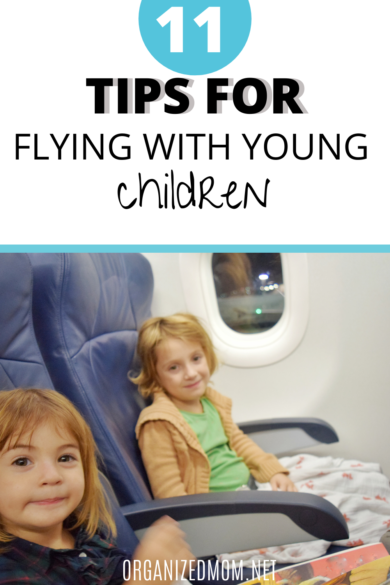 Share and join us on social media!