Want to work from home, but afraid to get scammed? Check out our 25 LEGIT jobs for stay at home moms!
As a full-time working mom, I love the idea of creating income while working at home. Imagine saving money on gas and maintenance on your car while having money deposited into your account. Or imagineworking while having time to watch your child sleep or your kids are in school. For myself, I am enjoying writing this article in my living room in front of my laptop. This article is a list of 25 jobs for the stay at home mom who wants to create income without having a full-time 9-5 job. Some of these jobs are perfect for the mom who has the flexibility to leave the house or the mom who can work with kids at home.
This post may contain affiliate links. As an Amazon Associate I earn from qualifying purchases. For more information, see our disclosure.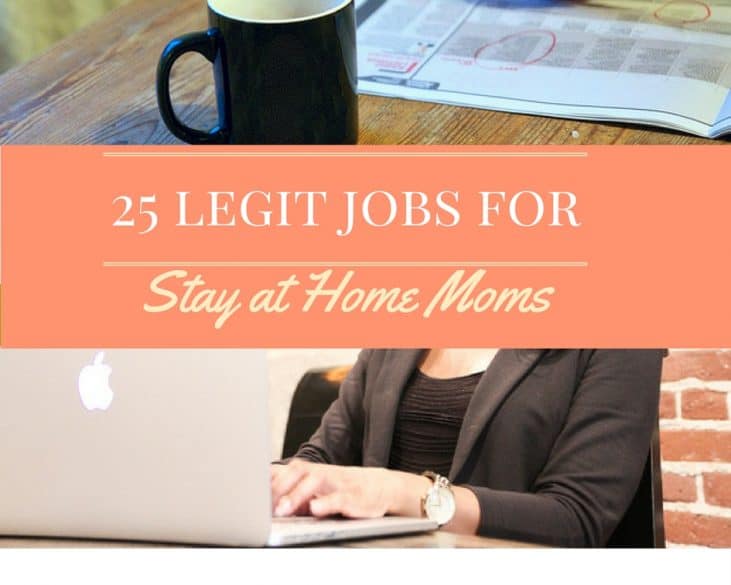 Jobs for Stay At Home Moms
VIPKID

– This is one of my jobs that I do to create income. I love teaching English to elementary children in Beijing, China online. I teach the phonetics and literacy to young kids with Powerpoint presentations and my web camera. It is the perfect opportunity for moms with young kids who cannot leave the home and retired teachers. You must have a college degree and experience working with children to be considered as an applicant. With a teaching license, you can make upwards of $2,000 a month depending on how you pass your assessment. For more info, contact me for a referral.

Online Tutoring

– Tutoring is also a great job for stay at home moms. Websites such as

www.chegg.com

and

www.thespruce.com

match you with students and allows you to create your own schedule to teach students.

TaskRabbit

– This is a website where you can get paid for running errands. You log onto

www.taskrabbit.com ,

search for the available jobs in your area, and bid on the job. Next you can confirm your rate and details. Once the job is completed you send your invoice. This is great for moms with kids at school or retired moms who don't mind errands while making income.

Rewardable.com

– Download this free app and earn money by completing surveys, watching videos of products, and giving adequate feedback to receive deposits through PayPal.

Upwork

– This website allows you to hire freelancers to complete tasks that you need to be done in a timely manner. You can work as a freelancer and offer your services and set a price.

Beachbody Coach

– If you love fitness, working out at home, receiving free fitness products, and being able to make money online this business opportunity is perfect for you. Beachbody provides you with a personalized website and free training videos. Learn how to become an online fitness coach while having the opportunity to create unlimited income. The startup fee is $39 plus the price of the fitness program you choose. For the mom who wants to work out at home and receive weekly deposits, you will love it.

Maybrooks

– This website allows you to search for full-time, part-time, or freelance contract jobs with companies that value a family culture environment. It gives you companies that allow you to make a choice,

Virtual Assistant

– This is the perfect job for the mom who is detail oriented and likes to perform administrative duties. Many companies hire virtual assistants to do clerical work and can pay from $10 – $15 depending on the required tasks. Search www,indeed.com,

www.flexjobs.com

, and

www.peopleperhour.com

to find opportunities.

Transcriptionist

– This job requires no prior experience but you are paid quite well($25 an hour or more) by listening to audio files and typing out what you hear. Sounds easy right? M

ost employers will give out a short writing test to measure your typing accuracy before you receive any official tasks

.

Go toTranscribeAnywhere.com and Quicktate.com to search for opportunities.

Website Tester

– Love scrolling online and browsing the internet? Why not get paid for it? Many companies pay you to navigate their website and give feedback through doing a test usually lasting only 15 minutes. With registering for several companies you can make up to $200 a month being consistent.

Direct Beauty Sales

– Avon and Mary Kay are common household names of successful beauty businesses that you can run from the comfort of your home. Build your clientele and enjoy the great residual income.

Call Center Customer Servic

e – If you have a landline phone, high-speed internet, and good customer service skills then this job is for you! There are many companies that still need inbound customer service agents to talk to clients. Companies like American Express offer benefits and alpineaccess.com Also search 1-800 – Flowers for opportunities.

Tech Support

– Companies like Apple and Dell also offer work from home opportunities such as customer support. The pay can vary depending on your skill set.

Data Entry – This job is simply inputting data and information into a computer program. If you have a computer, high-speed internet, and can type fast then this job can pay well. Check

www.clickworker.com

and

www.diondatasolutions.com

for opportunities.

Freelance Blogger

– This is a great job for writers who want flexibility in assignments and hours. Some blogs offer feature assignments or writing blog posts. The pay ranges from $20 up to $300 depending on the word count and guidelines.

Web Designer

– If you love technology and possess a wide range of creativity then becoming a web designer maybe pay very well.

Copywriter

– This job requires you to write compelling content with attention to detail with English grammar.Many businesses hire copywriters to advertise their publications.

Liveops

– This is an at home call service where calls are inbound from customers responding to infomercials and ordering products. Pay is around $9.50 and up

Leapforce

– You are an independent agent who is paid a competitive pay to do online research for leading companies while able to pick your own hours.

Textbroker

– A great way to earn extra income for writing simple assignments based on your writing experience.

Swagbucks

– If you like to earn cash and gift cards and don't mind completing surveys then this site is for you.

Telephone Interviewer

– Working from home is easy to do with this job. Conducting interviews for companies for research purposes makes this a great job for stay at home moms.

Magazine Writer

– If you are interested in having your own column then this may be a great fit for you. Search for opportunities that will provide you with flexible hours and build an audience.

Medical Transcriptionist

– Today stay at home medical transcribers are in demand and knowledge of anatomy and health care law are required.

Career Coach

– This is a great self-employed job where you can work as an independent contractor such as Tony Robbins or Rise Smart.