If you are familiar with cleaning grease off dishes then Dawn dish soap is probably your best friend. Although, there are many choices for dishwashing detergent nothing stands out like Dawn.
Thankfully, Dawn is amazing with cleaning pots, pans, flatware, and dishes. Did I mention it cuts grease? So why is Dawn so important?
Dawn Dish Soap Facts
This post may contain affiliate links. As an Amazon Associate I earn from qualifying purchases. For more information, see our disclosure.
Let's go back to 1989 at the site of Exxon Valdez spill at Prince William Sound, Alaska. As 11 million gallons of crude oil spilled into the Pacific ocean only one dish soap saved many animals trapped in the thick oil. Yes, Dawn dish soap was the soap to save many birds and seals.
In fact, the ingredients are so effective that it removed the grease and never harmed the birds or their skin. Dawn is so important that it effectively raises money for many wildlife groups.
However, Dawn has many other amazing ways that make it stand out as the best dish soap. There are many uses and ways Dawn is effective.
See how gross this pan is? Yeah it's disgusting.
With just a few drops of blue dawn dish soap, it will look like new in no time.
There's way more to blue Dawn dish soap than what you would normally think, though.
7 Reasons why you should use Dawn Dish soap
Now here are 7 awesome things you can do with blue Dawn dish soap beyond just cleaning your dishes.
1. Homemade Bubbles
If you are washing dishes I'm sure you have seen the bubbles. Guess what if you mix ½ cup of ultra Dawn, 1/2 gallon of warm water, and 1 tablespoon of white Karo syrup you get big homemade bubbles.
2. Multi-purpose household cleaner
Who knew Dawn could clean your house? One drop of Dawn soap in 8 ounces of water is perfect for cleaning sinks, bathroom counters, bathtubs, and toilets. Lastly, it's the best cleaner since baking soda.
For a super clean, mix baking soda with enough Dawn dish soap to make a paste. Meet your new favorite everything cleaner!
3. Use as dog shampoo
Did you know that Dawn kills fleas on contact? Thankfully, it's less expensive and is safe to use on your dogs.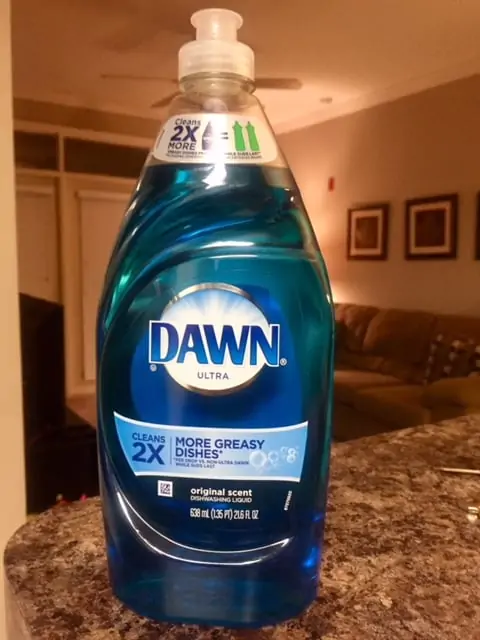 4. Glass cleaner
Dawn works amazing when cleaning your windows. In fact, you can also use it to clean your eyeglasses.
5. Oily stains on your clothes
Just like baking soda Dawn can clean your clothes. For the hard stains like lipstick, grease, and motor oil just put a little of the Dawn dish soap and scrub lightly into the stain and wash.
This is my go to when I get oil on my clothes while I'm cooking!
6. Unclogging toilets
Now you can bypass those harsh cleaners to unclog your toilet. First, pour a cup full of Dawn dish soap directly into your toilet and allow to sit for 15 minutes. Next, after 15 minutes follow up with a bucket full of hot water and the toilet will unclog.
7. Repels insects and ants
This is the safe way to protect your plants and repel a trail of ants. First, pour one drop of the dish soap and mix with water in a spray bottle. Make sure to mist your plants and spray on ants. Yes, you will eliminate those pests.
These are just seven of the most awesome household uses around for blue Dawn dish soap. While Dawn makes many colors, scents, and varieties, my favorite is the original with the pictures of the animals on it.
I'll buy big gallons like this and re-fill smaller bottles, or put them in a dish soap dispenser.

SOURCES:
https://www.theatlantic.com/photo/2014/03/the-exxon-valdez-oil-spill-25-years-ago-today/100703/
https://www.onegoodthingbyjillee.com/uses-for-dawn-dish-soap
https://www.npr.org/templates/story/story.php?storyId=127999735