Reading is a great hobby for us all, but especially for kids. Books can open up new worlds, help kids process big emotions and life events, and can be a great source of entertainment. One of my favorite things to do as a kid was taking trips to our local public library, perusing stack after stack of books, and bringing home an armful of new books to dive into. These ideas will help you to encourage your kids to read more.
Nowadays, the lure of technology and other activities turn our attention away from books and onto other things. Books are still just as important, but it can be harder to convince kids to read on a regular basis.
Here are 7 tips to encourage your kids to read more.
Make sure what they are reading is something they enjoy.
This post may contain affiliate links. As an Amazon Associate I earn from qualifying purchases. For more information, see our disclosure.
This is common sense, of course, but sometimes this can be very challenging! I'm of the opinion that any reading is better than no reading! Graphic novels can be a great way to get reluctant readers into regular readers. These types of books have plenty of interesting pictures to add context and draw the reader in, but they also have a plot.
Balance is the key. You want to challenge your kids as they increase their reading skills, but you don't want reading to be so difficult they never want to do it.
Help them find a book series to get into.
There are so many fantastic series out there! Once your kiddo gets hooked on the first book in the series, there are more books to follow that will hopefully keep their interest in reading. We all know the Harry Potter books that are an extremely popular series, but there are several other series that have become very popular over the last few years.
My 10-year-old is just getting into the Percy Jackson series. The Magic Tree House series was another favorite of his when he was younger. There are plenty of chapter books for younger elementary-aged kiddos that are written in a series format. You just need to find them.
If you don't know where to start, ask your local librarian or school librarian for suggestions. They can tell you what series are currently popular. And when school is in session, teachers also have a pretty good feel for what their students are into.
You can also ask in parenting forums and in your friends circle about what books their kids are currently enjoying.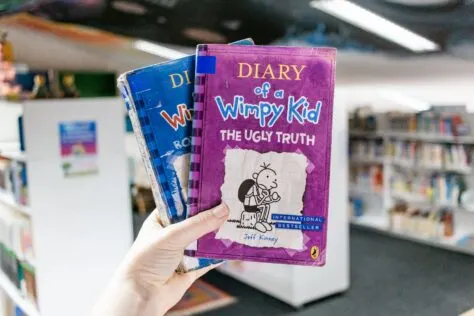 Read a book together.
This can be done at bed-time, or anytime during the day. When your kids are little, regularly reading them picture books will start to develop their literacy skills and is a wonderful introduction to the world of books. But even when your kids are older and can ready themselves, it is still fun to read a book together. You can take turns reading, or read the same book and then discuss it together at the end.
Think back on what books you enjoyed as a kid. My kids and I have enjoyed reading the Boxcar Children books as well as the Little House on the Prairie books. Two of my favorite series growing up!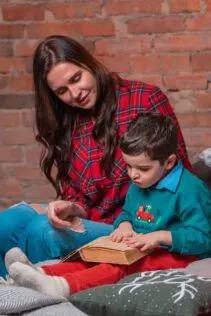 Listen to audio books in the car.
I know this isn't technically reading, but listening to books is a great way for kids to practice their comprehension skills and use their imagination when picturing what is happening in the story. And maybe you can start by listening to the first book of a series on tape and pique their interest, and then they can read the rest of the series the traditional way.
Use incentives.
You probably grimace at the thought of having to bribe your kids to read. (What parent wouldn't?) But what if that little incentive to get them started was just the thing they needed to get into a new series and figure out reading can actually be pretty darn fun! Reading can get a bad rep for being a "boring" activity that kids don't want to do. But I contend that if kids find reading boring, maybe they just haven't found the right book yet!
Maybe if they read for so many minutes each day, then at the end of the month, you can all go out for a treat. Or maybe each kiddo can make a goal of how many books they want to read in a given amount of time and they come up with the reward (within reason, of course!) if they achieve their goal.
Another idea is to read the book and then watch the movie together. There are ton of books that have been adapted as movies at various age levels. Our family just went to see The Bad Guys and it was fun for my kids to compare the books with the movie.
Check with your local library about reading programs.
One year our local library did a summer reading challenge where we were entered into a drawing for a free Wild Kratts Show that was coming to town that fall. That was a pretty fantastic prize!
Many libraries offer reading challenge programs, and the best part is that the parameters are already set up for kids! Easy peasy!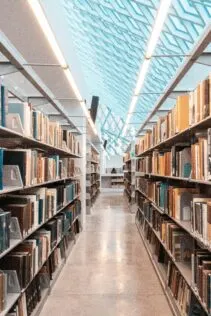 Let your kids pick out their own books.
Having ownership over this part of the process (versus you picking out the books and bringing them home for your child), helps kids feel more invested and perhaps more likely to pick up the book on their own without you having to nudge them.
Set aside a certain amount of money in your budget for book purchases. Don't feel like you have to buy books brand new if you don't have a lot of disposable income. Take a trip to your local used bookstore and let your kids peruse the shelves. You can also find tons of used books on amazon or get great deals at garage sales.
Hope these tips have helped! Happy reading!
P.S.
Check out this article for even more inspiration on ways to make reading fun for your kiddos!
Summer Reading Made Fun With These Tips – The Organized Mom