Fun birthday party desserts for kids are a must when you are throwing a party. Check out these creative ideas including fabulous birthday cakes, sweet treats, and cool alternatives to cake that kids will be excited to devour!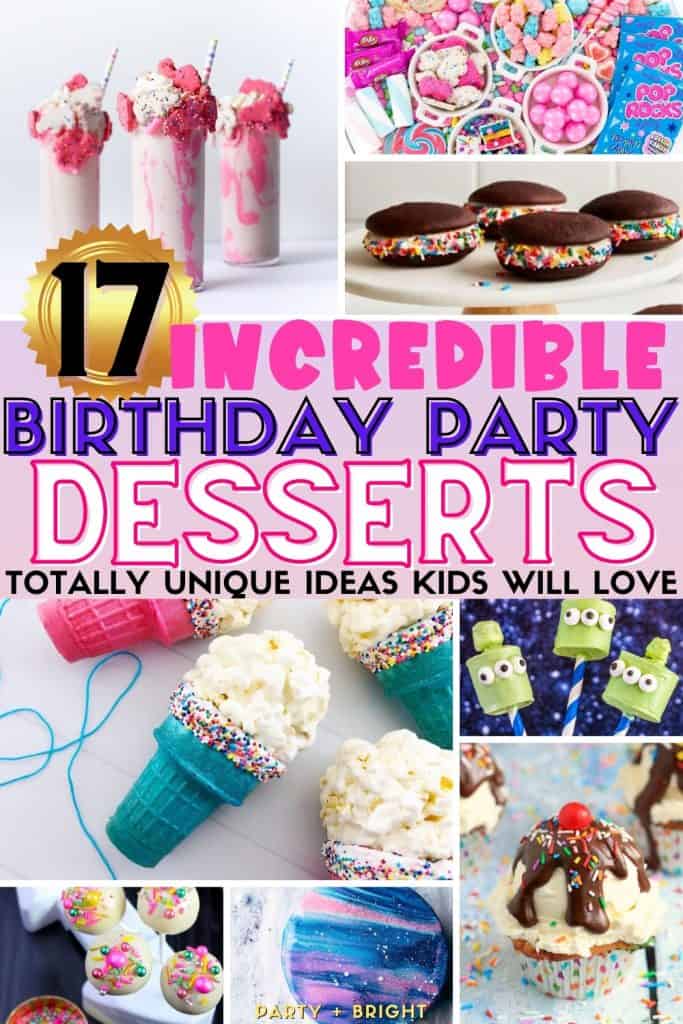 While we might be used to doing simple birthday cakes, it is always fun to spice things up a bit.
This post may contain affiliate links. As an Amazon Associate I earn from qualifying purchases. For more information, see our disclosure.
A great way of doing this is to serve something besides a traditional cake and go with something a bit more unique.
Unique birthday desserts for kids can include everything from interesting and fun cupcakes to finger desserts or cake pops.
These types of birthday party treats make the party more fun and easier for children to eat.
If you're looking for some birthday treats that kids will love, these birthday dessert ideas are sure to be a hit with their friends and family.
Tip: You can always include requests for food allergies in the invite—here are some samples of kids birthday invitation wording.
Fun Birthday Party Desserts for Kids
Kids' birthday parties are a great excuse for extra yummy treats! Here are some of our favorites that we know will please any hungry child!
If you can't decide on just one, make an entire birthday desserts table! Kids will love seeing all of these delicious treats in front of them, and so will the adults in attendance.
For more help preparing for a birthday bash, check out this ultimate guide to party planning, including a free party planning checklist!
And grab our best tips to make cleanup at outdoor parties easy as well!
Other Birthday Party Ideas: