There's an old adage that breakfast is the most important meal of the day. Now, I'm not a nutritionist, so I can't say if that is actually true or not. But, I do know that I feel good if I can send my kids off to school with their bellies full from a healthy breakfast.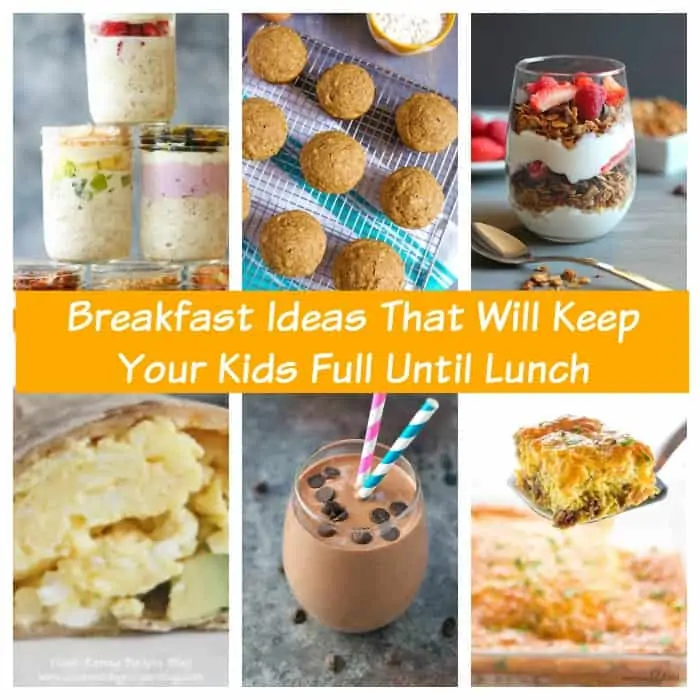 What breakfast foods will help the kids stay full?
This post may contain affiliate links. As an Amazon Associate I earn from qualifying purchases. For more information, see our disclosure.
Dr. Michelle Hauser, a clinical fellow in medicine at Harvard Medical School and a certified chef and nutrition educator, recommends the following:
"Pick the healthful trio. At each meal, include foods that deliver some fat, fiber, and protein. The fiber makes you feel full right away, the protein helps you stay full for longer, and the fat works with the hormones in your body to tell you to stop eating. Adding nuts to your diet is a good way to maintain weight because it has all three." Check out the full article on Harvard Health here.
So now that we know what will help us keep our kids full, here are some ideas for breakfast:
Egg and Avocado Wrap
Check out this delicious recipe from Clean Eating Recipes Blog. It's high in protein and the avocado adds a healthy fat!
Overnight Oats
Short on time? Try these make-ahead overnight oats from Damn Delicious.
Yogurt and Granola Parfait
This recipe from Yummy Healthy Easy hits all the recommendations: high in protein and fiber, plus dark chocolate!
Breakfast Casserole
Breakfast casseroles are a great option for busy mornings. Make them ahead and heat up slices in the morning. This one from Wholesome Yum is high in protein and gluten free!
Muffins
Muffins are a great grab and go option! This recipe from Super Healthy Kids is made with bran, making them high in fiber.
Smoothies
Smoothies are a great way to sneak nutrition into your kids diet and help them stay full longer! The Seasoned Mom has the right idea with this peanut butter and chocolate smoothie!
There you have it! 6 great ideas for breakfasts that will help keep your kids full until lunchtime. Which recipe will you try first?