Serve up this super Easy Cheeseburger Slider Bake for dinner this week! The perfect individual sliders made easily in one casserole dish, helping make dinner time incredibly delicious and almost effortless. Warm Hawaiian dinner rolls with tasty ground beef seasoned to perfection, topped with the perfect melted ooey gooey cheese.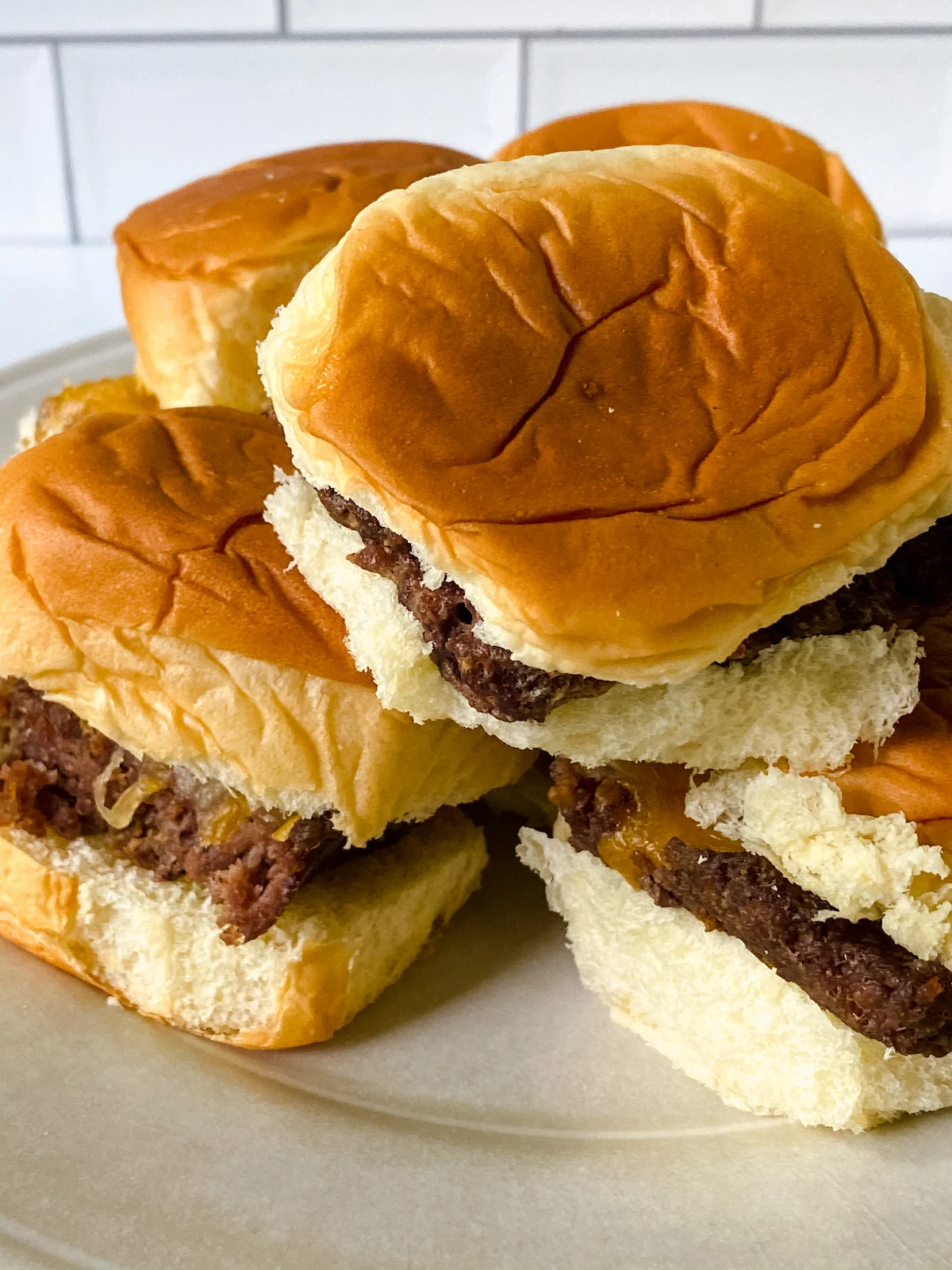 I'm all about easy recipes that the whole family will enjoy. Mini cheeseburgers are always a hit with my family and we rarely have leftovers because everyone devours them.
This post may contain affiliate links. As an Amazon Associate I earn from qualifying purchases. For more information, see our disclosure.
But, they're good for more than just an easy dinner, they're the perfect party food too! You only need a handful of simple ingredients and you'll have dinner ready in the blink of an eye.
Why You'll Love These Sliders
Super simple way to make individual sliders without having to man the grill
Individual burgers of this smaller size are easier for kids to handle
Perfect finger food for parties
Mini cheeseburger sliders go with just about any side dish
Ingredients
These easy sliders are made with just a few simple ingredients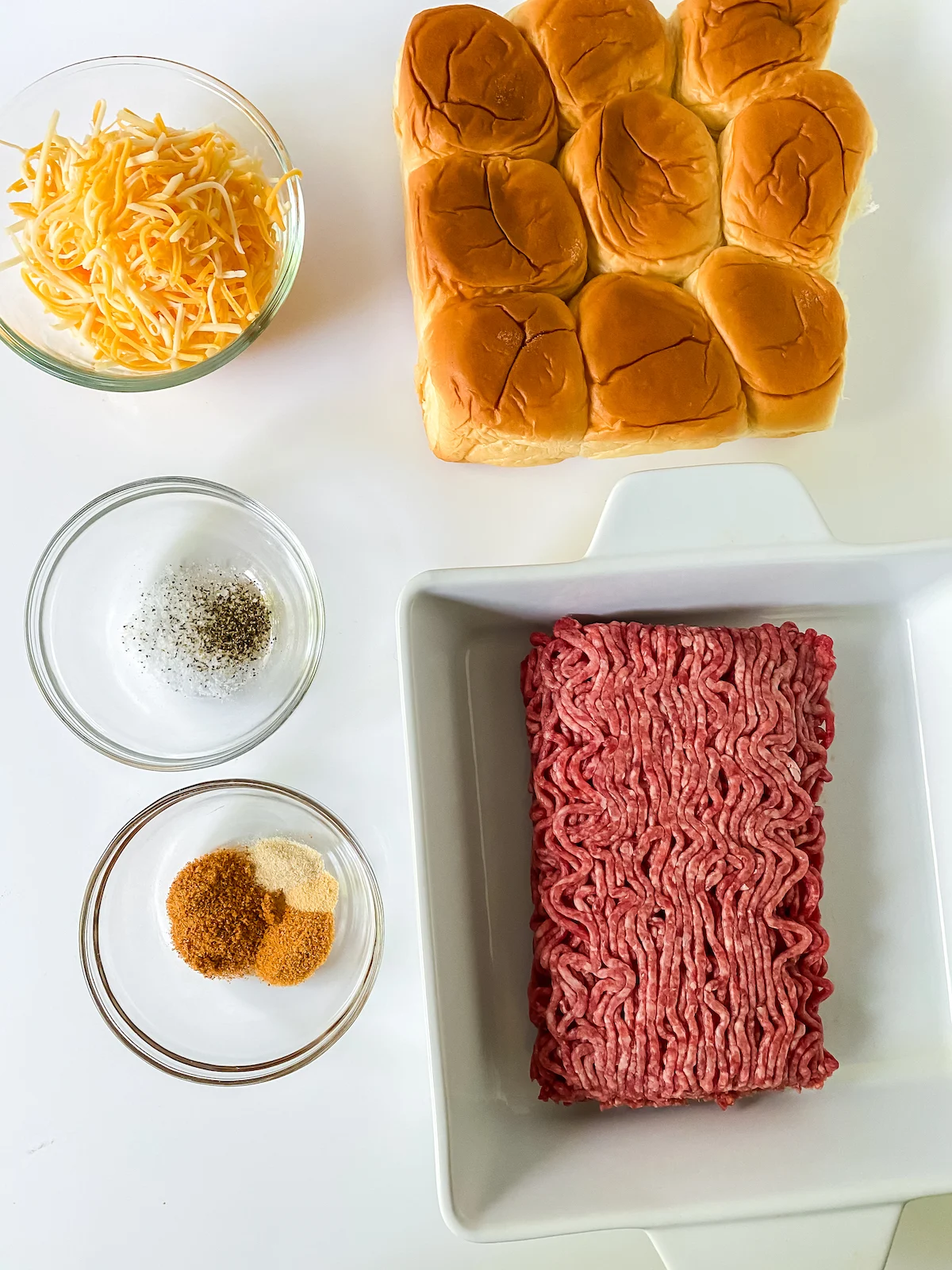 Lean ground beef
Hawaiian rolls
Shredded cheese- you can use whatever kind you prefer
Meat tenderizer
Season salt
Pepper
Salt
Garlic powder
Onion powder
If you have any favorite burger seasonings or toppings, they will go great with these simple sliders!
How to Make This Easy Cheeseburger Slider Bake
Preheat the oven to 350F.
In a mixing bowl, combine the ground meat and the seasonings and mix together thoroughly. I find the easiest way to do this, is by hand.
Then transfer the seasoned meat into a baking dish and flatten it out on the bottom.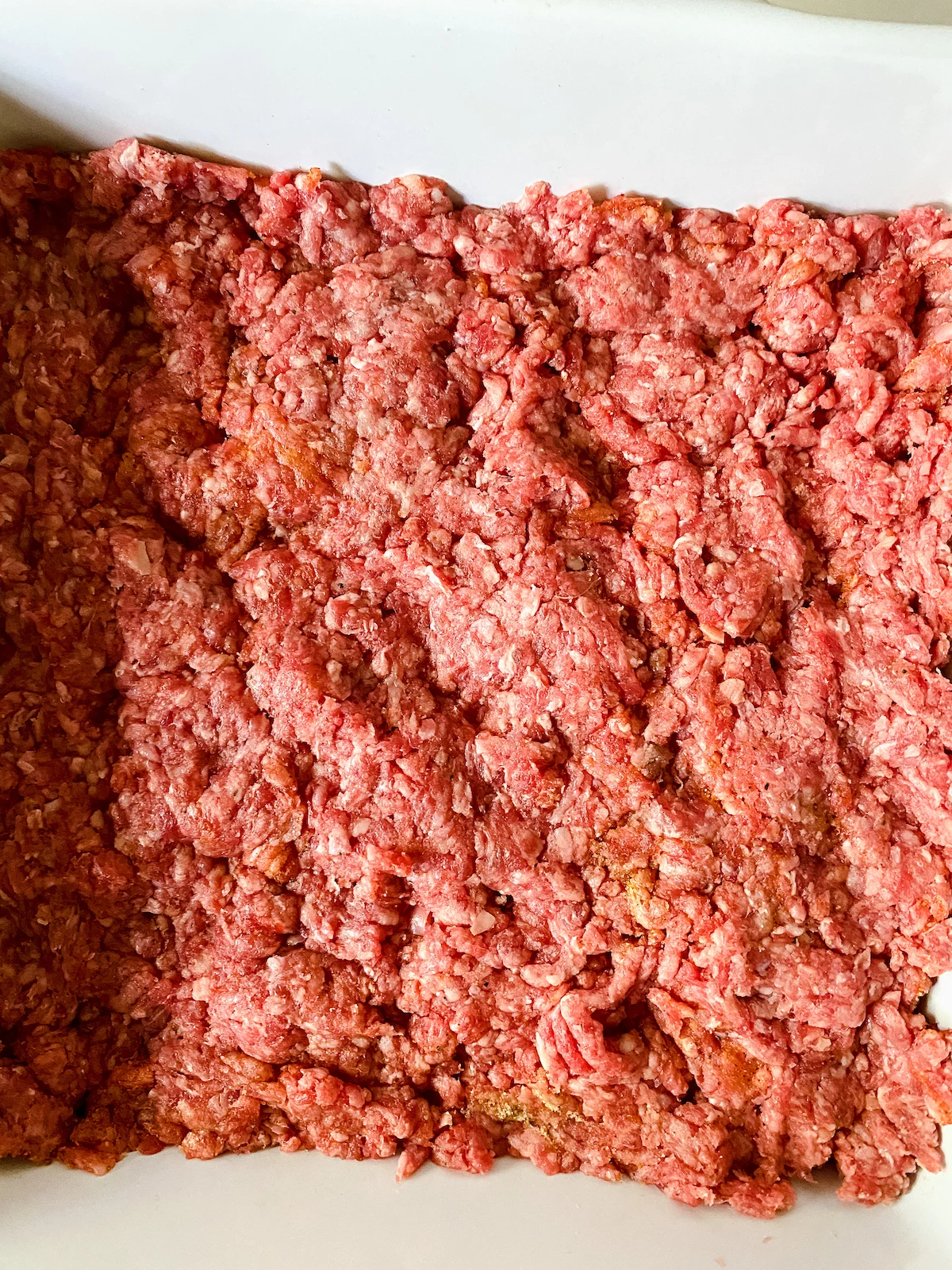 Bake for 20 minutes uncovered.
Add 1 1/2 to 2 cups of cheese to the baked meat and then place it back in the oven for another 10 minutes, or until the cheese is melted.
Remove from the oven and let it rest for 5 minutes.
Remove Hawaiian rolls from packaging and slice rolls.
Slice the baked cheeseburgers into 9 sections.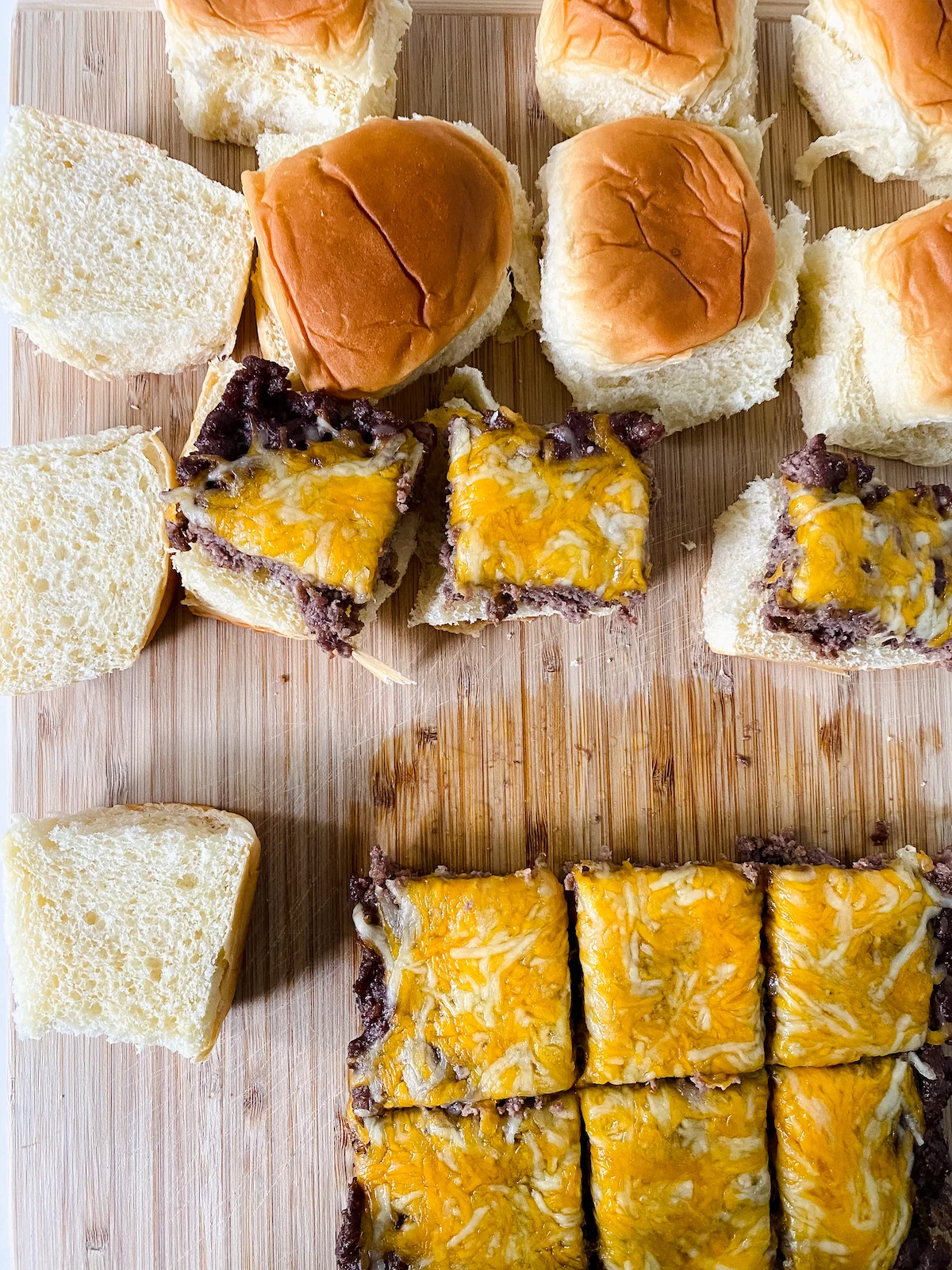 Place meat and cheese mixture on the rolls, serve, and enjoy!
Storage
Any leftover sliders can be stored in an airtight container or wrapped with aluminum foil and kept at room temp for a few days. If storing more than a few hours, you should wait to assemble them so the Hawaiian rolls don't get soggy.
Tips and Variations
Make some bacon cheeseburger sliders by getting some precooked bacon or cook some bacon while this dish bakes and add a piece of a crispy bacon slice to each slider.
No shredded cheese? No problem. Add a few slices of cheddar cheese on top of the meat mixture. You can use individual slices of cheese on top of these baked cheeseburger sliders.
For even more comfort food flavor- lather some melted butter on the bottom buns before you add the hamburger meat and cheese on top. Additionally, once you've made the added the beef mixture with the cheese, and the top of the buns, you can add more melted butter on top of the rolls and sprinkle on some oregano or Italian seasoning and toss them back in the oven for just a few minutes to make the buns all toasty. Do not put them in the oven for long as you don't want to burn the bun tops.
Use a serrated knife to cut the cheeseburger sliders. It's also helpful to cut the buns in half if they aren't presliced.
Can I double this recipe?
Certainly! This recipe is great for feed a large crowd. I like to make these easy cheeseburger sliders when I'm hosting a game day party, backyard bbq, or birthday party. Instead of putting everything in an baking dish, double the recipe and make these sliders in a baking sheet.
If I know I'll be feeding a hungry crowd, I'll make 2 double batches of these little cheeseburger sliders and save whatever leftovers we have for the next day.
What if I can't find Hawaiian Rolls?
Sometimes the store can be out, but when you're trying to stick to your meal plan, it's hard to deviate from the recipes you already have planned out. Instead of Hawaiian rolls, you can use any dinner rolls that they have, the smaller burger buns with the sesame seeds, or mini slider buns.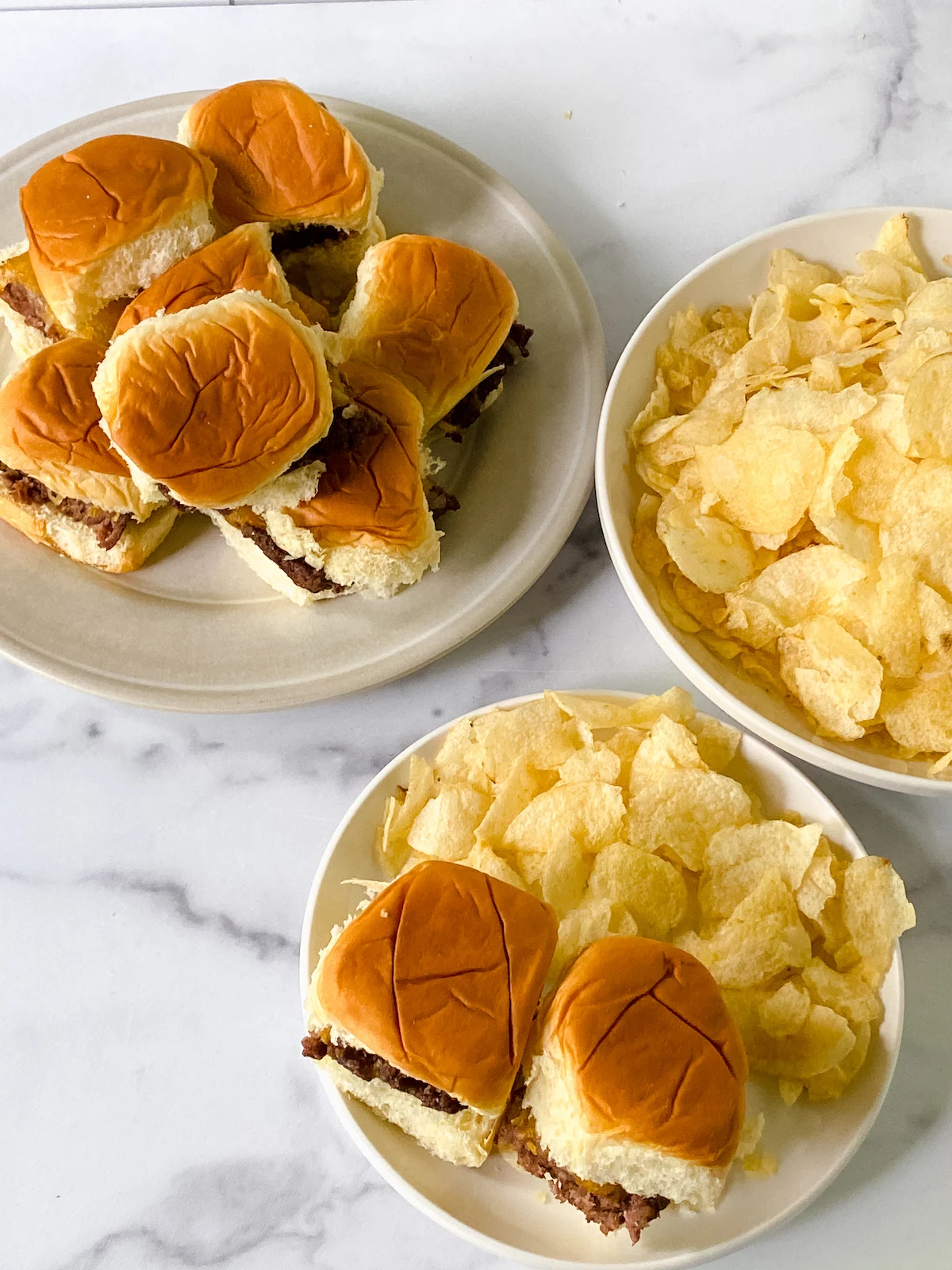 Can I add toppings?
Of course you can! You just know I'm all about simplicity here. But if you're looking for more flavor to this easy dinner, try adding:
some diced onions
a diced up pickle slice
mustard
ketchup
mayo
lettuce
tomato
any of your other favorite burger toppings
If you've been on the hunt for a simple and comforting recipe then you have to make this Easy Cheeseburger Slider Bake. The whole family will be ranting and raving over dinner or game day appetizers in no time.
Yield: 9
Easy Cheeseburger Slider Bake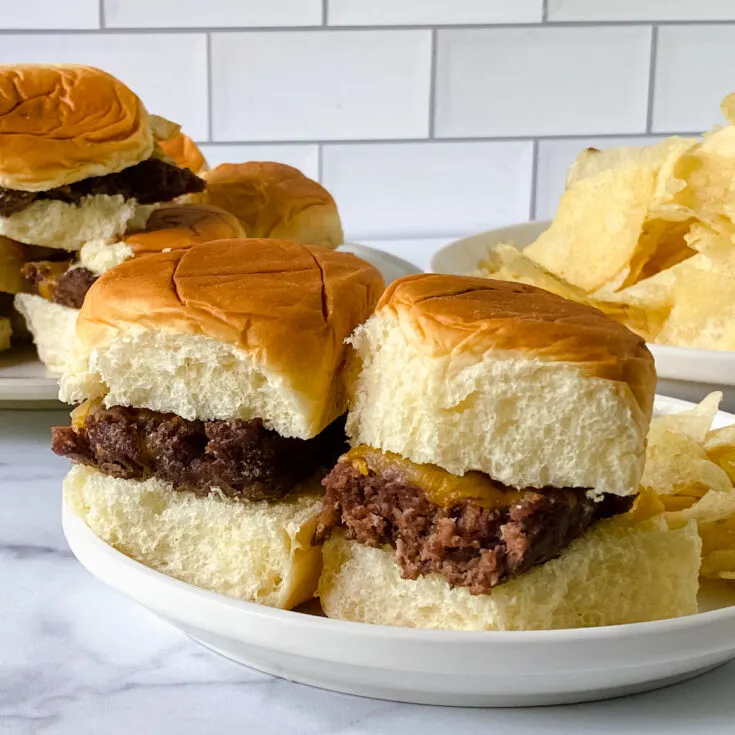 These easy cheesburger sliders make a great quick weeknight meal, or a great game day treat! Best of all you can load them up with your favorite toppings!
Ingredients
1 pound ground beef
9 Hawaiian rolls
1 1/2-2 cup shredded cheese
1.5 tsp meat tenderizer
1/2 tsp season salt
1/2 tsp pepper
1/2 tsp salt
1/4 tsp garlic powder
1/4 tsp onion powder
Instructions
Preheat the oven to 350
Add seasonings to ground meat, and mix together thoroughly
Flatten into baking dish
Bake for 20 mins uncovered
After 20 min add 1 1/2-2 cup cheese and return to oven for five minutes or until melted.
Remove from oven and let rest for 5 mins
Slice Hawaiian rolls
Slice burger mixture into 9 sections
Build burgers and enjoy!

Notes
You can add finely chopped onions the meat before cooking, or even chopped japalenos for something spicy!
If you are feeding a crowd and you need more then 9 sliders, use a baking sheet and double the recipe.