Warm up and fill your belly with a deliciously easy Pork Chilli Recipe! Hearty, and full of all your favorite classic chili ingredients, you'll love how simple this pork chili is! Ready in under an hour, this thick and tasty chili will quickly become a go to family dinner recipe.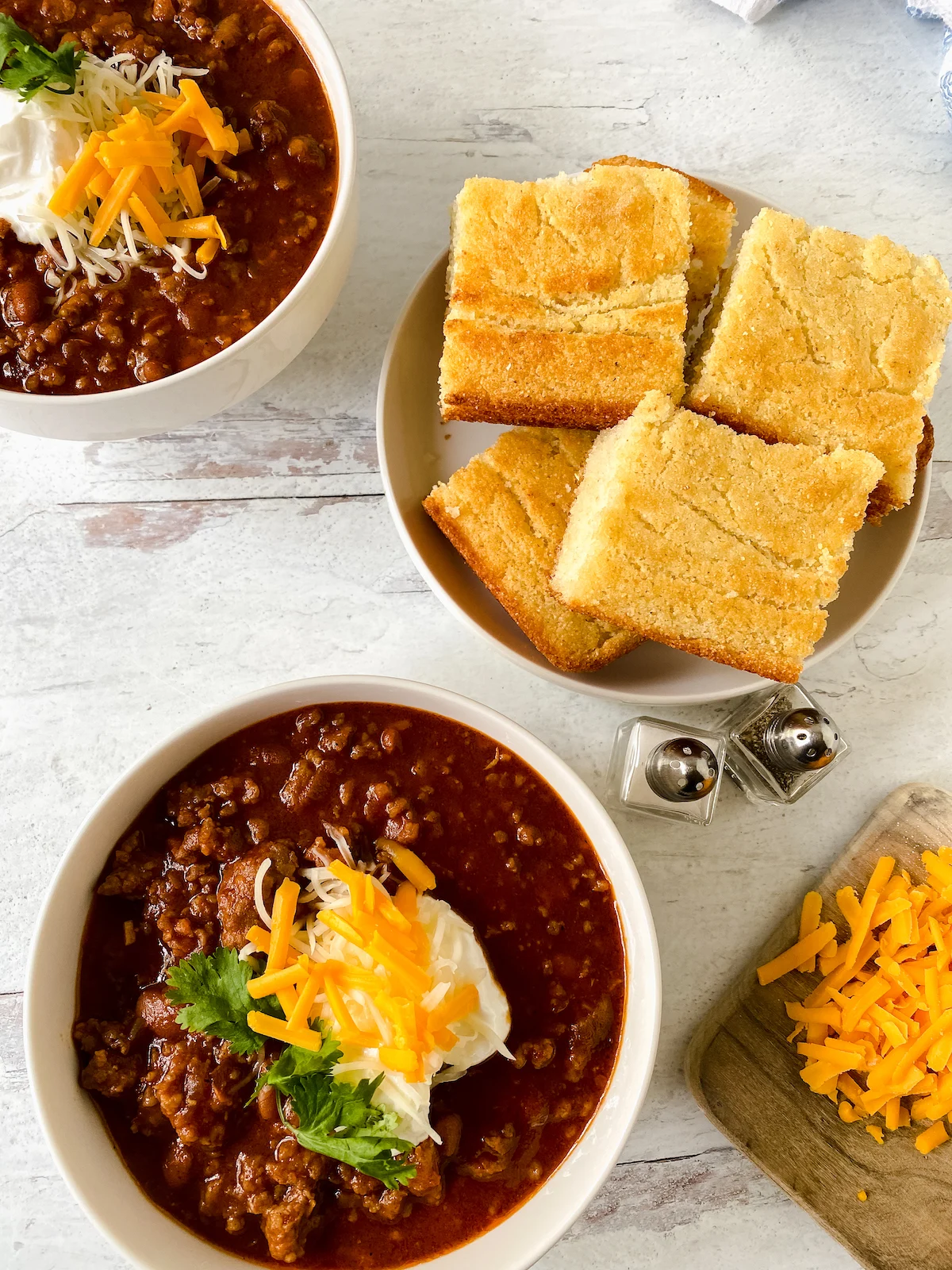 No need to pull out your slow cooker or pressure cooker to whip up a batch of chilli that tastes like it has been cooking all day. This great recipe can be made in either a large stock pot or a dutch oven. Nothing crazy needed!
This post may contain affiliate links. As an Amazon Associate I earn from qualifying purchases. For more information, see our disclosure.
If you're looking for another filing and easy dinner recipe, try my Sheet Pan Ground Beef Quesadillas or any of these fantastic filling Fall meals! Have dinner ready in no time and it makes clean up a breeze.
Don't worry mama's we've got you covered with all the delicious recipes to help you navigate those busy weeknights and still feel like you're organized and have your head on straight.
Why You'll Love This Chilli
No crazy ingredients, usually stuff you already have in the kitchen
Ready in under an hour
Pork Chilli is always a family favorite
It makes 6-8 servings and the recipe is easily scalable to make more servings
Chili can be served as a main dish or as a side dish – so versatile
Ingredients
Here's what you need to make this easy chili: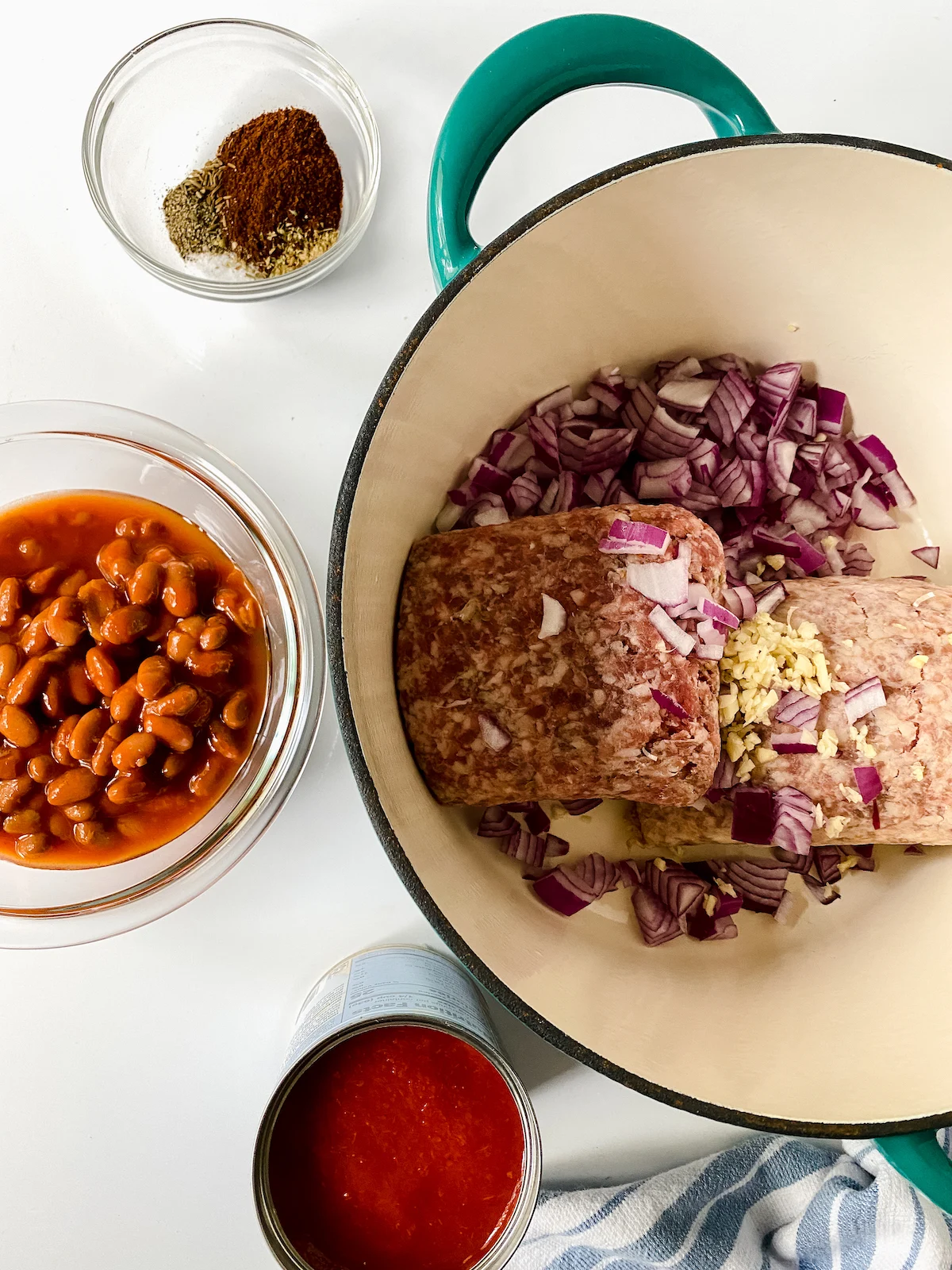 Ground pork
Ground sweet (mild) Italian sausage
Onion- use any kind you prefer (white onion, yellow onion, Vidalia onion, etc)
Minced garlic cloves
Chili powder
Kosher salt
Dried oregano
Dried cumin
Tomato sauce
Bush's pinto beans in chilli sauce
How to Make Pork Chilli
This is a really easy meal to make!
In a large stock pot or dutch oven, combine pork, sausage, onion, and garlic. Brown everything until meat is cooked and onion and garlic are fragrant.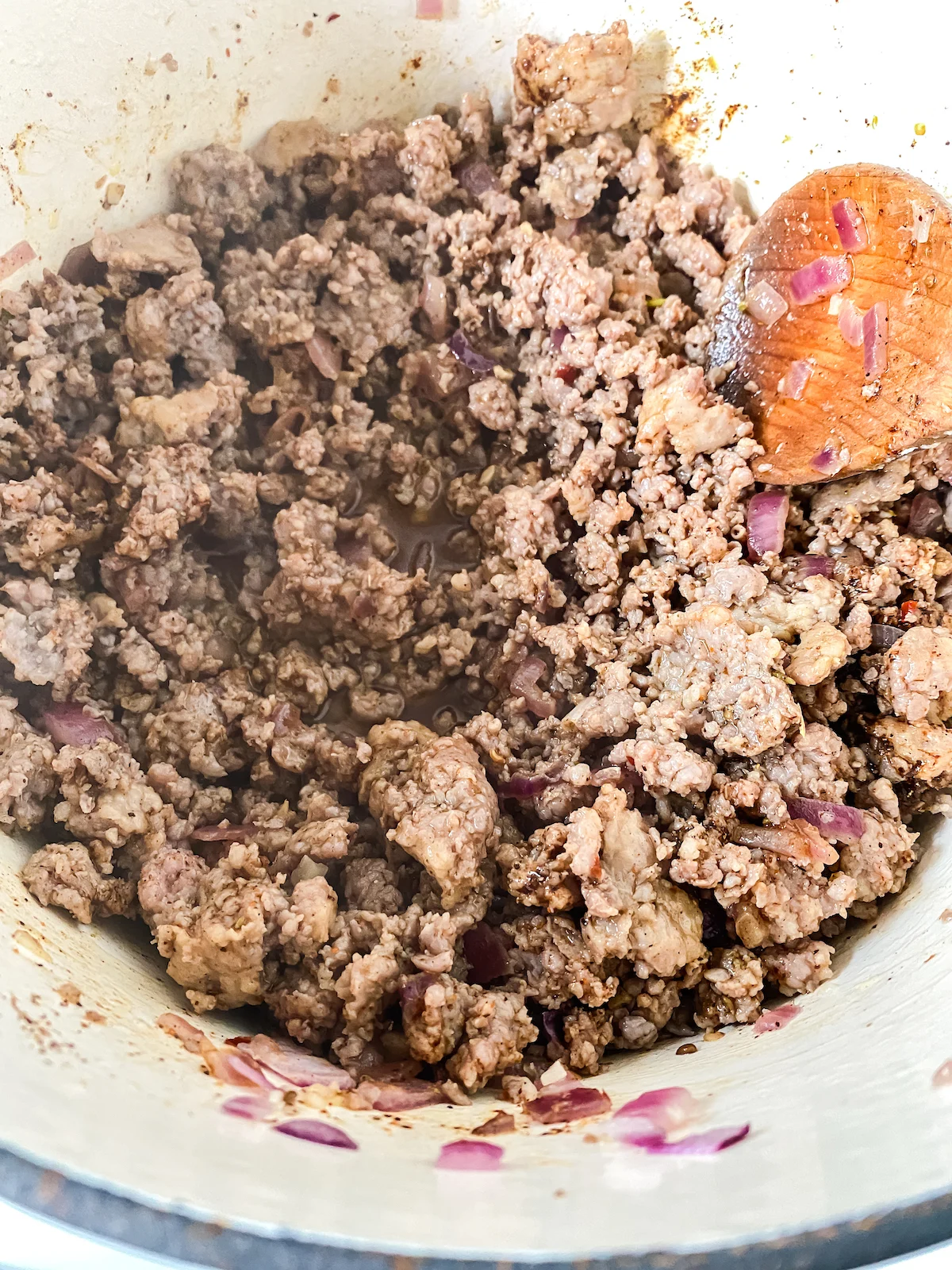 Add in chili powder, oregano, cumin, and salt. Cook for 2-3 minutes and stir spices into the meat mixture with a wooden spoon.
Add tomato sauce and canned beans with sauce.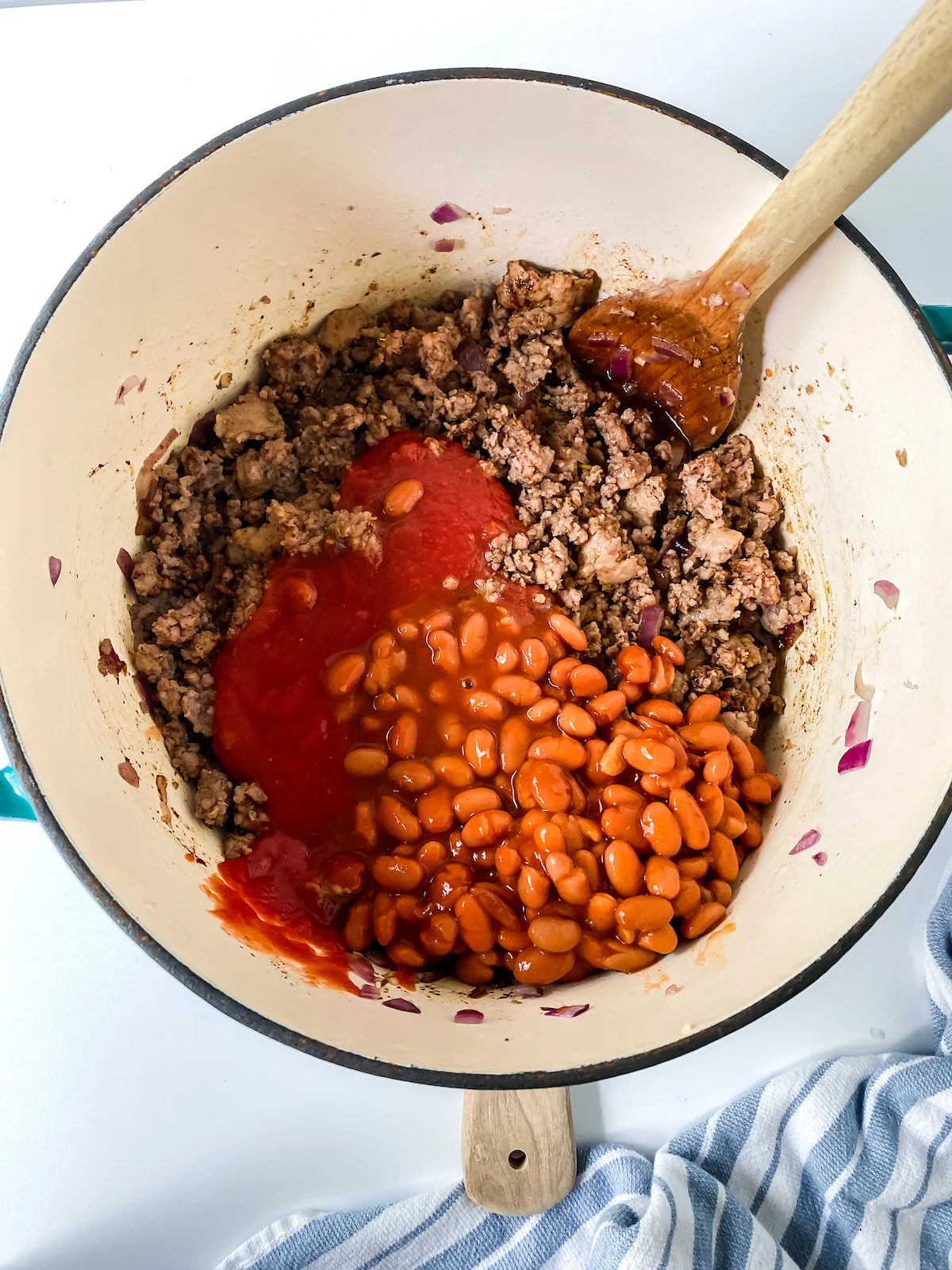 Bring everything to a boil and then reduce heat to simmer for 35-30 minutes. Stir occasionally.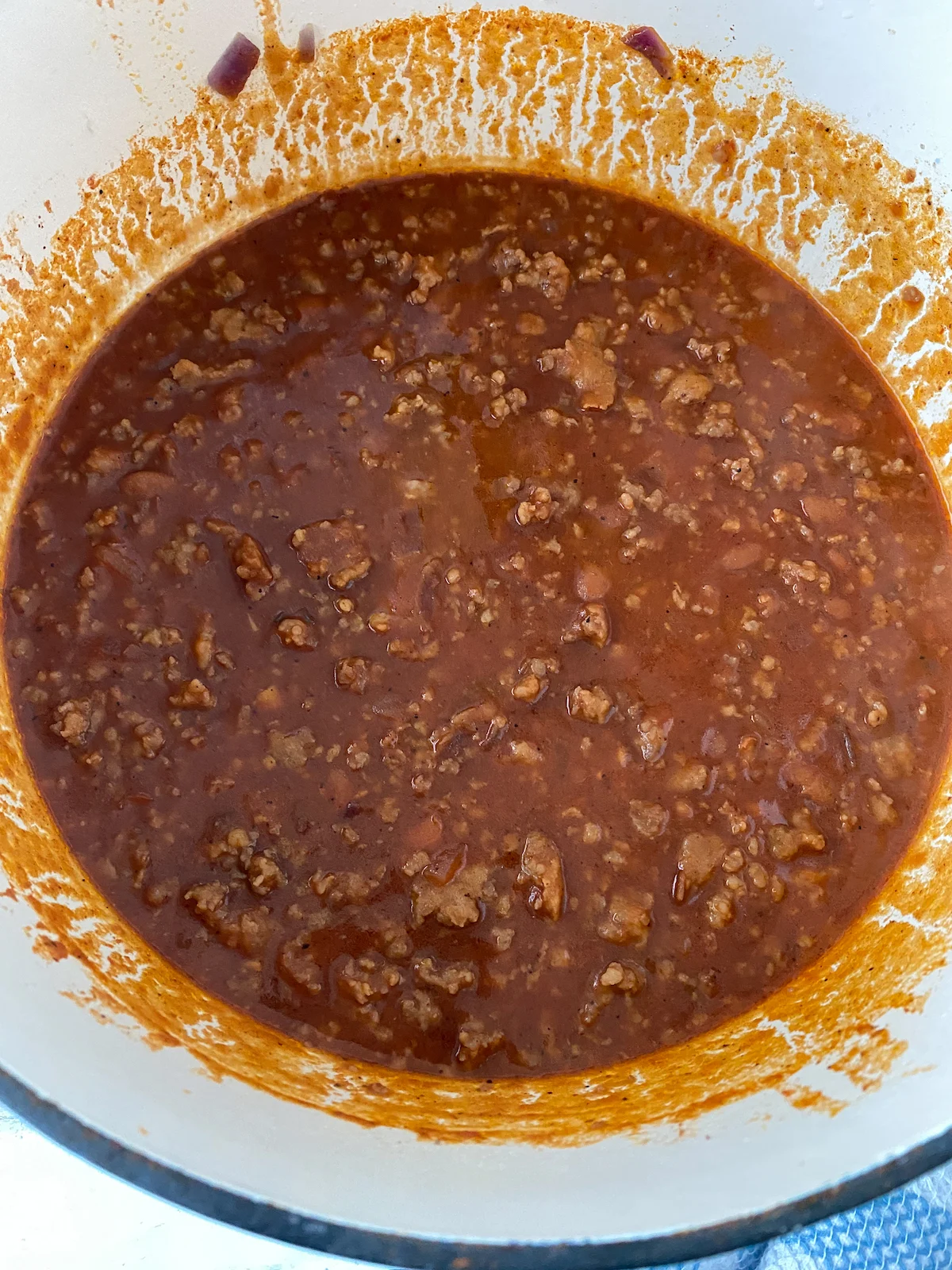 Serve and enjoy.
Storage
Leftover chili can be kept in an airtight container in the refrigerator for up to five days. If you want to keep it longer, you can transfer it to a freezer-safe container or large freezer safe gallon bag and freeze it for up to 3 months.
Remove chili from the freezer and let thaw 8-10 hours (overnight) in the fridge before placing back on the stove in a large stock pot or dutch oven. Bring your thawed pork chili to a boil and then serve! Make sure to stir well as it's reheating so all gets thoroughly warmed through.
Tips and Variations
Instead of the Bush's pinto beans in chili sauce, you can drain the beans and still use the beans. I would recommend adding an additional 8 ounces of tomato sauce so the remaining ingredients have enough cooking liquid to boil and simmer with.
Feel free to add other ingredients, or use other meat options. While this is a pork chili recipe, you can certainly make it with ground turkey, ground chicken, ground beef, or a combination of any of them.
Want to make this a sweet pork chili? Add a quarter cup of a sweet bbq sauce, like Sweet Baby Ray's. Additionally you can add a small amount of brown sugar with regular tangy barbecue sauce to bring some sweetness to the original recipe.
If you find that your hearty chili is too sharp tasting or has too many rich spices with the cumin and chili powder, here's a secret ingredient to add- a dollop of peanut butter. It cuts the sharp flavoring and provides a smooth alternative.
Add more salt or black pepper to taste.
Always feel free to add a little hot sauce or cayenne pepper if you like spicy food. It adds great flavor for sure!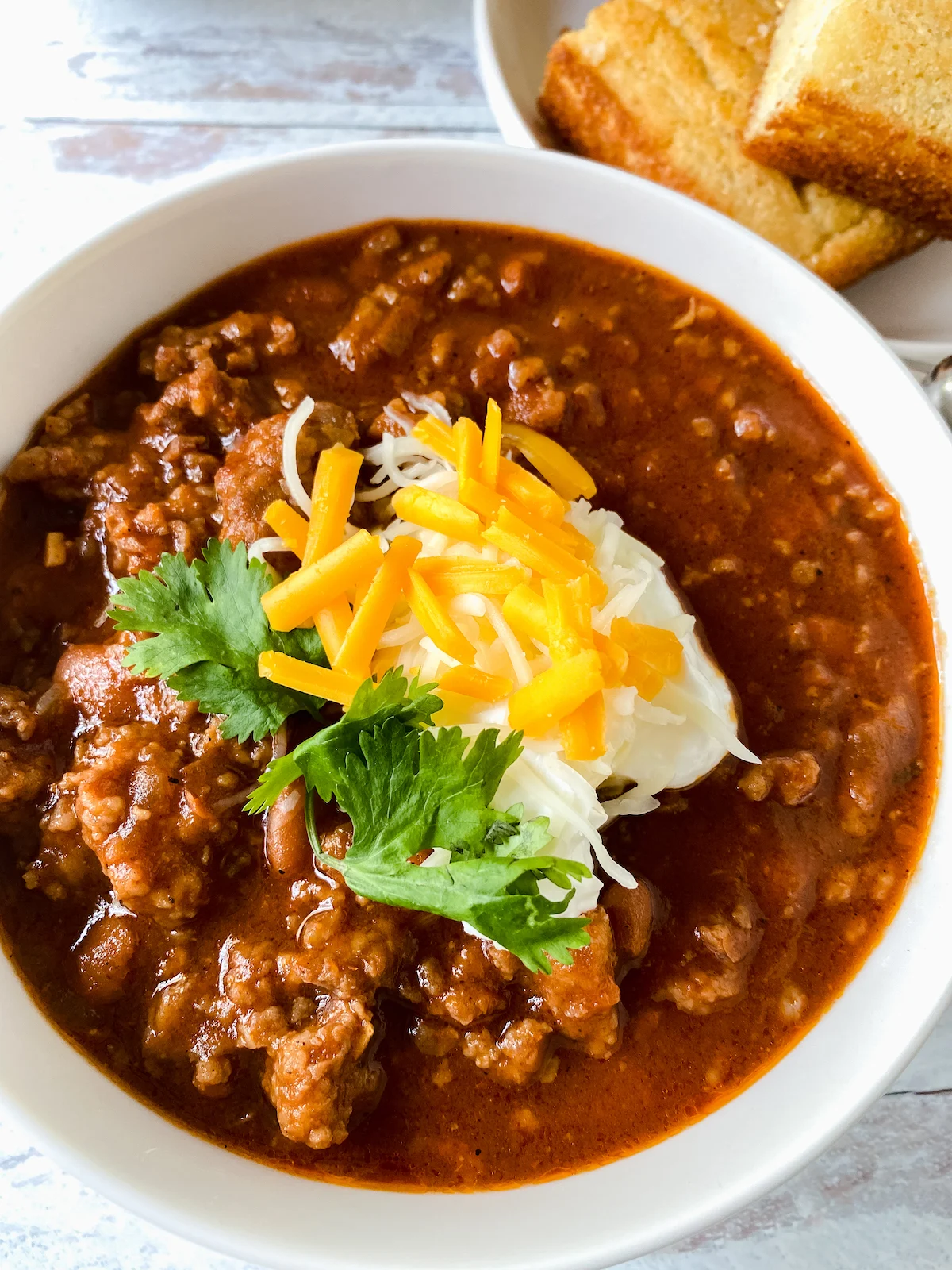 What else can I add in?
The ingredient list for this Pork Chilli could really be endless! Feel free to add your favorite things you add to your classic chili. A few other ideas are:
bell peppers (red bell pepper, yellow bell pepper, orange, or green)
hot peppers
kidney beans
cannellini beans
black beans
any other chili beans you normally use
more spices
But what if I don't like beans in chili!
There's a lot of people out there that don't like beans in chili, and hey, we get it!
If you remove the beans, be sure to add extra tomato sauce, and some extra vegetables too to make up for the lack of beans. Roughly chopped carrots and celery are a good replacement, and so is your favorite cubed meat (or even bacon!).
Here are a few things to add to garnish your chili with or top it with:
cheddar cheese or other shredded cheese choices
a dollop of sour cream
add some heat with poblano peppers or a chipotle pepper
oyster crackers or other cracker choice
green onions
What's a secret ingredient added to chili?
With so many different chili recipes out there it's hard to name just one secret ingredient. While there are many different secret ingredients out that that people have shared like cinnamon, cocoa powder, lime juice from a few lime wedges, and peanut butter, I have found that adding just a spoonful of vinegar to your pork chili pot right before you serve it really rounds out the whole recipe.
It adds something you didn't realize you were missing. I know this recipe doesn't call for it specifically, but it is something you could add. If you chose to try this, only use a small spoonful for the whole pot of chilli and give the pot a good stir.
So, grab all of your ingredients and make this absolute easy dish for the family on one fo those blustery, cold fall days when you just want something filling and soul warming for dinner! Stove top chili doesn't get much easier than this tasty Pork Chilli Recipe.
Yield: 8
Easy Pork Chilli Recipe
Looking for a quick and easy chili recipe? This pork chilli recipe is simple to make, and cost effective. It is also very customizable which makes it easy to make it perfect for your tastes!
Ingredients
1 LB ground pork
1 LB ground sweet (mild) Italian sausage
1/2 onion (any kind), diced
4-5 cloves garlic, minced
2 tbsp chili powder
2 tsp kosher salt
2 tsp dried oregano
1 tsp dried cumin
1 22oz can tomato sauce
1 15oz can Bush's pinto beans in chili sauce
Instructions
Combine pork, sausage, onion, and garlic in stockpot and brown.
Add in spices and cook for 2-3 mins allowing the spices to toast. Mix into the meat well.
Add tomato sauce and pinto beans and sauce.
Bring to a boil and then reduce to a simmer for 25-30 min stirring occasionally.
Notes
If not using pinto beans in a chili sauce, drain the beans and add them and add an additional 8 oz of tomato sauce.
If you like your chili a little sweet and spicy add in 1/4 cup sweet baby Ray's bbq sauce.
If you don't like beans, add an additioanl 8 oz of tomato sauce, and some addional vegetables such as carrots and celery, or cubed meat or bacon to make up for the difference and keep the dish filling.
Nutrition Information:
Yield:
8
Serving Size:
1
Amount Per Serving:
Calories:

453
Total Fat:

29g
Saturated Fat:

10g
Trans Fat:

0g
Unsaturated Fat:

15g
Cholesterol:

88mg
Sodium:

1293mg
Carbohydrates:

22g
Fiber:

7g
Sugar:

4g
Protein:

28g