Hi! My name is Sarah, I am CEO of
Veggie Kids
, an online site providing nutrition and meal ideas for busy families, and a full time mom of three boys. I need all the organizational help I can get! Having a second child enter elementary school this past year I knew I was going to be bogged down with papers, take-home projects and backpacks, so I came up with a great concept. I call it the School Station and it's one of my favorite spots in our house!
Our School Station is located right next to the garage door in the kitchen, which is the door we come in and out of the most. By just using about 4′ x 4′ of space, we've created an organized go-to spot for kids to throw their backpacks, place their hats and gloves, and stick their library books and things they need to remember for the next day.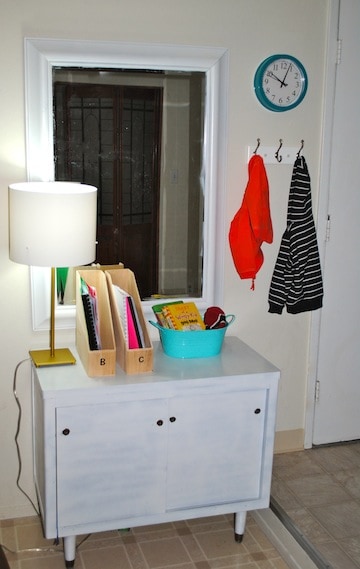 I got the vintage cabinet online from freecycle and painted it white. I love the classic retro look of it and the best part about it is the sliding doors which hide the kids' backpacks so nicely inside. I picked up a mirror for $25 from a home goods store and painted the frame of it white to match the cabinet. I then purchased an inexpensive lamp from IKEA (only $10!) to anchor the space. I also grabbed some file boxes I had in the garage that weren't occupied and used cute alphabet stickers found at Target to label the kids initials onto the boxes. The boys know they can place all of their folders and paperwork in their own specific file folders. Whatever permission slips need to be signed and returned go in there as well. I also found an aqua colored metal bucket from Target's dollar section and use it to keep school library books, hats and gloves.
I bought a simple hook and screwed it into the wall adjacent to the cabinet for hanging jackets (make it low enough for kids to hang up their own coats!). I also found a $2 clearance clock and hung it above the hooks so (as the kids learn to tell time) they'll know how much time they have left before we need to get out the door.
I just love that we no longer have unattractive piles of school "junk" lying around our house. My boys know where to throw their stuff as soon as they walk in the door.
My kids also know what I mean when I say "put it on the school station!" to them.
As busy parents, we need all the help we can get! I hope this easy and inexpensive School Station inspires others to find a small spot near their door for all those kid things accumulating around the house!
Thanks Sarah for sharing your great idea! To learn more about Sarah please visit her blog
Veggie Kids
.