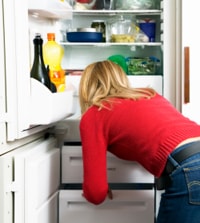 To steal a post from my Sister, I'm going to talk about Freezer Meals today! She wanted to spend less time in the kitchen now that summer is rolling around, so she decided to make about 17 freezer meals in one day! Crazy, I know! But if you know me, you know that I am ALL about preparation. So way to go Amy! Now the one difference (ok there may be a whole lot more differences, but here's one) between my sister and I is that she has a HUGE freezer (one that is separate from her refrigerator). So she definitely has the space for 17 freezer meals. Me on the other hand…. not so much. I have to juggle every time I come home from the grocery store. So I'm going to limit myself to 2-3 meals in the freezer at a time. I think I can find the space for that. Of course if you don't want to spend all day cooking, just double the recipe you are already making for dinner and freeze the second half!
Now in order to store all these wonderful insta-meals, there are several options. First is my favorite, the disposable tin pans you find at the grocery store. These are also perfect if you are taking a meal to a neighbor. You don't have to use one of your own dishes and worry that it will never come back.
This post may contain affiliate links. As an Amazon Associate I earn from qualifying purchases. For more information, see our disclosure.
Second we have regular old Zip-Lock bags. I use the "freezer" kind for EVERYTHING since they are a bit thicker and sturdier. The only issue I have with this one is you can't reheat it in the bag, so it's not quite as simple as some of the other methods.
Tupperware is also good. They have something called "rock-n-serve" that is perfect for freezer storage (although a bit expensive).
Last storage method that I will discuss is vacuum seal. Again, this is an expensive route to get all the equipment and stuff, while regular ziplock containers will work just fine, but if you are going to do a lot, and have them in long term storage, this may be the route you want to go.
There you have it! Meals ready for any event!
Recipe of the Week
Chicken Pot Pie
4 skinless, boneless chicken breast halves
1 (10.75 ounce) can condensed cream of chicken soup
2 (15 ounce) cans mixed vegetables, drained
Pillsbury Dough (In a can)
Boil or steam the chicken breasts until done. Dice.
Mix together undiluted soup, canned vegetables, and diced chicken. Pour mixture into pie shell, and cover with the second crust. Crimp the edges, and make slits in the top crust.
Bake at 375 degrees F (190 degrees C) for 45 minutes, or until crust is golden brown.