In our home, the laundry room is also a walkway between the main part of our home and the garage, which often makes it the dumping ground for anything from shoes to coats and jackets to junk mail as well as the laundry. But I've found that by using a few simple tools, I can keep the laundry room clean and organized.
"A place for everything and everything in its place" seems to be one of the most helpful rules when it comes to organization. If you have a specific place to put something away, it is less likely to end up somewhere else. This is true of any space but maybe even more so in the laundry room since it's often such a small room (or closet) in your home.
Bins and Baskets
This post may contain affiliate links. As an Amazon Associate I earn from qualifying purchases. For more information, see our disclosure.
The first thing I grab when organizing any space is bins and/or baskets. This helps you see exactly what you have and how much. In our laundry room, we have bins for all the stain removal products, another bin for rags and a basket for dirty towels we use outside and don't want in with the rest of our clothes. One of the best ways to use bins is to only keep what fits in the bin. If it doesn't fit, you either get rid of it, or find somewhere else for it to go. There are so many cute options now that you can choose from clear bins with lids, fabric bins, colored bins, metal bins and the list goes on. Find what you like and organize away!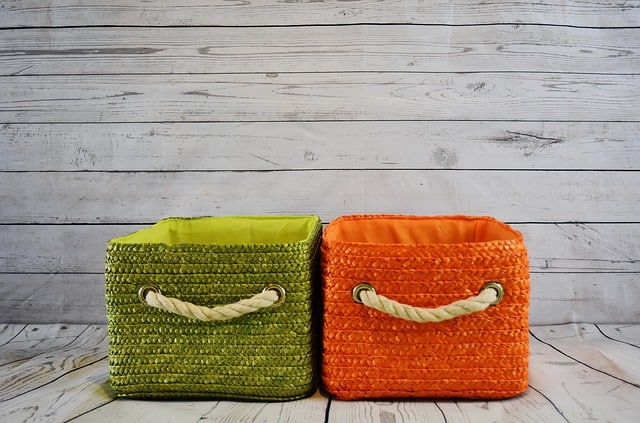 Cabinets
When my husband and I moved into our current home, our laundry room came with one long metal shelf that spanned the length of the room. It was a good temporary solution but definitely not a good use of space. We put cabinets in last year and it's made a world of difference. Not only are we able to utilize the vertical space, but we can fit so much more in the cabinets than we could on the shelf, plus it hides everything from view and looks less messy. We also keep bins inside the cabinets for additional organization.
Hooks
Another good way to use vertical space in the laundry room is using hooks. We have some basic Command hooks behind the door and above the bench for hanging coats, jackets, sweatshirts and backpacks, which keeps the floor clean. You can also hang bins or baskets on a hook if you need to hold more. We have a small hook by our door for keys. Hooks are a simple organizational tool that make a big difference.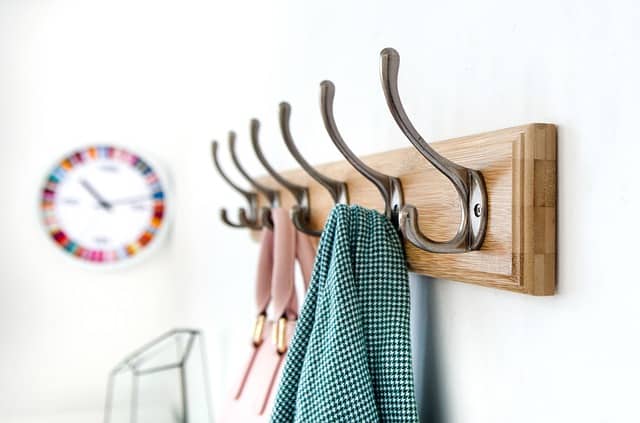 Dual Purpose Furniture
If you have a combination mudroom/laundry room like we do, you may have space to include some furniture. We have a shoe rack that keeps shoes off the floor and out of sight (most of the time), as well as a narrow bench we can sit on to put our shoes on that also opens up and allows for storage of coats, gloves, scarves and other winter items. Make sure that any furniture you bring into your laundry room serves more than one purpose to make the best use of a small area.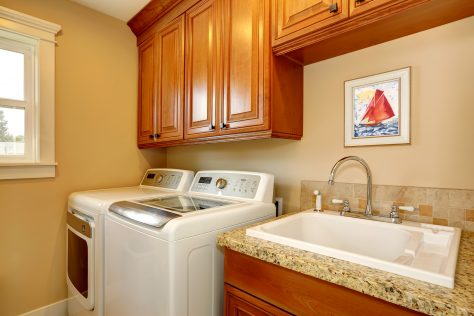 Regardless of the size of your laundry room, there are so many great ways to organize the space and make it work for you and your family.