Nothing screams nostalgia like a hot and crispy corn dog! The best juicy hot dogs are wrapped in a cornbread mixture, deep fried to a golden brown perfection. Now you can make your favorite corn dogs, even faster than before when you learn How to Make Corn Dogs in the Air Fryer.
You can find corn dogs all around the county and State Fair. It's a popular snack or memory for adults thinking about going to the fair as a kid. So, why not make them at home, except ditch the deep fryer and try air frying them instead?!
This post may contain affiliate links. As an Amazon Associate I earn from qualifying purchases. For more information, see our disclosure.
Making things in the Air Fryer recently has been something we've been obsessed with lately. It's a great way to make a quick meal and you don't have to turn on the oven. Plus, if you have older kids, it's safer for them to use an Air Fryer to make an easy snack than to use the oven anyway.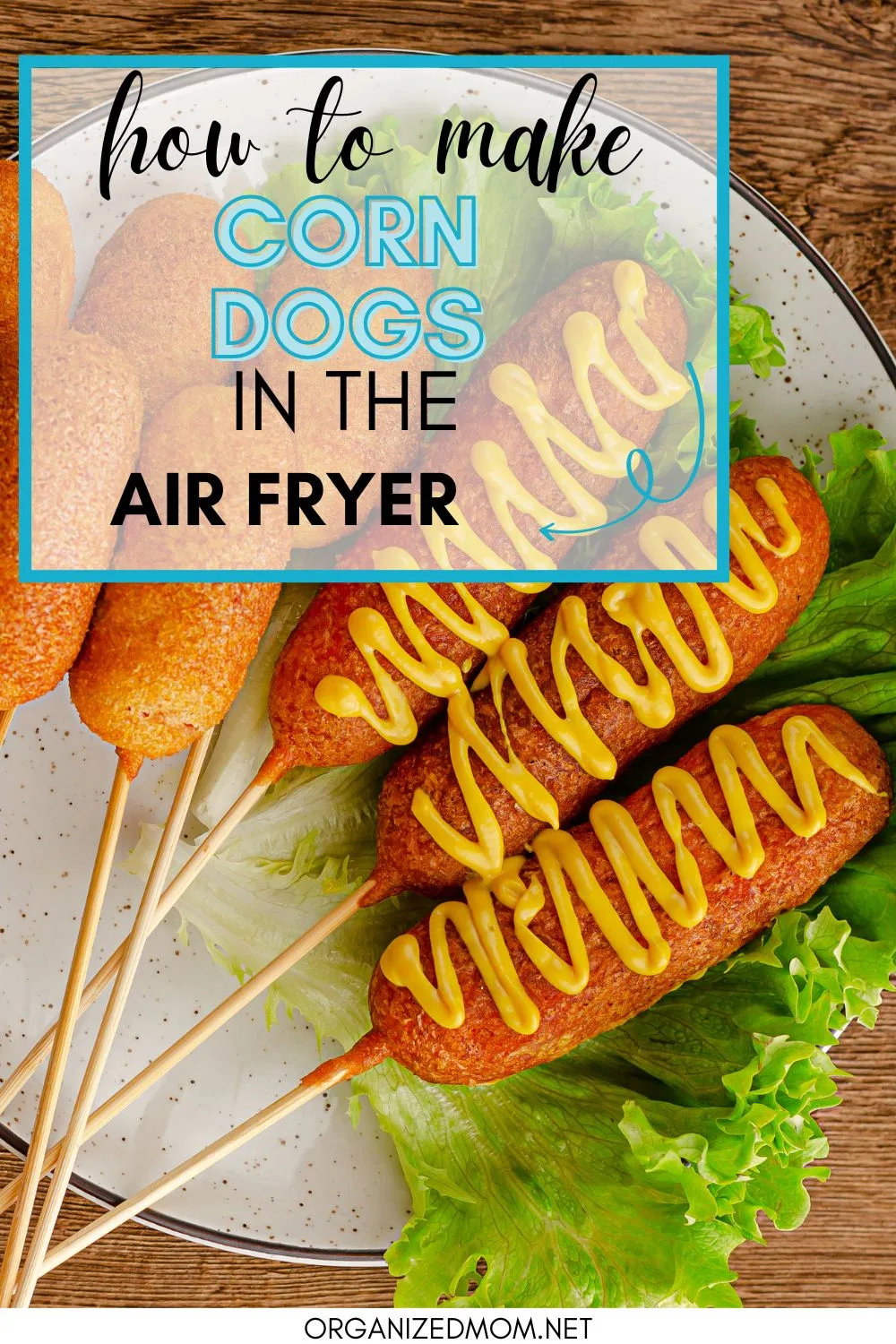 Why You Need to Make Corn Dogs in the Air Fryer
They can be made in no time- about 10 minutes or less!
An easy fun snack, quick lunch, or fast dinner on a busy weeknight or during a chill weekend
No need to thaw the frozen corn dogs before making them
You get perfect crispy exteriors every time- no mushy microwave corn dogs here
Kids and adults LOVE corndogs, you just can't go wrong
Ingredients Needed
Super simple! You just need:
Corn dogs: you can pick up a pack of your favorite frozen corn dogs from the grocery store, or you can make homemade corn dogs with your own recipe.
Non stick spray: Pick your favorite spray and use it. Olive oil, coconut oil, and avocado oil would all work well.
How to Make Corn Dogs in the Air Fryer
Spray the basket of the Air Fryer with your non-stick cooking spray and then place the corn dogs in.
Air fry for 370F for 8-10 minutes.
Turn the corn dogs once during the 8-10 minutes. Make sure they're crispy before serving and enjoying.
Can You Air Fry Frozen Corn Dogs?
Yes, you can use the Air Fryer to cook frozen corn dogs.
If you are cooking your corn dogs from frozen, you'll probably want to cook for the full 10 minutes.
Alternatively, you can choose to preheat your Air Fryer for about 2 minutes at 400F and then cook for 8 minutes.
Storage
Any leftover corn dog bites should be stored in an airtight container or in a ziptop bag and kept in the refrigerator for up to 3-4 days.
For best results, reheat your corn dogs in the Air Fryer for just a few minutes until heated through again. You'll need a little less time than when you cooked them the first time around.
Air Fried Corn Dog Tips
Always check the corn dog internal temperature with a meat thermometer before eating it. The box that you got your corn dogs from should tell you what they should reach to be safe for consumption. If you made homemade delicious corn dogs, your recipe should tell you.
Be very careful when removing the cooked corn dogs from the Air Fryer basket. They will be very hot to the touch and so will the sticks they have in them. Also be aware that the inside juices will be very hot and may ooze out of the side unexpectedly.
The Air Fryer cook times required on this recipe can change depending on which type of Air Fryer you have and how many corn dogs you're cooking. Check your corn dogs periodically when you are rotating them.
Instead of spraying the Air Fryer basket, you can use parchment paper specifically made for the Air Fryer so the corn dogs do not stick to the bottom of the basket as they cook.
Be sure to shake the basket as they cook so they cook and crisp evenly on all sides.
You can use any of your favorite corn dog brands! You can even make Air Fryer Mini Corn Dogs instead of the full sized ones in this Air Fryer Corn Dogs recipe. You may need to adjust the cooking time if you make smaller deep-fried corn dogs but you can air fry these corn dogs at the same temperature that you do the regular size corn dogs.
Don't overload the fryer basket, depending on how many corndogs you are making and the size of them, you may need to work in batches.
What dipping sauce should I serve these with?
You can use whatever dipping sauce that you like, but, here are some of our favorite condiment options to dip our corndogs in:
ketchup
bbq sauce
ranch dressing
mustard
honey mustard
Will the corndog sticks burn?
No, when making your Air Fryer Frozen corn dogs with the sticks, the sticks should not burn in the Air Fryer.
However, the sticks and the corndogs will be very hot to the touch when you go to remove them from the Air Fryer basket. We always suggest using tongs to handle them when checking the internal temperature and then waiting a few minutes to let them cool down some before handling them again or trying to eat them.
Always let the corn dogs and sticks cool down for a few extra minutes before letting children handle them.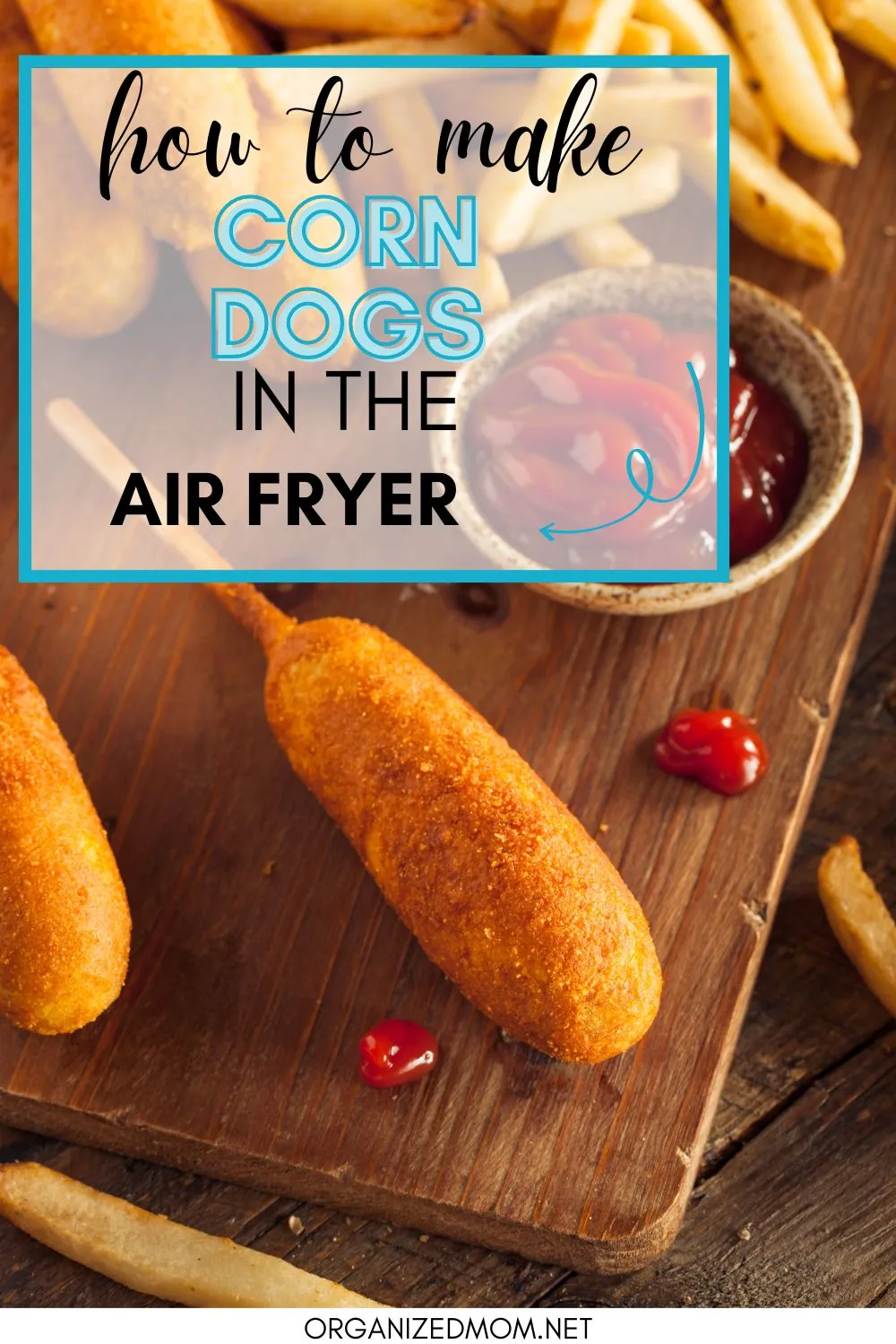 More Easy Air Fryer Recipes
When your whole family loves corn dogs, this is the way to make them! It really is a game changer!!!
Quick and easy family dinner when you make your moist and juicy corndogs in the Air Fryer.