Thank you to Crocs for sponsoring this blog post. Please click here to learn more about Crocs' new Back to School line. I was selected for this sponsorship by the Clever Girls Collective. All opinions expressed here are my own.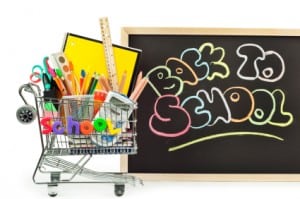 It's August, and around here that means school will be starting very soon!  We are lucky enough here in Utah that school starts in late August instead of the beginning of September.  Yes, I'm aware that we are lucky lucky parents.  Of course except for in the winter, when I remember why I want to move back to southern California.  Of course this also means that Back to School SHOPPING is just around the corner as well.  When I was younger, I loved getting all my new back to school clothes!  It wasn't until recently that I figured out why it was necessary.  My daughter grows like a weed, and with the ever changing climate in Utah, she does NOT fit into her winter clothes from last year.  Hence the need for an entire wardrobe… once again.
In addition to clothes, the kids will need supplies to get the year started off on the right track.  Most schools will send you a list of the supplies that your child will need to bring to school.  Just remember…. the kid with the most crayons in Kindergarten is the most popular kid in class ;-).  Here's how to get that shopping organized!
1. Clothes – First make a list of all the clothes you will need to purchase.  Does your child (or children) need new shoes?  New jacket?  How many pairs of pants are they going to need?  Make sure you've thought of everything from head to toe.  Once you have your list ready, decide on the stores you will purchase the items from.  Do you like to buy most of the clothing at a certain store?  Shoes at another?  Once you've decided on a location, do some research to find out when they are going to have a sale, or if there are any coupons around.  You may even want to check out the ads in the Sunday Paper for deals at certain stores.
2. Supplies – Like I mentioned previously, you will likely have a list of supplies from your school.  Some things that they may not include in the list of supplies would be a lunch box or bag, a backpack, and maybe even a planner (like an organizer for homework and scheduling).  Once you have your list put together of EVERYTHING you need, start watching the Sunday ads, and decide where you will purchase the majority of the supplies.
Armed with your lists, you should be able to budget out exactly how much you will be spending, and then head to the store to buy it!



Check out this video (and if you find the hidden image located in this post within the video, click on it to reveal some great deals!)