Whether you have a lot of shoes or just a few there is a closet organizer for you. Check out these ideas for organizing shoes in your bedroom closet.
How to Store Shoes in Your Bedroom Closet
I recently began organizing and reorganizing my bedroom closet. I used baskets and tubs to organize sweaters and scarves but when it came to organizing my shoes I was stumped.
This post may contain affiliate links. As an Amazon Associate I earn from qualifying purchases. For more information, see our disclosure.
After doing a bit of research I have found a few great ideas for organizing shoes in your closet.
Hanging Your Shoes
Not all closets come with a door (mine doesn't). Yet, if yours does using the back of your door is an amazing way to get your shoes up off the floor. It makes them easier to see and put away and it's genius to utilize this space in your closet.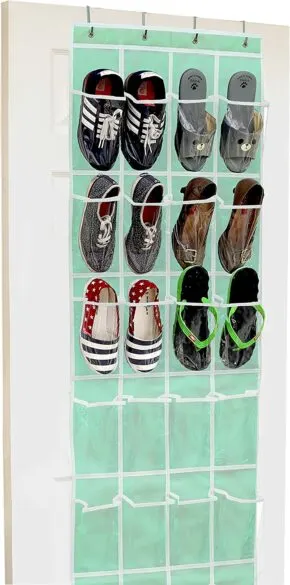 You could purchase one like the picture above that comes in different colored backgrounds. It has the clear pocket so you can easily see which shoes are in there.
If you have larger shoes that you fear won't fit into the clear pockets you could try this behind the door shoe rack with large deep pockets. These pockets aren't separated. So, instead of each shoe needing to fit within a pocket you have a little more wiggle room for larger shoes.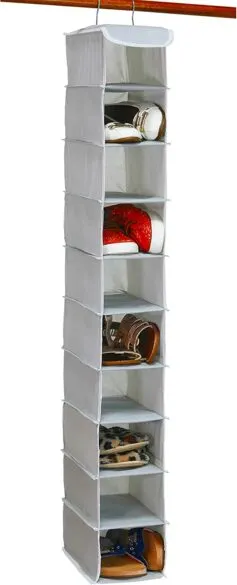 If you don't have a door but still want to hang your shoes try a hanging shelf. It allows you to have your shoes up off the floor and uses your space wisely. It can be hung next to your dresses on your tall hanging rod. Definitely a space saver.
Tiered Shoe Rack
Another good place to organize your shoes in your closet is to put them on the ground underneath clothes that are hanging if you have some spare room under there.
Tiered shoe racks would go great in spaces like that. You can get them in one, two or more tiers depending on the space you have. Their lengths also vary so you should be able to find something to fit your specific needs.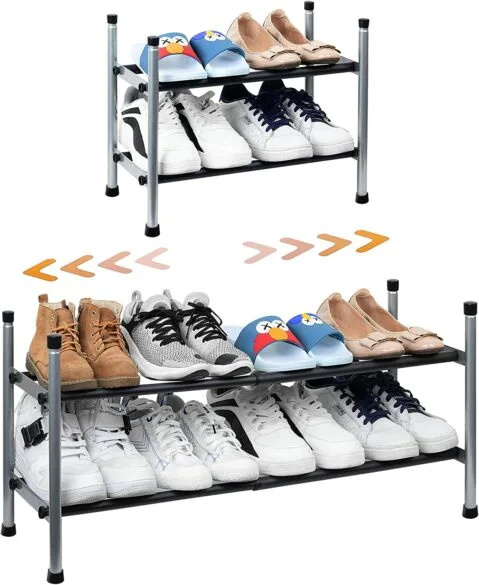 This shoe rack is expandable so it can fit into many different sized spaces. You can use it small and then as you add shoes to your closet the rack can grow with you.
It can easily be placed under hanging clothes or along an empty wall. I also love the idea of using the empty space under the tiered rack to store even more shoes.
Shoe Slots Organizer
If you want to stretch the space on your shoe rack even further try adding some shoe slot organizers.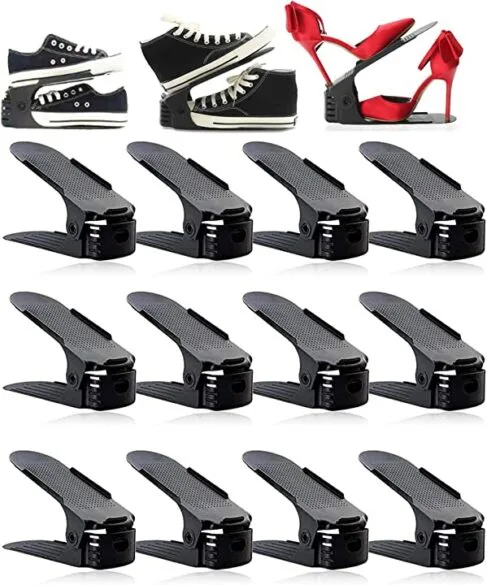 The slots can be adjusted to different heights depending on the shoes you are organizing. It allows you to take advantage of all the space on each level of your tiered rack or on your shelf in your closet.
Under Bed Shoe Organizer
I know your bed is not in your closet. Even though this shoe organizer is meant to go under a bed it can just as easily be slid under your hanging clothes in your closet.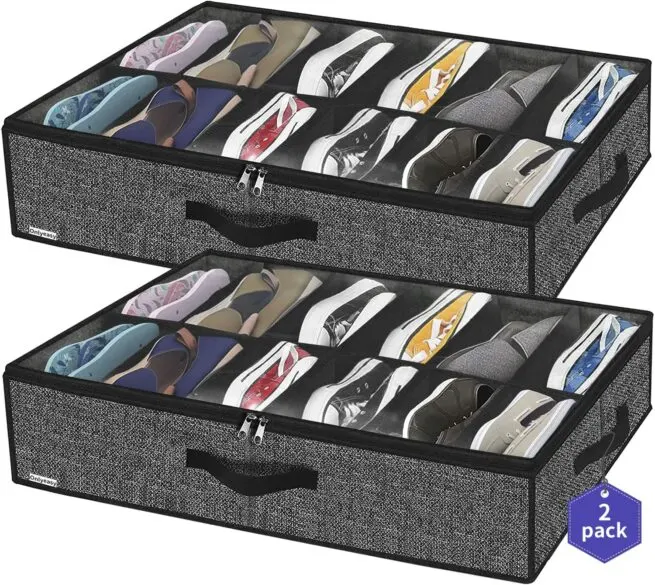 It is a great way to keep your shoes organized yet, have them somewhat out of sight. Plus, using storage space (like under your hanging clothes) that is usually not utilized will be a great asset when you are organizing your closet.
Shoe Tote
If you are looking for something more compact for your shoes then this shoe tote might be just what you are searching for.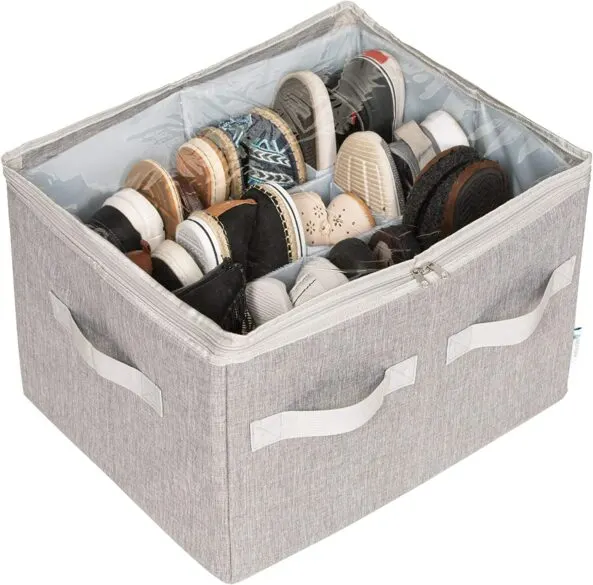 The tote comes with dividers that can be adjusted to fit the size of your shoes. Allowing you to put one shoe or one pair of shoes in each section. It comes with a clear zippered top so you can easily see what you have in there. It would also be amazing for storing your shoes when on a road trip.
Since the tote contains all your shoes you can easily set the tote on the floor of your closet or even on a shelf.
Shoe Basket
I have been known to store shoes in a basket. Anything from a laundry basket to a more decorative basket like this rope basket. Though it doesn't keep your shoes all orderly it does keep them all in one place and takes up much less room. Which I love!
Baskets can also sit on the floor of your closet or under your hanging close. They can also be placed on shelves or in cubbies.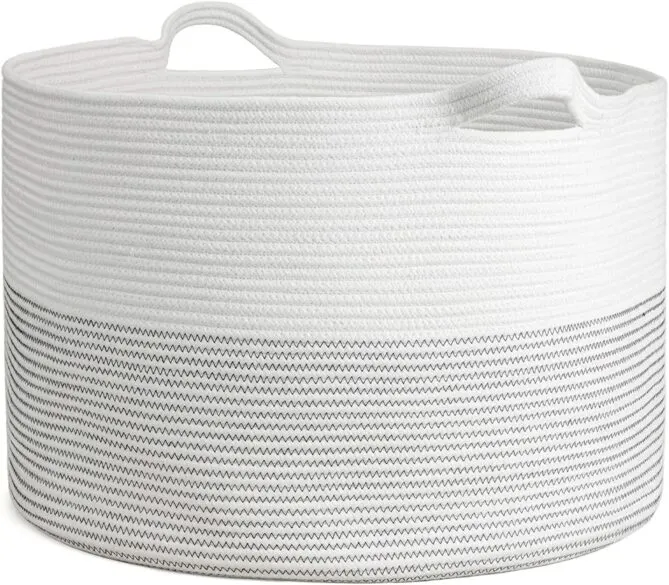 My pro tip when using a basket to store shoes is to be sure and get a basket that will hold its shape. If your basket isn't firm after time it could begin to slump and lose its shape and become more flimsy. Which eventually turns into an eye sore in your closet.
Cube Organizer
For those of you with a little more space in your closet try using a cube shoe organizer.
Not only can you store pairs of shoes (or 2 pairs if they are smaller shoes) in each cube but you can also use the space on top of the cube for more storage.
Another popular shoe cube storage idea is this stair stepping cube storage unit.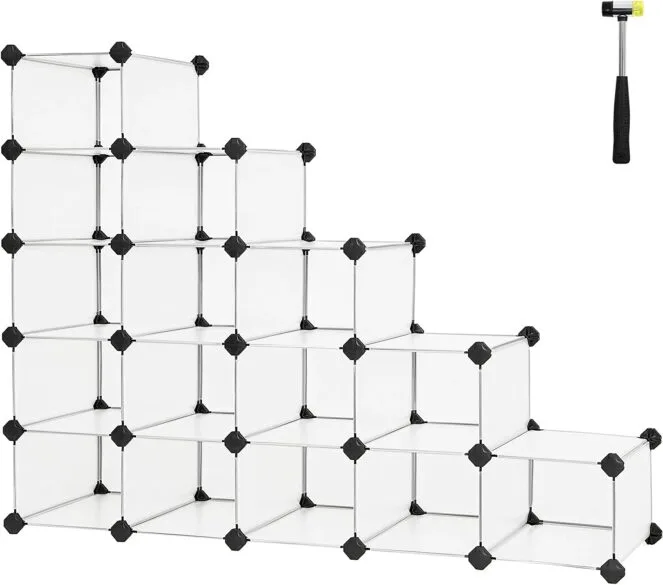 Obviously this shoe organization idea will take up a significantly larger amount of space in your closet. It holds 15 pairs of shoes within the cubes. Yet, you could easily fit another 5 pairs on the tops of the cubes. As well as adding multiple pairs of shoes to each cube depending on their size.
Add the shoe slots organizers to these cubes and you will be able to fit even more pairs of shoes into your closet.
If you don't have enough shoes to fill the cubes you could add your purses to the mix.
Examine your closet and see where you have space that can be utilized. Then find the right shoe organization idea for your space as well as for the kind and amount of shoes you need to organize.