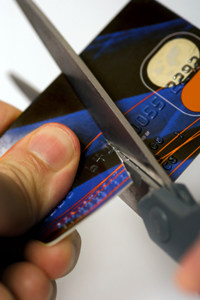 We are starting a new series today! Each Wednesday for our budget and finance day I will be discussing different scams that you should avoid so you can keep your hard earned money. You don't want to give it away to people who lie and cheat to get ahead! Some of them may seem like common sense to you, some you may never have heard of before! The best advice I have for any financial transaction you make though is that if it doesn't feel right, then it probably isn't! There are so many people out there trying to take your money, DON'T LET THEM HAVE IT!
The first topic in this series takes advantage of people who are already in financial trouble, which is so sad! While there are several companies out there that offer a legitimate service for this, there are also scams out there. How can you tell which ones are good and which ones aren't? There are several things you can do to make sure that you don't get scammed.
This post may contain affiliate links. As an Amazon Associate I earn from qualifying purchases. For more information, see our disclosure.
Check for accreditation – There is a group called the National Foundation for Credit Counseling. They are the most respected and largest network of credit counselors. They have a process that the assoicated businesses have to undergo to be accredited. You can visit the NFCC at www.nfcc.org to find an accredited Credit Counselor in your area.
Non-Profit May Not Really Be – Even if they say they are non-profit, it doesn't mean that they can't charge way too much for the service they are providing.
"Avoid any angency, says the CFA, that charges more than $50 in "set-up" charges for credit counseling. Likewise shun any outfit charging monthly fees above $25. The CFA also warns against using a counselor who works on commission… or any angecy that claims to offer "voluntary" or sliding-scale payment; the likelihood is high it will later pressure you to pay "full price". All terms should be written out in your initial consultations." – Sid Kirchheimer, "Scam Proof Your Life"
Make Sure They Get to Know You – If they only spend 30 minutes with you, or don't even listen to you and try to just sell you the same solution that they say "works for everyone," walk out the door. They should really take their time with you and work out the best possible solution FOR YOU!
People are in debt up to their ears, and are looking for ways out! Some of these Credit Counseling scams will even take your money, and not forward it along to your debtors, making things even worse for you!
Stand up for yourself AND for your hard earned cash!