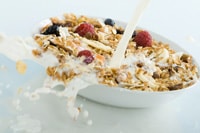 I LOVE cereal.  If I was still single I would probably eat cereal for breakfast, lunch and dinner every day.  My food storage should consist completely of hundreds of boxes of cereal, and I will be set in the event of a disaster.  If only my family thought so too… Trevor is not so much a fan of cereal.  On many days it makes him gag.  Maddie requests cereal and then never eats it.  She prefers real breakfast (scrambled eggs, waffles, french toast, etc).  So when I was at the book store and saw this book I had to have it!  It has been really fun putting my cereal to better use!  Although, it's not quite as easy to make actual food as it is to put some cereal and milk in a bowl. 
Every night after dinner, when I'm settling in to watch a little TV, I have to grab a bowl of cereal.  I also have to have a variety of cereal to choose from.  I can't just open one box and eat the whole thing then move on to the next.  I have to eat a different type then the day before.  I know, I'm crazy.  My goal this week though is to eliminate that extra bowl of cereal in the evening!  I really am not hungry, I don't need the extra calories, and I think it's just holding me back from my weight loss goals. 
What is your food vice/obsession?
Recipe of the Week
Potato Casserole
1 (30 ounce) package frozen hash brown potatoes (O'Brien, with onions)
4 cups shredded Cheddar cheese
1 can cream of chicken soup
1 (16 ounce) container sour cream
1 cup butter
3 cups crushed corn flakes
Preheat oven to 400 degrees F (220 degrees C).
Pour the hash browns into a lightly greased 9×13 inch baking dish. In a large bowl, combine the cheese, soup, and sour cream, mix into the hash browns.
Bake at 400 degrees F (220 degrees C) for 50 minutes, arrange the crushed corn flakes over all in the dish. Melt the remaining stick of butter and pour this evenly over the corn flakes, and bake for 20 more minutes.